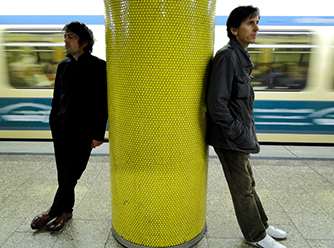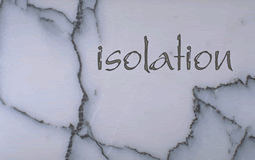 Ummm, it's the OCD ....
Well, we've jigged things around a bit. All the reviews from September are now in that month's section and the October ones are here. So, if you're looking for one that's not here ... it's there. Or if you are not looking here for one that's not there ... it's here. Tidiness and all that. Still, after a storm of newbies in September, October also saw a few nice bits worth investigating. November is chock full of decent gigs, the reviews for some of which are already posted, with more to come, so keep an eye on the Facebook page. Try and get along to some of them and say hello .... and whatever you do, don't miss the Gallon Drunk date at the Green Door Store. We're so looking forward to that one it's unreal. And, as we already said ... as the clocks change, the leaves die and the evenings blacken, just sit back and think how shockingly poor things looked at this time last year. In comparison this year has been a blast so let's all make sure this continues by giving these bands your support; go and see them playing live, and make sure they are still around this time next year. Life's too short to get stuck at home in front of the television, so come out to play and rediscover life.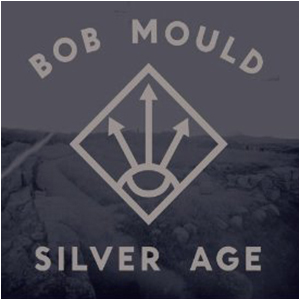 Bob Mould - Silver Age
Demon
Released: 1st October 2012
It was apparently Bob Mould's work on the recently repackaged and remastered Creation albums which left the singer eager once more to embrace the style of music with which he first came to prominence, namely the crushing alternative rock of Hüsker Dü and Sugar. On departing the British independent label just before the turn of the millennium, Mould abandoned the guitar in favour of electronica and though he once again picked up his instrument for 2005's Body of Song, this is the first time since that date he has fully embraced his old ways on what is his first collection since the autobiographical Life And Times in 2009. Whether or not he had issues to overcome (and you wouldn't bet against it) Mould seems to have done so more than successfully and there are no half measures here in what is a crackingly heavy blast of an album. It's a rarity for Mould to approach his craft so confidently; wrapped in the embrace of the familiar trio format with bassist Jason Narducy and drummer Jon Wurster he has rarely sounded so assured, brushing aside any hints of doubt or hesitation. Even lyrically there are few signs of the gnawing doubts which have been his constant companions as he lays waste to the contemptible trappings of fame and approaches everything with a direct certainty, "I didn't want to play the song that gave people so much hope," he admits on 'The Descent' with unapologetic finality and then accepts his failure to live up to his dreams as little more than a certainty of life, "Karma comes around." Mould the philosopher proceeds to underline his new inner strength with some appropriately weighty playing. From the assured riffing of 'Star Machine' with its huge solos, the punk chopping of 'Silver Age' and 'Briefest Moment' and the familiar spirals of 'The Descent', he manages to drag even more power out of his instrument in the slowly suffocating 'Steam of Hercules' which must rate alongside his best work ever through its sheer immensity. Add that to the accelerating passion of 'Fugue State', the nagging insistence of 'Round The City Square' and the whirlwind that is 'Keep Believing' and you're in need of some hot, sweet tea to calm you down; even the slower numbers bristle with purpose and iron. No lie, this album is one hell of a surprise and a good one at that. If there were doubts the man still had it in him, Bob Mould has stepped up to the mark and made it screamingly clear that at the pinnacle of American alternative rock, no one stands higher than he.
AR Kane - Complete Singles Collection
One Little Indian
Released: 1st October 2012
Looking at AR Kane's discography is akin to glacing at the career record of a talented but troubled footballer: signatures for a couple of big names but never settling, hurriedly moving on and never laying the foundations for a major league career. From One Little Indian, through 4AD, Rough Trade, Luaka Bop and Third Stone, their music remained as fluent as their employers, their sound evolving from guitar heavy indie rock, though experimental dreamscapes to trip hop and pure house. The duo remain enigmatic figures and an underrated influence on the undergound music scene and this compilation of all of the tracks from their singles and EPs is a most welcome addition – thumbs up to all the various parties who have allowed it to happen.
If you ever believed in the Big Bang, it happened around 1986 when Londoners Alex Ayuli and Rudy Tambala appeared out of nowhere to blow the rest of the world out of the water. 'When You're Sad', released on the fledgling One Little Indian label (who had only previously released an offering by anarcho-punks Flux Of Pink Indians) is staggering, its crashing and gently feedbacking guitars a perfect dressing for the gorgeously smooth vocals and harmonies they envelop, while an insistent bassline intrudes halfway through to push the song to an all-too-quick conclusion. Accompanied by the haunting 'Haunting' where multi-layered and distorted vocals drown under seas of warped guitars, and a longer version of 'When You're Young' (no version could be long enough), this is a truly magnificent piece of work. Moving on to 4AD, then at the peak of its powers, 1987's 'Lollita' EP saw an altogether different approach and if 'When You're Sad' had beaten the Pale Saints by some three years, AR Kane here pre-empted the shoegaze sound that would soon rise to prominence, weaving intricate layers of textured sound. The title track sees an acoustic dressing to a keyboard drone, with heavier guitars occasionally intruding to emphasise a point, while the gentlest of vocals sail through tricky waters with barely a sidelong glance. 'Sado-masochism Is A Must' sees a more prominent vocal dominate cataracts of faraway guitars, while 'Butterfly Collector' is altogether harder with a volcanic backing ending in a blissful eruption. 'Anatina' was the second a-side to the massive MARRS hit 'Pump Up The Volume' which ultimately ended in both Colourbox and AR Kane departing from 4AD. It was a fascinating collaboration which seemed to satisfy neither party, but 'Anatina' is a gem, Colourbox's funkier backing and dub insanity in full scale rebellion against AR Kane's gloriously beautiful, pleading love song.
Rough Trade was the nearest place the band found to a stable home, with two albums and three singles being released before the label went to the wall in 1991. The 'Up Home!' EP of 1988 saw the band's sound become even more transcendental, its many shimmering facets combining to form a breathtaking whole, while the 'Love-sick' EP of the same year is gentler, less dominated by guitars, and adopts free-form jazz elements and breakbeats. The last outing on the label, the 'Pop' EP of 1989, saw further progression down this different road and is so far removed from AR Kane's indie roots you might not believe it is the same band, with more straightforward dance and house elements, some dub, funky basslines and a female backing chorus. The collapse of Rough Trade led to a period of relative inactivity after which David Byrne's record label, Luaka Bop, released a 15-song US retrospective of the band's work, entitled Americana, and an EP featuring remixes of 'A Love From Outer Space' from the Rough Trade album, i. There was no new album from AR Kane until the not hugely convincing New Clear Child in 1994 and its accompanying 'Sea Like A Child' EP, which overlays its tracks with two vocals on an orchestral backing. It's all beautifully crafted, but without the twisted, weeping guitars doesn't quite grab you in the same devastating manner.
If you have never listened to AK Kane before the complexity of these tracks and their tortuous journey through an ever-shifting musical landscape will only confuse you. Don't worry, the band confused us all by cutting new paths others only slowly dared to follow. At their best, few have come close to matching them, and ultimately it is difficult to ascribe their achievements to anything other than the hand of God.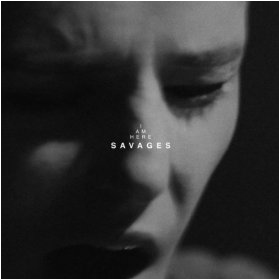 Savages - I Am Here
Pop Noire
Released: 8th October 2012
It's getting really annoying to see Savages' name walking hand in hand with the epithet 'hyped'. They may have mapped out their burgeoning career cleverly and gained plenty of good publicity on the way but, let's face it, if the band didn't have the magic they wouldn't be creating such massive waves. It is a simple truth that Savages are very special indeed. On the most superficial level their image is immaculate, they pose supremely well, and they live in a world of monochrome splendour which resonates with our souls: their website, their artwork, their dress – hell, even their vinyl has been black and white. In all truth, you could probably love them for that alone, regardless of the music, but the added bonus is they sound bloody amazing and when they play live they are utterly bewitching. This, their second release, is a live, four-track, vinyl-only EP which simply serves to underline how good they are. You may be transported into the past when you put the slightly warped, wobbly vinyl on to the turntable, but Savages excel in capturing the best of yesterday and dragging it into tomorrow and their music is so beautifully dressed it makes you feel shabby. The key appears to be Ayse Hassan and her incredible bass playing. No sooner has Fay Milton clattered her drumsticks together and she is off with monomaniac determination, unstoppable, driving the band inexorably onwards. Milton herself is no slouch, smashing the world aside with primitive fury, and the pair create the perfect backdrop on which Gemma Thompson can drape swathes of dancing and feedbacking guitar noise. And all the while Jehnny Beth rides the maelstrom, adding her narratives in bleak asides. At heart, this is primal stuff, stripping away the fanciful and laying bare vulnerable emotions and it can't fail to move you. The recordings here are from gigs in Nottingham and Bristol; the sound is decent and it leaves you aching to see them live once again. It's a shame we have the first single 'Husbands' once again, but we'll give them that one. Actually, if they carry on like this we could forgive them for murdering our mothers.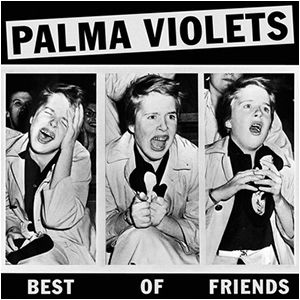 Palma Violets - Best Of Friends
Rough Trade
Released: 22nd October 2012
The music press have never been slow to get behind bands who have not yet released a record if they see there is a big enough buzz about them. Unfortunately, since the NME named Suede "The Best New Band in Britain" in 1992 (and they had an argument), they have seemed keen on repeating this feat as often as they can get away with it. If a band is ready for such an accolade – and Suede responded with their remarkable first album a few months later – this can give a massive boost, but if the journal is shooting off prematurely, the resulting backlash could be a killer. On 6th October this year Palma Violets were hailed as the latest 'Best New Band in Britain' and the question must be whether or not they can live up to that billing. Certainly, the last time we saw them the venue was buzzing and they put on an impressive show, so playing live doesn't appear to present a problem. Now the band has to deliver on record, and 'Best Of Friends' coupled with 'Last Of The Summer Wine' is their first release on Rough Trade, being available in a limited edition violet (well, purple) seven-inch vinyl issue as well as on CD. The vinyl just helps to show why we actually like CDs. Yeah, it looks great, it's heavy and purple and you can see it spinning, but the pressing is awful, it crackles and pops and it's difficult to focus on listening to the music. To the CD, then, and bloody ada. I'm not sure whose idea it was to record the track in a bucket with the lyrics being shouted from a passing Datsun Cherry, but this is no way to respond to the hyperbole. 'Best Of Friends' is a mid-paced number that builds nicely from a measured opening and attempts to take on a singalong quality but loses all of its edge in its stodgy production and ends up sounding like a slightly rampant marshmallow. 'Last Of The Summer Wine' sounds marginally cleaner, moving from a ploddy hymn-like opening into another mid-pacer with some proper singing, but a needlessly ludicrous ending. Damn, we so wanted this record to be brilliant, but if Palma Violets are going to be the torchbearers for everything we know and love, they'll have to do a damn sight better than this.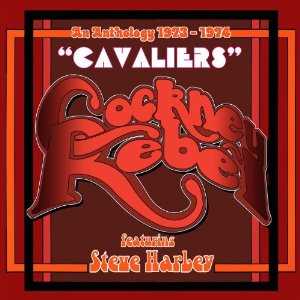 Cockney Rebel - Cavaliers
EMI
Released: 29th October 2012
Another band who in their day were called "The Best Band In The Land" were Cockney Rebel and they certainly had no rivals to that title in their own minds. Astonishingly self-assured, this was somewhat fortunate given their approach to their craft, where they were keen to explore all avenues, commercial or otherwise, to bring into life the sometimes bewildering imaginings of Steve Harley's brain. Eschewing unnecessary electric guitars, the band recorded two albums for EMI in two years with drums, bass, keyboards and electric violin and in that time created some of the most brilliant and idiosyncratic pop songs the world had ever heard. November 1973's
The Human Menagerie
paved the way, lyrically abtruse and breathtakingly different from anything that had come before. With Rebel having found favour with legendary A&R man Mickie Most, EMI were persuaded to invest heavily in the recording process, allowing Harley the opportunity to bring in a full orchestra which helped give a decidedly epic feel to such numbers as the debut single 'Sebastian' which failed to chart but quickly assumed legendary status with the band's growing band of followers.
It was the non-album single of 'Judy Teen', released in March 1974, which lifted Cockney Rebel into the glare of the public spotlight. Totally bewitching, though almost completely incomprehensible, it shot up to number five in the charts and paved the way for the band's second album, The Psychomodo, released three months later which remains a sure-fire classic and certainly takes its place among the very best records made in that decade. Aided by another classic top ten single in 'Mr. Soft' (sadly more familiar these days for its use in television adverts for mints) the album reached number eight and remained in the charts for nearly half a year. Again, the band's approach was totally unique, and the record sounds huge despite its complete lack of electric guitars. Harley's phrasing is particularly exquisite, drawing words over different lines at will, stressing the wrong syllables and all in his particular tortured tone that will be familiar to anyone who has a liking for early Suede material where Brett Anderson is pretty much Harley reborn. And does anyone do asides like seventies' artists? Harley's casual injections are magic – "Destroy!" thrown randomly into a song brings to mind Johnny Rotten who was the last great interjector – and casual 'oohs' and 'aahs' and the use of handclaps all add to the enjoyment. Just listen to David Bowie's Ziggy Stardust from the same era and it is full of these glorious little touches; why have they disappeared? Surely it's just a matter of confidence.
Sadly, The Psychomodo was the last album from this gathering of Rebels as band differences led to a rancorous split in the ranks, with Harley and drummer Stuart Elliott moving on to create a new group, electric guitars and all, where they would achieve even greater chart success with such numbers as 'Make Me Smile (Come Up And See Me)'. Cockney Rebel Part Two certainly created some great music, but possibly lacked some of the magic of the band's original version, lacking the gorgeous violin work of Jean-Paul Crocker, the fairground organ-style of Milton Reames-Jones, the enormous basswork of Paul Jeffreys (who sadly died aged 36 in the 1988 Lockerbie disaster whilst on his honeymoon), and the sheer verve that could see them end their guitarless second album with the repeated phrase, "Oh dear, look what they've done to the Blues."
This new 4CD collection showcases remastered versions of both The Human Menagerie and The Psychomodo with the addition of all of the non-album single a-sides and b-sides. The third disc features alternative versions and mixes and is previously unreleased in its entirety, whilst the fourth disc has live BBC In Concert recordings from 1974, two tracks from The Old Grey Whistle Test of the same year, plus three tracks from a John Peel session. All four nicely carry the EMI logo of the day, mirroring the old seven-inch singles, though the sixteen page booklet, featuring a brief essay from Harley and details of the tracks, could have been a little more comprehensive and the cover artwork a little more impressive. Still, it's a fine collection and if you like alternative music and are inquisitive as to the artists who helped influence it, you should own this record. Quite simply unique.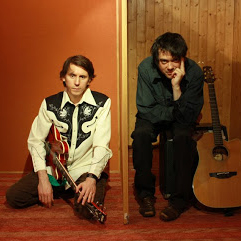 Pete Fij & Terry Bickers - I Don't Give A Shit About You
Same
Released: Available now
Some great news to emerge over the past few weeks is that the former Adorable/Polak mainman Pete Fij (Piotr Fijalkowski) has recorded an album with former House of Love guitarist Terry Bickers which will be seeing light of day in the new year. Pete told us, "The project has been slowly evolving over the last few years. I was always a massive Terry Bickers fan and when I was asked a few years ago to play a solo gig as part of Brighton Fringe Festival in the beautiful St Andrew's Church in Hove, I took the opportunity of asking Terry via a mutual friend if he would play on a couple of songs. To play with someone who was genuinely one of my heroes when I was just starting out in music was, and still is, just fantastic. After the show, we decided that we'd like to take the project a bit further and actually collaborate on an album together. Scrimping together time and money it's taken us a while, but we've finally got over the line, and plan to release the album next year."
As a taster the duo have released a free download of one of their songs which can be accessed here and it's a stunner, one of those gorgeously maudlin songs where the lyrics begin to tell one story, lose their way in a tangle of nonsensical superlatives, and finally fade in the forlorn acceptance they were hopelessly wrong from the start. Fijalkowski always had one of the most expressive voices in alternative music, and his vocal resonates with hurt as the whole mood swerves from determined firmness into emotional uncertainty with the simple backtracking phrase, "But I would have ...", so beautifully sung it hits you hard inside. "I would have taken a bullet for you from a grassy-knolled gun," he explains before begging, "So please, please, please get out of my mind." Not a chance. We've all been there. And where Fij can emote with his vocals, Bickers can do every bit as well with his guitar; his contribution is perfect, never breaking the mood of entrapment but cruelly heaping on more sadness with the sheer lightness of his touch. Add the engaging vocal harmonies, the swish of stings on changing chords and the gentle vocal outro and you have one very fine record indeed, one that grows and grows with every play. The new year seems a million miles away.
September 2012 Reviews
November 2012 Reviews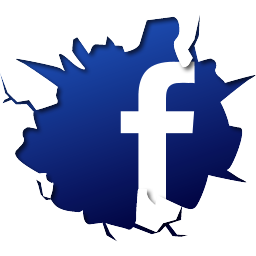 Isolation on Facebook. Like us.

Isolation contact