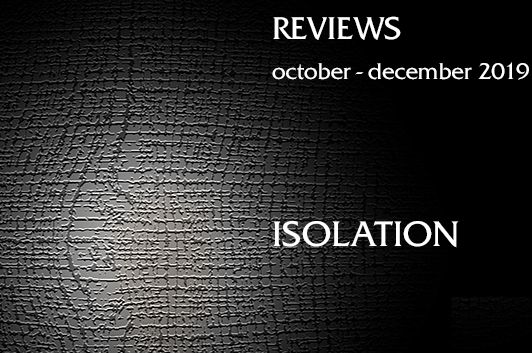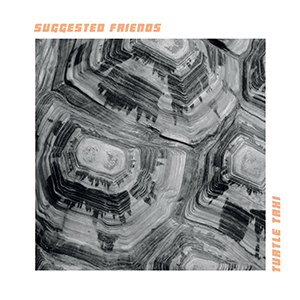 Suggested Friends - Turtle Taxi
Fika
Released: 4th October 2019
It's only a year since Norfolk indie rock quartet Suggested Friends released their eponymous debut album, one which was full of serated DIY edges, though one that clearly hinted there was a band here with a good ear or two for melody and humour. Move on those few months and the follow-up album, Turtle Taxi, is so different it is almost a thing of wonder. Yes, it is clearly the same band, but the refinement, competence and downright suss of this record are marvels to behold. This is not record by punk-minded amateurs bursting to get their ideas heard, but a highly impressive melding of indie guitar pop, keenly picked melodies and punk attitude laced with clever, reflective lyrics that touch upon, but reach way past, the band's grounding in queer identity, to ponder not only the deep issues of inherent cultural sickness but also the lighter problems of how the banality of everyday existence intrudes into personal space. This record is pointed and funny, the whole exuding a dry wit which is underlined by an uplifting confidence. Huge pop hooks knock you about, solos carry you away and if there is a certain amount of tongue-in-cheek fun being poked at rock masculinity, so much the better. If you are human, this record will touch upon your life; its relevance is inarguable and obvious. We haven't heard many better titled tracks than the fabulous 'Pretty Soon Your Grave Will Be A Landfill', an attack on manipulative politicians. "We'll all be working til we're eighty-five years old / That bothers me 'cause I'm funding your retirement with my tiny monthly wage / And you say you had a house and a car at my age." Suggested Friends rail at all perceived injustices but grasp at all opportunities and that makes this a hugely positive record you will struggle not to enjoy.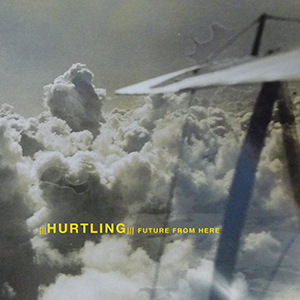 Hurtling - Future From Here
Onomatopoeia
Released: 18th October 2019
This one came a bit out of the blue and like most of the best records, it is a pretty difficult one to categorise. Apparently written and recorded over two weekends whilst touring guitarist and keyboard player Jen Macro was working with My Bloody Valentine, there are certainly some influences traceable back to the mercurial sound-shifters, but Hurtling's songs are built on very much more familiar territory. Indeed there is pretty much a melodic rock element to many of the backing tracks here which are occasionally dragged out of their comfort zones by some beautifully twisted guitar adventures. Macro's soft vocals work to bind the disparate elements of the music together, coming across as an expressive glue, urging the tears back into place rather than nailing together broken pieces with indifferent force. They add a warmth to the album's quieter moments, creating some pretty indie rock, such as in 'E Flat One' and 'Alone' with their mellifluous basslines, yet they are not overwhelmed by tougher rock moments such as 'Please Don't Know Us' or the more dislocated album opener 'Start' with its lovely fuzzed-up, broken interludes. This is certainly a highlight, as is the striking 'Feel It' which throws itself around with a pleasing randomness, and the borderline epic 'Summer'. A little more abandon would have been welcome (or a lot more), but there is more than enough to enjoy and it is well worth immersing yourself in the whole forty-two minutes to see where the journey takes you.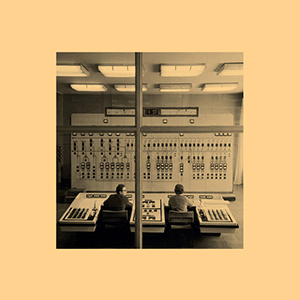 Ice Baths / Soft Cases - Split
Blank Editions
Released: 25th October 2019
It's a shame that the cassette is re-emerging as a credible form of release. Quite frankly, we hate them; one of the good things about the CD was that they appeared put that particular format to bed in all of its fragile, frustrating inadequacy. Of course we recognise it is a cheap way of releasing music and a good way for small labels to get themselves heard; we just can't stand the sight of the bloody things. Blank Editions have chosen this format to release new work from the impressive Ice Baths, following on the heels of May's excellent Decadent Sprinter EP, and to combine this with the first ever recordings from their friends Soft Cases, a new band containing most of the members of Hackney-based, post-punk quartet Aathens. Ice Baths open the proceedings with 'Line Call' and 'Tolex'. The former follows on very much where their last EP left off, being played out in a familiar post-punk style, not unreminscent of Preoccupations, dominated by a bored, detached vocal and a repetitive, staccato rhythm track. It's a short offering, just breaking two minutes, and has probably said all it needed to by the time of its abrupt conclusion. The latter is more exploratory, opening to a grind of guitars before a creeping bass and spidery guitar effects introduce a more buried vocal with welcome changes to the beat and a nice choral backing vocal. It's every bit as detached and remote as the opener but benefits from its wider vision and greater depth. Actually, it's a bit of a stunner. Soft Cases open with 'Alright', which is a million miles removed in style, being warmer, punkier, and even going "Hey!" Their second track 'Brand New MO' rambles in sub-Babyshambles style and appears to use horns. Like its companion, this is a more classically-structured song and there's even a guitar solo of sorts which is just enough removed from cliché to sound great. Here we have the industrial and human faces of Blank Editions combined on one release: the contrast works quite well and both bands here are well worth checking out.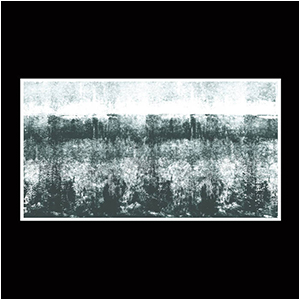 Spectres - Death Kettled
Same
Released: 30th October 2019
A little Christmas treat from the ever-inventive Spectres is this record, housed in a brown paper bag with a postcard, poster and a copy of the band's latest Dark Habits magazine. There's not a lot of chance of picking up one of these now as the run was limited to ninety-eight copies, with two being lost to the machines at the pressing plant. It is, however, available as a download on the Spectres
Bandcamp
page on a 'pay what you like' basis. The band describe this five-year-old recording as "a 40-minute opus, a twisting and mutating fog that bares the genesis of some
Condition
moments, unheard movements and familiar but re-imagined memento-mori. This is an instrumental piece bar the triggered vocal samples that form part of the fabric; it was and still is our favourite way of writing, responding to reaction and stitching together a result." One piece of music, spread over two sides of vinyl, simply named 'Side A' and 'Side B', this is Spectres at their experimental best and was recorded live over two nights in July 2014 at art galleries in London and Bristol. These were events held together with artist Sophie Hoyle whose focus (loosely) is on the alliances that can be formed where different kinds of inequality and marginalisation intersect. Her images were projected over the band as they played in these small venues and with the audience shut inside it offered up a claustrophobic, dense and disturbing experience. This mood is mirrored in the musical attack from the band which swings from intense washes of noise to more considered, ponderous moments. It's a riveting listen with echoes of everything Spectres have produced since clearly evident. After the London perfomance the band signed for Sonic Cathedral who went on to release their first two albums, so it marks a major period in Spectres' development, where they quickly became recognised as one of the most important and imaginative bands in the country. Get hold of a copy even if you don't pay anything for it. And take the guilt to your grave.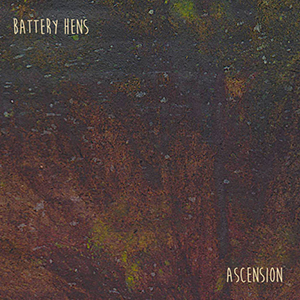 Battery Hens - Ascension
Same
Released: 31st October 2019
OK, this album is three or four years late and Portsmouth's riotous Battery Hens should have managed to get it together a lot sooner than now. We are sure they had plenty of suitable tunes and can only surmise it was a genuine lack of confidence that has held back its release. What the hell, we say to one and all, just do it. It's never the best idea to rely on the old adage that good things come to those who wait because, in general, people can't be arsed. To make up for their barely forgiveable tardiness Battery Hens here offer up nearly an hour of music in download format only, available from the band's
Bandcamp
page. And it's an invigorating ride through post-punk territory: a heady mixture of grandeur and grubbing, with changes of pace, diversions, blind alleys and freefall. Everything is chucked into the mix from squeaks and burbles to whistles and clatters, and that's just how it should be. Take away any frills and the music is robust, hard-hitting and gripping. There's a complete lack of the band's occasional forays into 100mph hardcore territory, which is a shame, as it can be a useful tool for emphasis, but there is no lack of power in any of the sixteen tracks, especially towards the end of the album where the music becomes more punk than post, offering up a medley that includes the staccato and crushing 'Creature Comforts', 'Techno Sex Reprise' and 'Lovely Violence' before the stand-alone bruiser 'No Mercy' and cutting 'Lobotomobile' bring the album to a close. The undoubted highlights of the collection are the powerful 'Run', the droning, monolithic title track and the drunken meanderings of 'I Am The Ooze'. Well worth investigation and checking out the band if they are ever playing live. Hopefully something in physical format will follow.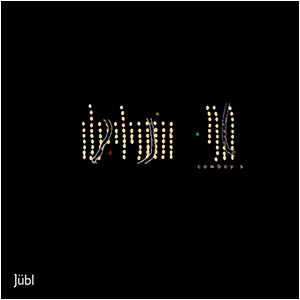 Jübl - DNA Cowboys
Same
Released: 1st November 2019
The resurrection of A.R. Kane by Rudy Tambala in 2015 was a welcome move despite the lack of involvement from his old collaborator Alex Ayuli. Probably in recognition of that glaring omission, Tambala renamed his new project Jübl in 2018 and released the band's first recorded music, the
Thinking Sweet
EP, in June of that year. The digital-only
Quiet Sun Slips Over
followed in the summer of 2019, with the first album, featuring seven new songs along with four remixes of tracks from the two EPs, seeing light of day at the dawning of November. In the main Jübl consists of Tambala, vocalist Maggie Tambala and guitarist Andy Taylor and the trio have looked to develop the sound of A.R. Kane, the originators of what became known as 'dream pop', into a new realm, something Rudy has christened "Progress, the mutant child of dream pop". Happily, this second generation mutation is infused with a confidence that may previously have been only intermittent.
DNA Cowboys
is a bold record that doesn't hide behind hazy effects and layered soundscapes, but firmly delineates the path of each instrument, giving each song a startling clarity. This doesn't mean it is overly controlled, just beautifully directed: guitars sweep from right to left or charge down the middle to meld with the synths and beats to produce a sound so warm it must surely have a pulse. It's so nicely done you can almost feel the physicality of each track, every one offering a genuine embrace. The songs are pretty and mellow, even occasionally groovy, yet it is the guitars that give the whole a gentle abrasive edge. Guitars give music the power to rip out your insides and Tambala shows he still has the sensibility that first destroyed us when A.R. Kane released their debut single, 'When You're Sad', back in August 1986. Guitars light up 'Sun Slips Over', 'So Blue', 'Quiet Sun' and 'Thinking About You' but they are never used to bury the other elements of the record. There is no concealment here; they only serve to underscore the range of possibilities that reverberate all around: the symbolic, stumbling bass of 'So Blue', the gentle warping of VU-style ballad, 'One I Love', and the lyrics which are all intensely personal and revolve around relationships, loss and internal thoughts that can never be expressed. There's a sadness running through this record that adds a mood of resignation to its inherent gentility.
DNA Cowboys
is available as a download on Bandcamp or in a limited-run vinyl format available only from the band's
website
. It's the latter format we would urge everybody to listen to as the sound is gorgeous, rich and indispensable. Buy this.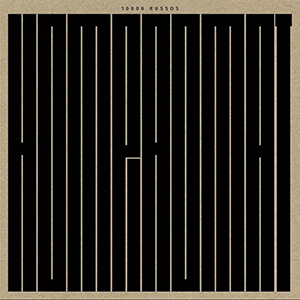 10,000 Russos - Kompromat
Fuzz Club
Released: 1st November 2019
This is the third album from Fuzz Club stalwarts, 10,000 Russos, following some two years after 2017's indomitable Distress Distress, which itself arrived two years after the band's self-titled 2015 debut. This regularity is somehow fitting for a band whose music resembles a strict, aural interpretation of a Five-Year Plan, the rigid industrial policies enforced in Communist-era Europe. The band's sound is monolithic, unyielding and relentless; nothing is allowed to stand in its way or even to question the Party's intent. Indeed, the album's name is taken from the Russian term for 'compromising material' that was gathered by the KGB to be used to blackmail and coerce politicians and business owners who might have pushed in another direction. This is music without morality, without a soul and without compromise. Strangely, the band does not originate from Russia or one of its former satellites but from Porto in Portugal, though there is little sunshine in the music they offer up. Dark, cold and oppressive, these sounds will crush you. Opening to André Couto's brutal and unwavering bassline, 'It Grows Under' sets the scene perfectly. João Pimenta's drumming rattles around the edges ominously, while his vocals – the only sign of humanity here – are threaded through machines to emerge as warped announcements. Even Pedro Pestana's guitar comes across like industrial machines in full flow, cascading sparks that illuminate the polluted, grime-filled air. As a matter of course the five tracks here push seven minutes and more, the solidity of each one hinting that it could endure forever. As such, it is not easy to pick out highlights, though the guitars on 'The People' are particularly scintillating. This is a heavy beast of a record, not ideal for summer tea parties but ideal if you like smacking your head against a wall. As we all do, on occasion.
Russian Baths - Deepfake
Good Eye
Released: 8th November 2019
An interesting one, this. Russian Baths are Jess Rees (guitar, vocals) and Luke Koz (guitar, vocals) who stem from Brooklyn in the States. One look at the awful cover may put you off, but if you manage to leave that to one side, you will be happy you took the plunge (ahem). Deepfake a fiercely noisy collection of tunes with the duo, reinforced by bass, synths and drums, producing a pleasing maelstrom of sound somewhere to the left of Sonic Youth, a few feet behind American hardcore and right in the middle of 1990s UK soundscaping and experimentation. It's the sort of fusion we encourage; the duo's gentle vocals sit happily amid the measured chaos, occasionally taking shelter in warm, fat basslines, occasionally braving all of the elements without even a blink of an eye. Musically, you can lose yourself in the grating, whirling and steaming blasts that envelop you, picking up all the little nuances, but mainly not bothering because the whole thing is just so bloody enjoyable, you don't really need to work. There are moments where forcing yourself into greater reflection can be rewarding. 'Tremble' is such a fine piece of work it deserves deeper consideration. This is a song that hits all of the wrong notes in all of the right places and when you focus on how it is pieced together, you can revel in the beauty of its construction. It's a glorious breakdown, crowned with an astonishing high vocal that simply leaves you breathless. If the whole album had matched this you would be talking about serious game-changing. As it is, the whole album offers huge promise and is a pretty satisfying listen. It has just a few elements of traditional rock music that should be pared away, but on the whole it is pretty envigorating and pretty impressive. And even occasionally, pretty.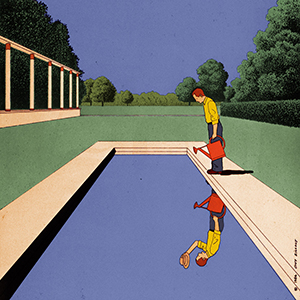 Tandem Felix - Rom-Com
Same
Released: 4th December 2019
With attention being grabbed this year by Fontaines D.C. and The Murder Capital, the music scene in Dublin appears to have woken up following a prolonged hibernation. Many of its bands have been dormant for a number of years but happily 2019 has seen this sleepiness come to an end with some of the Irish capital's top groups re-emerging with some great new sounds. 2019 has seen the first album from Bouts in five years, the return of the mighty Girl Band after some four years, and now we see (finally) the first album from possibly the smartest band in the world, Tandem Felix, four-and-a-half years after they released the Comma EP. Tandem Felix offer up thoughtful music par excellence, gentle tunes with sharp lyrics that are so cleverly constructed their sheer attention to detail could easily pass you by if you lose a moment's focus. David Tapley's occasionally fey vocals can be reminiscent of Ray Davies, whose unerring gift of observation is just another burden on his evident emotional fragility. Although he absorbs the whole of life, Tapley appears to be walking across a ladder between two tall buildings, focussing so intently on straight ahead that one nod to the right or left could lead to disaster. Out of necessity all emotional reaction is held in check until the journey is completed. While all eyes are looking up at him, his voice is surrounded by the most beautifully crafted sounds you can imagine. Opener 'Nightclub (I Sold My Soul To The Devil)' throbs and trills prettily, 'Tapley Takes a Stoll' leaves enough space for Evan Keogh's bass to offer open encouragement, while 'Oil Money' is simply astounding, with its dancing instrumentation and even a couple of randomly brilliant piano notes thrown into a heady mix. There's so much more and it all buoys up Tapley on his uncertain journey. No doubt after thanking Keogh, Éna Brennan (violin and backing vocals), Jeffrey Courtney (drums) and Conor Muldowney (guitar) for his ultimate, happy survival, he hides himself in a corner and screams for a day or two. The only downside for us is the occasional burst of country slide guitar which should be scrubbed away with a firm brush, but it's a small grumble because this record is absolutely blinding. Absolutely so.