Treading water
OK, we never really believed that 2014 would live up to the remarkable standard set by its predecessor. There may have been some hope that a new golden era was emerging, but deep down we realised it was wishful thinking and that the best we could hope for was treading water until 2015 when more bands would be ready with follow-up recordings. That is not to say that 2014 was a write-off; there have certainly been some impressive releases and a whole host of great gigs, but for the sheer abundance of quality we feel that 2013 will set the standard for some time to come.
Consequently, our new album and single purchases have only been around a half of those we made in 2013, though again vinyl has featured prominently. All but two of our singles purchases were released solely in that format as well as many of the albums. Sadly, the amount of albums released in vinyl coming with a free CD and download code seems to have fallen so well done to Clouds Hill and Gallon Drunk for maintaining standards and slapped wrists for Marshall Teller (amongst others) for failing to keep up the good work. Let's face it, it doesn't cost much to press a CD and if all labels released their records in this way, sales can only blossom. Let's have more of this next year, please.
Downloads with vinyl releases are pretty much a necessity. Let's face it, downloads are nasty, soulless things but we will use them if we are given them; it's easy to play iTunes at work all day and handy on your phone, but still we can say with relief that we have never bought a download and cannot think of any circumstances in which we would. There is no ownership of a digital file and so no deep personal connection. Music is the most intimate of art forms; it becomes part of your life, your emotions and your inner core and to digitalise your soul would be the beginning of the end. Not for us.
If you do happen to indulge in naughts and onesies, the excellent Sisters offered up the track 'February' on Soundcloud (apparently no longer available to download, only for listening) which served to confirm their massive potential, while Bandcamp remains a great source for discovering new talent with many free downloads available. It would be useful to grab these if you are yet to discover the joys of groups such as Girl Band who have offered only very limited edition physical releases, and we have been very impressed by New Jersey's Smalltalk, Austin's Institute, Portsmouth's Battery Hens and Southampton's Happy Accidents. All four have offered limited physical copies of their music, the latter releasing their debut EP proper on cassette, which of course is crap, but that format does offer something to hug and hold as well as giving small labels an outlet on which to release new material cheaply. Manchester's Haus of Pins label works mainly with cassettes and has some pretty decent bands on offer, not least Abjects. So cassettes may be around for a while yet and it may be worth investing in a new tape deck as some manufacturers still produce them.
Last year we celebrated a renaissance in alternative music of which the growth of vinyl was a symptom. (Vinyl album sales topped one million this year for the first time since 1996). Clearly that renaissance has not ground to a halt, nor disappeared, and we are still hopeful for the future. Though the proportion of debut albums amongst our purchases has fallen to about one in six, that is still a pretty decent number and augurs well. On the other hand the comebacks continue and we welcome especially the returns of Pixies, Echo & The Bunnymen, Pete Fij & Terry Bickers, Keith Levene, Martin Carr and The Popguns.
The live scene continues to boom and the number of sold out shows we have attended has increased rapidly. There are noticeably younger audiences where a few years ago you would see only the original indie kids (no longer kids) in attendance. This is great to see; hopefully they too will still be watching alternative bands thirty years down the line. Brighton again hosted over 1,000 gigs in 2014 and we have managed to watch over one hundred and forty different bands. We have been spellbound by old favourites such as Wire, Swans, Wilko Johnson, The Wedding Present, A Witness, The Membranes, The Pop Group, The Cravats, Subway Sect and Inca Babies while enjoying immensely the shows put on by now regular favourites Girls Names, PINS, Savages, Girl Band, Hookworms, Toy, The Fauns and Traams, and those from newcomers Battery Hens, Happy Accidents, Trampolene, Nothing and Cheatahs.
As for the music press, well it continues to tread water. If you look at the glossy monthlies' end of year lists, they remain resolutely middle of the road. If you thought the naming of MBV as Uncut's album of the year last year was the start of them embracing the renaissance then you were very much mistaken. Editors may come and go, but the song remains the same: there is little that will knock the median. Independent labels and distributors may continue to splash out on full page colour adverts in these publications, but god knows why. The albums sold by the likes of Cargo and Heavenly have little chance of being lauded here; most wouldn't be touched with a long stick for what matters here is art-pop, Americana, folk, prog, tradition, 'beatific melancholy' and 'decorous string arrangements'. When your number three album is 'mostly thrilling' then one wonders if the number ten is 'good in places'. Celebrating the curate's egg is not for us.
Peruse one of these lists and you just about have them all. Go on-line and there is even a lists of lists, something that may well please the NME as, despite its recent improvement and the keeping of its promise to promote more new music, it is still obsessed with list journalism which is lazy, pointless and counter-productive. Don't put a new band on the cover - just announce what list we are going to have this week. Don't encourage innovation - just harp on about what used to be good in the past. Their main selling point for the first edition of 2015: 'The 50 Best Albums Of The Decade - So Far'. It's ridiculous. Look back at the days when music journalists wrote with passion, style and power and count how many lists they compiled. Days change but change and progress are not the same things. Perspective is lost when you constantly have to sort and grade, something that applies equally to marking albums out of ten. Most people can read a review and decide whether the reviewer thinks it is any good. Was it that A Minor or the lyrical assonance that was worth the extra point? Grading serves no purpose other than to undermine its accompanying review. If you can mark an album out of ten, why bother writing about it? And if you are reviewing a hundred records do thirty of them reach exactly the same level? And thirty more just a little bit higher? The current edition of Uncut grades forty-eight new releases as eight out of ten or better. Forty-eight? There aren't that many albums a year deserving of such a score. And one of them is given ten out of ten. Yes, Doolittle is great, but is it a perfect album? Surely that argument can be dismissed in four words: 'La La Love You' makes the whole review ridiculous. So, why do it? Just write about it and say it is great, then you don't set yourself up to look like a pillock.
If there are nearly six hundred albums in a year worth eight of ten then it makes sense that some media outlets have listed the top one hundred albums of the year. But in the real world how many genuinely excellent albums are released a year that deserve to be remembered? Thirty? Forty? Fifty in the very greatest of years? That some people have listed two hundred is staggering.
This is the only list we ever make and even doing this obviously makes us grumpy. We would rather you read our monthly reviews and gave a listen to anything we raved about and made your own minds up. And we hope that you would tell us about anything we had missed. More importantly, look at this article as a measure of where the alternative scene currently stands with the realisation that without your active support, it could all quickly fade away. Make sure you buy these fine records and, if you can, buy them from your local independent record shop. They are there for you and the music you love ... and they pay their taxes. Make sure you take the trouble to get out in the evening and see these bands live. Don't fall asleep in front of the telly every night; you may be surprised at the buzz of discovering a great new band and watching them perform in intimately cosy surroundings. Finally, thanks to all our readers and supporters – and to all the musicians, promoters and labels who do such a vital job. Happy 2015.
Albums of the Year
Mojo
1. Beck - Morning Phase
2. The War on Drugs - Lost in the Dream
3. Sleaford Mods - Divide and Exit
4. Jack White - Lazaretto
5. St. Vincent - St. Vincent
6. Steve Gunn - Way Out Weather
7. Julie Byrne - Rooms with Walls and Windows
8. Damon Albarn - Everyday Robots
9. FKA Twigs - LP1
10. The Bug - Angels and Devils
11. Sharon Van Etten - Are We There
12. Caribou - Our Love
13. Ty Segall - Manipulator
14. Elbow - The Take Off and Landing
15. Sturgill Simpson - Metamodern Sounds
16. Wild Beasts - Present Tense
17. Angel Olsen - Burn Your Fire for No Witness
18. Kate Tempest - Everybody Down
19. Robert Plant - Lullaby and ...
20. Manic Street Preachers - Futurology
www.mojo4music.com
New Musical Express
1. St. Vincent - St. Vincent
2. Mac DeMarco - Salad Days
3. The War on Drugs - Lost in the Dream
4. Aphex Twin - Syro
5. Caribou - Our Love
6. La Roux - Trouble in Paradise
7. Merchandise - After the End
8. Jamie T - Carry On The Grudge
9. Sleaford Mods - Divide and Exit
10. Ex Hex - Rips
11. Future Islands - Singles
12. Death From Above 1979 - The Physical World
13. Damon Albarn - Everyday Robots
14. Run the Jewels - Run the Jewels 2
15. Eagulls - Eagulls
16. Iceage - Plowing Into the Field of Love
17. Todd Terje - It's Album Time
18. Kate Tempest - Everybody Down
19. Royal Blood - Royal Blood
20. Jack White - Lazaretto
www.nme.com
Rough Trade
1. Temples - Sun Structures
2. The War on Drugs - Lost in the Dream
3. Todd Terje - It's Album Time
4. Metronomy - Love Letters
5. Little Dragon - Nabuma Rubberband
6. Angel Olsen - Burn Your Fire for No Witness
7. Liars - Mess
8. Millie & Andrea - Drop The Vowels
9. The Delines - Colfax
10. Sun Kil Moon - Benji
11. Total Control - Typical System
12. Caribou - Our Love
13. Goat - Commune
14. Wildest Dreams - Wildest Dreams
15. Alvvays - Alvvays
16. Royal Blood - Royal Blood
17. Honeyblood - Honeyblood
18. Sharon Jones - Give the People What ...
19. Ty Segall - Manipulator
20. Jack White - Lazaretto
www.roughtrade.com
Resident - Brighton Record Shop
1. The War On Drugs - Lost In The Dream
2. Sun Kil Moon - Benji
3. Angel Olsen - Burn Your Fire For No Witness
4. Swans - To Be Kind
5. Beck - Morning Phase
6. Benjamin Booker - Benjamin Booker
7. Shabazz Palaces - Lese Majesty
8. La Roux - Trouble In Paradise
9. Perfume Genius - Too Bright
10. Todd Terje- It's Album Time
11. The Wytches - Annabel Dream Reader
12. Wild Beasts - Present Tense
13. Ty Segall - Manipulator
14. Damien Jurado - Brothers And Sisters
15. Alt-J - This Is All Yours
16. First Aid Kit - Stay Gold
17. EMA - The Future's Void
18. Owen Pallett - In Conflict
19. Mogwai - Rave Tapes
20. Ibibio Sound Machine - Ibibio Sound Machine
www.resident-music.com
Isolation - 2013
1. Ghost Outfit - I Want You To Destroy Me
2. Money - The Shadow Of Heaven
3. Girls Names - The New Life
4. Savages - Silence Yourself
5. Hookworms - Pearl Mystic
6. My Bloody Vaentine - mbv
7. The Fauns - Lights
8. Sigur Rós - Kveikur
9. Nick Cave & Bad Seeds - Push The Sky Away
10. The National - Trouble Will Find Me
11. Joanna Gruesome - Weird Sister
12. Throwing Muses - Purgatory/Paradise
13. Traams - Grin
14. The History Of Apple Pie - Out Of View
15. BRMC - Specter At The Feast
16. Destruction Unit - Deep Trip
17. PINS - Girls Like Us
18. Snuff - 54321 ... Perhaps
19. Drenge - Drenge
20. Future Of The Left - How To Stop Your Brain
http://www.isolationrecords.co.uk/2013.html

Girl Band
De Bom Bom
Any Other City
1st September 2014
The most current release from the Dublin four-piece was pretty much the anti-single, lacking in melody, hooks, commerciality or, let's face it, notes. Erupting from a rumbling beginning, 'De Bom Bom' is three minutes, forty seconds of growling menace and certainly not a beast you would care to meet in a dark alley. Alan grates, Daniel rumbles, Dara squeaks and howls and Adam pens everything in with some simply splendid drumming. Daring, innovative, slightly cracked and noisy as hell, this is a quite brilliant record from a hard working and likeable band who surely can only go on to better things. Now signed to Rough Trade in the UK, perhaps we will see the long awaited album next year, while trips to North America beckon in January. We've said it before and will say it again, at the moment Girl Band are the best band in the world. It will be your loss if you don't investigate.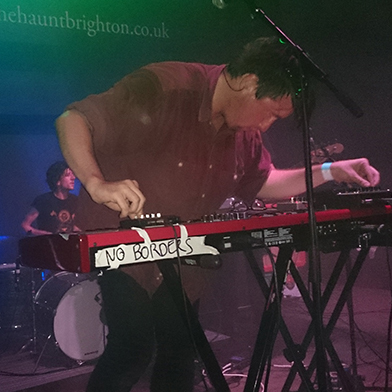 Hookworms
The Haunt
15th August 2014
For the second year running Hookworms prove to be an untouchable live experience. With singer MJ having a sticker on his keybards proclaiming 'No Borders', it should really say 'No Boundaries' as when Hookworms hit lift off, everything is up for grabs. The Leeds quintet fuse psychedelia with sixties' proto-punk, creating a vast sound that conjures up images of planets colliding and stars exploding, their jagged fragments hurtling through space at an impossible velocity. Yet this is far from chaos; there is an order to everything they do. MJ sings with passion. Sometimes his vocals echo across the maelstrom in anguished howls, sometimes they come over as little more then whispers, subtle layers of sound adding to the whole, bringing beauty to the near-enveloping threat. And amid the storm the occasional dancing melody of a pretty guitar line, a flicker of light in the dark, a glimpse of blue sky on a black horizon. Craft not anarchy. The band are immersed in what they do. Guitars spend most of the gig little more than eighteen inches above the ground; JW and SS must walk with permanent stoops. Resolutely upright bassist MB is a picture of calm; drummer JN simply keeps time on Armageddon. Mesmerising.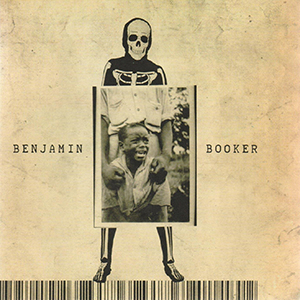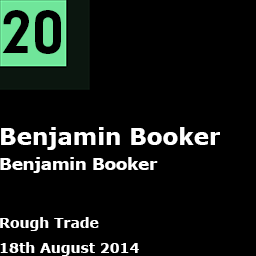 How can you ignore a man who names his influences as The Gun Club, Blind Willie Johnson and T. Rex? Remarkably, on this debut abum Benjamin Booker manages to infuse his sound with elements of all three, creating a ragged collection of contemporary blues numbers that carry the stains of punk, garage and soul, reversing the trend that saw music from the Delta spawn all manner of bastard children. Cleverly produced by Andrija Tokic, who has left the tracks as rough and ready as you like, there is nothing here to detract from the authenticity of the songs, Booker sounding like a weary octogenarian rather than a 25-year-old making his first record. There is naked passion here as well as naked aggression and considering there are only two musicians playing, the sound is enormous. Seldom have we heard such a successful melding of styles, topped by the remarkable 'Slow Coming', a gentle lament that ends in a blast of distorted guitars. It's quite, quite stunning.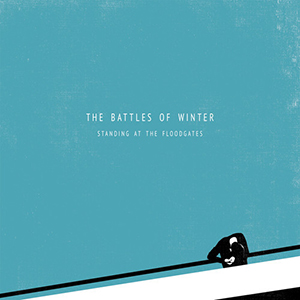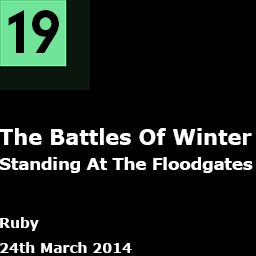 We have to say we are surprised The Battles Of Winter are not better known for Standing At The Floodgates is a most excellent debut album from the London-formed four-piece. There are big guitars on offer here, big songs and big lyrics, as well as musicianship, an ear for melody and, best of all, an overriding passion. Eight tracks are stretched over thirty-seven minutes and it appears that quality control has been paramount: there is barely a weak moment and more than a few songs that fair take your breath away. This really is good stuff. Alastair Gale's vocals refuse to be hemmed in by the playing of his bandmates and he constantly creates pathways of his own imagining, forcing the backing to alter course and chase after him, which is exceptionally pleasing. When he does finally step into line on one crashing punk anthem, even then he stops for a Kit Kat and contemplation halfway through in a most civilised manner. We are bloody well impressed with this so do investigate.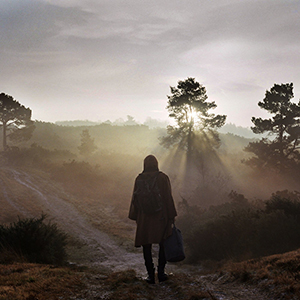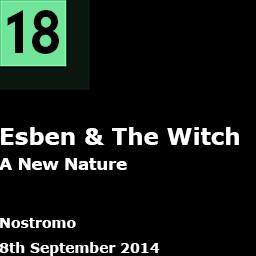 There was a change of tack for Esben & The Witch this year as they departed from their record label Matador to release their third album on their own imprint, Nostromo. A New Nature saw a welcome stripping down of the band's sound, forging something rawer and intensely more powerful, superbly captured by the legendary Steve Albini at Electrical Audio. This naked approach has transformed the band and where once they could border on the unlistenable, now it is difficult to tear yourself away even from the tracks that stray over ten minutes in length; the infusion of power embuing the songs with the same mesmerising energy that has made Swans so effective in recent years. Rachel Davies's vocals are the light that dances on the immense dark backdrops of grinding noise, a contrast that only serves to deepen the almost primal power of the music. Over fifty minutes here and you will struggle to find a moment that doesn't keep you gripped.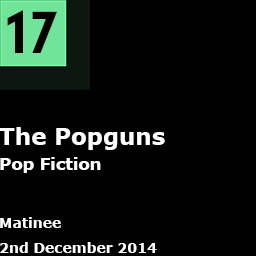 Recently reborn as a six-piece, it didn't take long for The Popguns to release a new album and delightfully it offers all one could have hoped for: intelligent and melodic tunes drowning in the melancholy they harvest so well. We love self-referential bands and the use of two former singles in the stunning 'Still Waiting For The Winter' pleases as much as its lyrical brilliance: a beautifully evocative picture of a Brighton night in a song that remains relentlessly bleak and utterly captivating. It soon becomes clear that The Popguns may have grown up but they have not moved on, as rooted in their environment as they are in their emotional instability: always in Brighton and always in tears as the rest of the world passes them by at its own pace. This maudlin charm underwrites the whole of Pop Fiction; fiction it may be but it is all-embracing, convincing as hell and you cannot help but empathise. The Popguns drag all the saddest moments of your life back to the surface and pretend you learn from your mistakes.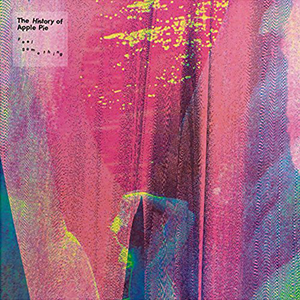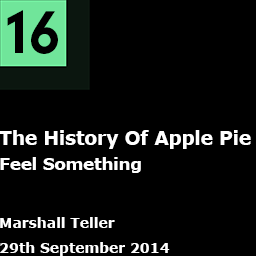 It's good to see bands managing to get an album out a year with Feel Something the follow up to 2013's impressive Out Of View. Where the band's debut was a collection of classic indie guitar pop tunes, epitomised by the near-as-dammit-perfect 'Mallory', THOAP moved in a new direction with this release, adopting a more experimental and spaced-out sound. That is not to say it is a difficult listen, for Feel Something still retains a killer pop edge, but the overall sound has more of a Shoegaze feel to it, with less defined boundaries and plenty of guitar effects on the swirling solos. It wouldn't be far from the mark to say that this could be the album Lush would have made today had they still been around, embued as it is with familiar plonking rhythms, tidy melodies and slightly submerged female vocals. There's a pleasing consistency, with each track dancing merrily through your brain, and the only disappointment is that the vinyl didn't contain a CD as was the case with Out Of View.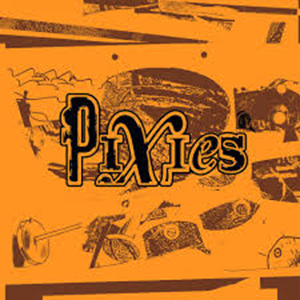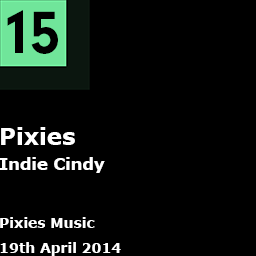 Indie Cindy marks the first recorded output from Pixies since 1991's Trompe Le Monde and was recorded without any input at all from Kim Deal who decided to quit the band in the summer of 2013. It's an odd thing listening to new Pixies material some twenty-three years down the line and in truth some of the material sounds very much Pixiesque and some sounds nothing like the band ever did before. This, of course, is not so much surprising as challenging; are we ready for this new approach or are we just looking for an injection of much needed space-punk wigging out? The good news is that the songs with a more familiar approach are very good indeed, ranging from out and out stormers with a big metal riffs to gently melodic gems. The less familiar numbers tend to be pretty straightforward pop songs, pleasingly not without their own allure, and Black Francis must be delighted with the way this record turned out after such a prolonged break.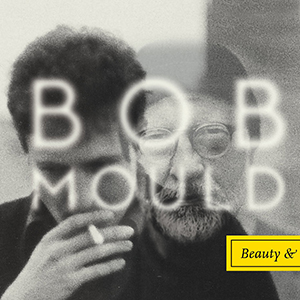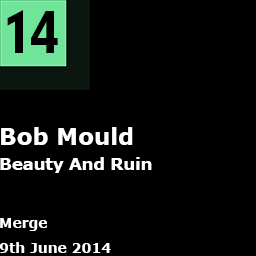 If Silver Age had put Bob Mould back on the right path, this new offering only underlined the man's new found enthusiasm for his punk and hardcore roots; Beauty And Ruin is simply blistering, as hard as anything the man has offered up since Hüsker Dü's formative years. There's few who can make a messy racket sound as eloquent as Mould and, pleasingly, this talent is much in abundance here. At times bustling and bristly, but melodic and catchy as hell in the manner of his more commercial work with Sugar, there is also a welcome infusion of storming, hardcore punk rockers. Lyrically, as ever, Mould is self-analysing, though it is difficult to say if he finds his work cathartic given his emotional lows over the decades. Perhaps Beauty And Ruin has served purpose, however, as it ends with the rising, exuberent 'Fix It' and it's emphatic refrain 'Time to fill you heart with love ... time to fix who you are'. There's not much that needs fixing here.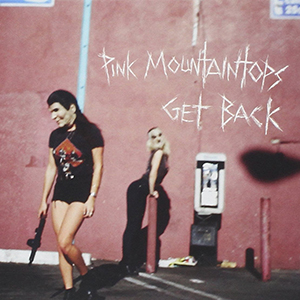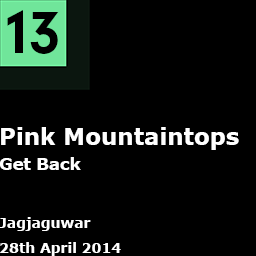 If you like to pigeonhole your music, you may have a little trouble with Vancouver's Pink Mountaintops who are that rarest of things in this day and age, an out and out rock band. That is not to say they are heavy metal or any such cobblers; far from it, Pink Mountaintops offer up a brand of rock music that could have come straight out of the 1970s, when the genre had moved on from its early blues obsession to define its own boundaries, and is chock full of glam, punk and new wave references, though also happy to dip its toes into the sixties or the eighties' post punk and indie eras. The result is something outstandingly contemporary and uniquely refreshing: punchy, melodic, beautifully played rock music. Main man Stephen McBean has a great voice that lends itself to all manner of approaches and can play a mean guitar, but he is also able to tie complex strands into a seamless whole. This is a fine record and all the more pleasing for the rarity of its accomplishment.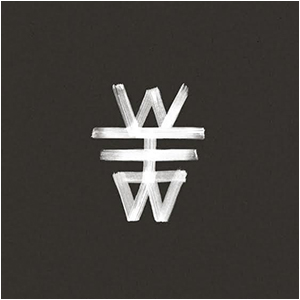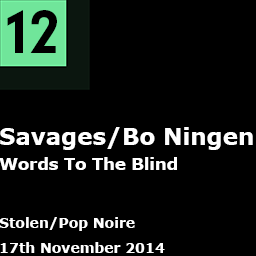 It was a sign of the quality of last year that Savages' debut album, Silence Yourself, which we thought would probably be the album of the decade, only ended up as number four in our yearly list. With no follow-up yet in sight, we must admit we worried this year that the band were immersing themselves too much into the avant garde and losing focus on producing the cutting and vital music that has made them so pivotal to the current music scene. Words To The Blind is a recording of a one-off performance with Bo Ningen, which they describe as a 'simultaneous sonic poem' inspired by the Dadaist concept of the 'Simultaneous Poem'. Largely improvised around a concept of five chapters, this could have had disaster written all over it, but nagging doubts over the pretension of it all are quickly blown away as the result is a terrifically powerful near thirty-eight minute epic which manages to hangs together coherently while simultaneously touching your soul. Brave and affecting.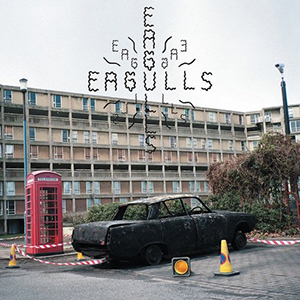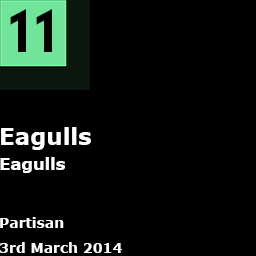 Another band who have toned down their wilder tendencies to produce a post-punk album of remarkable power and control, this debut from Leeds five-piece Eagulls throws out shades of a myriad of bands from the eighties, yet is instilled with the anger and helplessness often associated with the earlier blank generation of punk bands. There is much to recommend it then, filled as it is with flattened drums, resonating bass, spikily feedbacking guitars and raging, hollow vocals. It really is like going back thirty years in time, and though its reference point is very much today, the burnt out car in the council estate on the album cover shows that in many ways things have not changed and the same problems remain. It's great to see Eagulls reacting against this, spitting out anger and contempt in a series of taut diatribes that occasionally border on the anthemic, yet always border on the dangerous. A record pulsing with emptiness and despair at the endemic pointlessness of it all.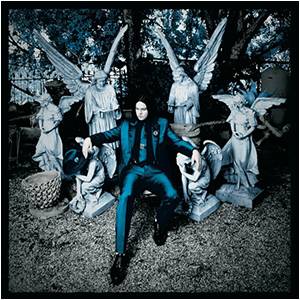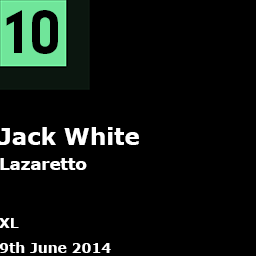 Jack White is a man bewitched with the history of music, a lover of the Blues, and someone unafraid to put his money where his mouth is to promote the things that really matter. Just as interested in the development of British music as American, his unblinkered approach seeps into his music, infusing it with not only his undoubted passion but the richness of history and some wry humour. When Jack White plays guitar you get the same vibe as with Jimi Hendrix; his playing is totally intuitive, and on his second solo album, Lazaretto, he often holds you spellbound. It is astounding how he captures such a modern take on the Blues and when he sings, he does so in the same way he plays guitar. This man is not performing, he is bleeding, and there's indigo in those veins. We think the old Blues warriors would have approved, not because the man is copying the style of his forebears, but because he captures the feeling and that is what it is all about. Contemporary as hell but as old as the hills.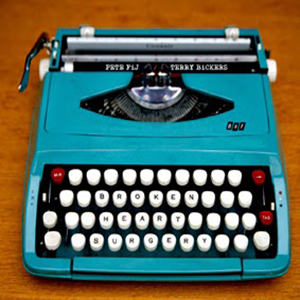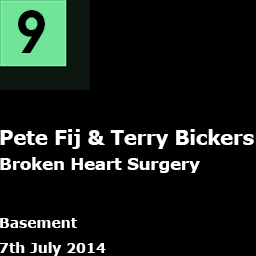 Pete Fij was always a great songwriter, and though the brash Piotr Fijalkowski of Adorable has mellowed over the years, it is clear the talent remains undiluted. That he is now making country music is indisputable, but thankfully, as the album artwork makes clear, that country is England, so there are no repulsive steel guitars but a whole host of bleak songs chock full of wit and dark humour. With the aid of House Of Love guitarist Terry Bickers, the two old favourites combine to produce a delightfully maudlin collection of songs containing not a solitary glimmer of light, nor a moment of connection. It's a delicious concoction of failure and, impressively, there are no weak moments; this is about as complete a collection as you would ever want to hear. Bickers is magnificent and harmonises prettily; Fij narrates with feeling and dexterity. And aching humanity. If you appreciate talent and intelligence in music then you simply can't let this record pass you by as it works on so many levels.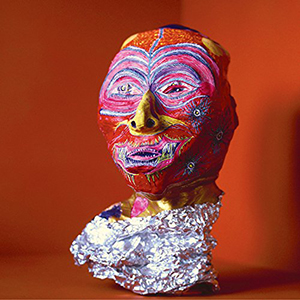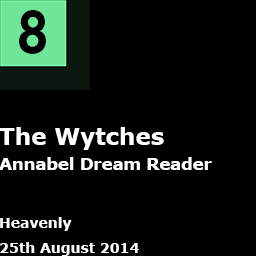 Another debut and resolutely uncompromising. As Annabel Dream Reader grazes your ears, it is obvious The Wytches dwell only in the darkest corners of the earth from where they are happy to pick off the weak, dragging them into the murk to feast on their flickering souls in the dying embers of an autumn sun. The Wytches never reach for the stars because the brightness hurts their eyes and darkness is the only comfort, emptiness the only nourishment. It is here the band rummage among the offcuts of musical styles to piece together their own creation from the scrapings of punk, death rock, surf punk, garage blues, grunge and goth to forge something truly disjointed and, in truth, really rather enticing. If you like dark, this is dark, with guitars scraping across the floor, leaden drumming and a lethargic bass that mocks more than encourages. Kristian Bell sings as if every word is a challenge, his cracking voice curiously compelling, relaying broken tales of dying romance and inherent failure.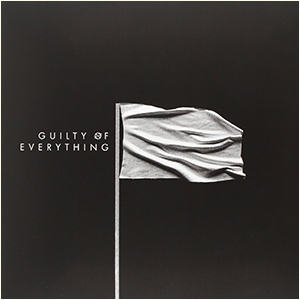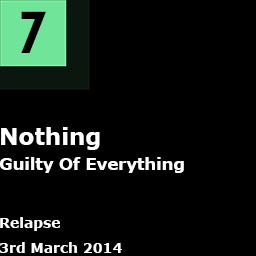 Despite its release by death metal disciples Relapse, Nothing are a million miles removed from the label's standard fare, offering up a dreamy Shoegaze sound, though one that is reinforced with some sturdy guitar work which lifts it from the drippy ethereal into something quite substantial and imposing. Opening softly in multi-layered harmonic textures, the album firms up quickly with the injection of crunching guitars and heavy bass revealing plenty of muscle behind the prettiness. All but one of the songs reaches four minutes or longer, with plenty of delicate, dreamy touches reinforced with brazen guitars and percussion that jumps from the dainty to bulldozer at the drop of a hat. And all the while Dominic Palermo's vocals resolutely float on, oblivious to all that surrounds them. Guilty Of Everything doesn't sound much like anything else around at the moment and is a fascinating listen with no end of drenched melodies harbouring ghosts of long dead bands.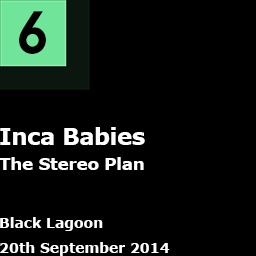 The Inca Babies were forever outsiders. Spurned by their peers during their first incarnation, their second coming has seen them no less difficult to categorise and as easy to pin down as nailing a shadow to a wall. This works to their glory and their detriment. Not punk enough for the punks, not goth enough for the goths; it isn't easy for the band to get their music heard. On the other hand, it does make the band unique, a living entity in their own right. Of course, there is punk in there and there is goth in there, but this is also infused with large helpings of swamp blues, surf rock and plain old English balladeering. It may be indefinable, but the band display a depth of talent, imagination, style and wit that is seldom equalled. Singer Harry Stafford writes fabulously wordy tales of darkness infused with fiendishly clever touches and it is difficult not to shake your head in admiration. The Stereo Plan has so many highlights it puts Match of the Day to shame.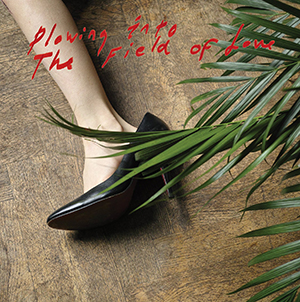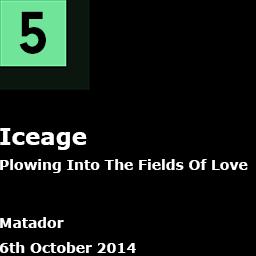 It is vital that bands move forward and don't get stuck in a hole of their own making. As such, this is a truly brave and commendable album from Copenhagen punks Iceage. At forty-eight minutes Plowing Into The Fields Of Love (horrible American spelling and all) is longer than their two previous albums put together and the band's usual short and wild thrashes have been replaced by a fresh post-punk sound which remains grimy and desperate but injects craft into the veins of furious abandon. On more than one occasion here Iceage sound like The Libertines, singer Elias Bender Rønnenfelt perfectly capturing Pete Doherty's delivery, whilst the backing track gently collapses in on itself. At other times there are hints of Nick Cave, the songs swaying between ponderous recrimination and storms of protest. And there is some great piano work. This is not a quiet record, but a thoughtful one and it is all the more powerful for it. We didn't see this coming and we doff our caps in admiration.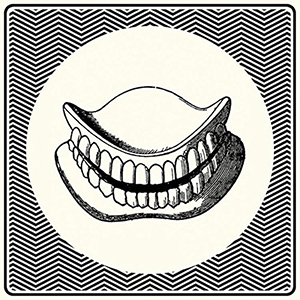 Twenty months on from their debut album, The Hum shows itself to be a more evolved beast, not quiet in any sense of the word, but less inclined to hold its head in its hands. The six tracks and three bridges here have a focus about them that prevents the whole from being sucked down into a sea of clawing sound effects and gives the music an envigorating power and purpose. Yes, the sixties are still big in here, but The Hum gathers more from the primal punk rock of The Stooges than the darker fantasies of the acid heads. At times Hookworms stand as naked in the spotlight as you are ever going to hear them, while other moments see the fury erupting, the ferocity of the songs made all the more telling by the sheer control of the guitars which are held in place by a restraining order from the rhythm section. The vocals sway between the gentle and the passionate, undoubtedly proclaiming that with Hookworms you can have it both ways – light and dark, control and passion, beauty and pain.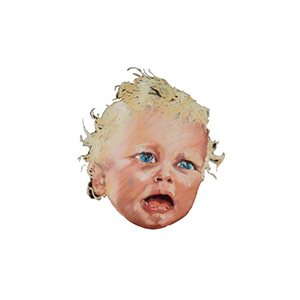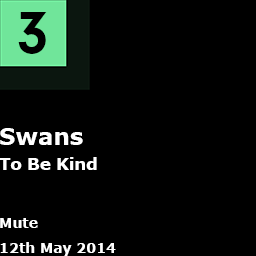 A top forty album both here and in the States, To Be Kind is quite simply one of the most imposing albums ever made. A two-hour record with a thirty-four minute track would normally set the alarm bells ringing, but this is no prog monster, but a work of frightening intensity, brutally industrial, unsettling and dark, yet at times also soothingly hypnotic. There is nothing here quicker than three miles per hour, yet it appears to be impossible not to get run down, so monolithic is the approach, so claustrophobic the mood. There really is no escape from the overwhelming immensity and you are broken slowly, taking pleasure in it. Michael Gira's vocals switch between passionless narration and screaming pleas for mercy, rarely touching middle ground and offering no quarter. Like the other albums following Swans' reformation in 2010, To Be Kind grew through live performance, allowing the band to shape and mould the music before the final recording; an approach that has worked wonders for them.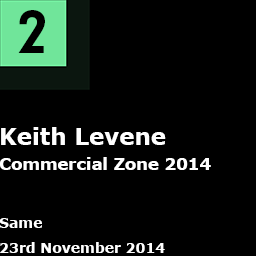 Back in action and confronting unfinished business, Public Image guitarist Keith Levene stationed himself in Prague to shape CZ2014, which eventually saw light of day on the 35th anniversary of the release of Metal Box. This is no reworking of the original recordings of Commercial Zone, but a collection of new works; Commercial Zone as it was originally conceived, in a myriad of colours, shades and styles. And it is indeed a gem. Twenty songs to untangle with no running order, like having free rein at the Pick and Mix counter at Christmas. When Levene plays guitar there seems to be no effort; he simply dips into the well of his inner being and torrents of sound pour out in breathtaking cascades that leave you utterly astonished. Yet CZ2014 is not simply a series of guitar tornadoes; there are a myriad of strands pulling in different directions with surprises at every turn. It soon becomes apparent there is little Levene cannot turn his hand to stylistically, and this is a warming and most welcome return.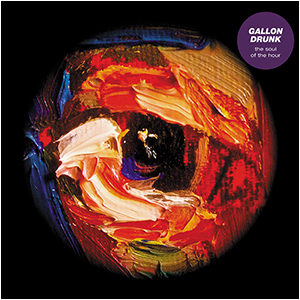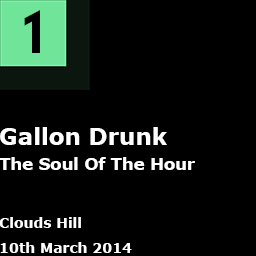 Gallon Drunk's return to action, 2012's The Road Gets Darker From Here, was undoubtedly the most satisfying album the band had yet produced, a howling monster of a record that sucked the blood from a variety of sources and spat it out into a cauldron of seething malevolence and anguish. Our only concern was whether the band could possibly match that record, but all doubts were set aside with the release of The Soul Of The Hour, seven tracks of impossible power, lit by moments of quite touching and unexpected beauty. This is a record infused with a thousand shades of black, but with just enough light reaching in to grab at your heart. Gallon Drunk used to be a a bleakly entertaining sideshow, but no longer. There's little doubt they are now major players, producing deeply affecting, powerful records with consummate musicianship and a seemingly easy grasp of how to drag you through worlds of their own making as they crash down around your ears. The first and possibly only great record of 2014, one that will stand the test of time and one that will trample on your soul while telling you how much it loves you. Desperate and deep. And shamefully overlooked.