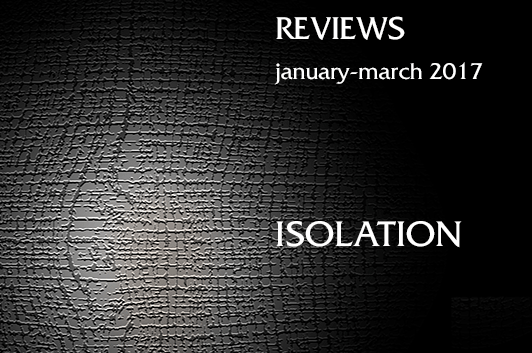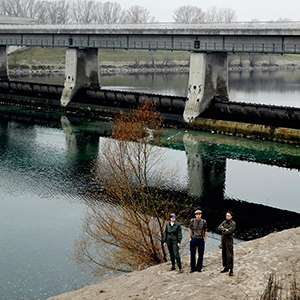 Crystal Soda Cream - Work & Velocity
Totally Wired
Released: 24th April 2016
Apologies to our favourite Austrian goth-punks for overlooking this album on its release; it came out as we were moving across the country and somehow passed us by.
Work and Velocity
is the second album from the Vienna-based three-piece on Totally Wired and continues largely where the band left off on
Escape From Vienna
, released three years earlier almost to the day. It is good to see progress here in the band's sound; it is more refined and collected yet still remains rooted in the shadowy realms of early-eighties Yorkshire. As well as the taint of dark Sheffield basements, the music carries the echo of the early Cure and is divided between English and German language songs, the latter always effective in this style (a la Xmal). 'Saurer Hauch' steals the crown as the most detached and threatening number, Theresa Adamski's shouted accompaniment to Philipp Forthuber's blank vocals particularly impressive, though 'Schlag Zu, Lauf Weg' runs it close with Forthuber's chopping guitars violently assaulting Sebastian Ploier's lugubrious bass in a rather fetching manner. When the band turn to the keyboards they hint at middle-era Cure and 'September' is possibly the most accomplished number here, balanced nicely between mournful chords and more pointed guitar interjections. Lyrically, the band have a punk outlook, railing at excessive control and the misuse of authority and the military in songs such as 'Command Control', 'Expedition Corps', and 'Past Aggression', yet soundscapes and imagery play as big a part as didacticism and they manage to create moments of beauty in an overriding atmosphere of gloom, something captured perfectly by the album's stunning cover photo taken by Hicran Ergen. Best of all, the band don't overplay mood and effect as they did occasionally on
Escape From Vienna
so
Work & Velocity
can be treated as a serious piece of work with a unified feel. And it's certainly a worthy one. Buy it
here
.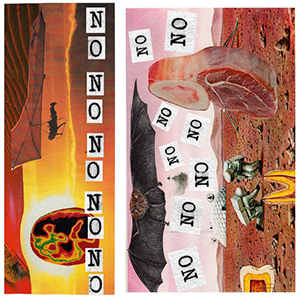 Various - Wilhelmine Show Me The No No No
Wilhelm Show Me The Major Label
Released: 19th January 2017
Our favourite Austrian label changes gender to release this excellent new collection of thirty songs, describing it thus, "This is a feminist compilation about saying NO for all the times you don't want to do whatever thing you don't want to do." It's great to see so many bands now appearing who are making a stand for the feminist cause, though it is patently ludicrous there is still a need to do so in this day and age. Anybody who lived through the seventies will realise just how much society has changed for the better over the past forty years, yet still there are still mountains to be climbed and battles to be won. Fighting these battles in a myriad of styles are bands from all over Europe, our preference of course being for the messier punk outfits among them. Heads up for the marvellous attack from Kristy And The Kraks, the almost X-Ray Spex approach of Lonesome Hot Dudes, the spitting venom of Schrairaum, the lovely shamble of Cryptic Commands, the headlong rush of the brilliantly named Bicycle Terror, and the pleasant thrash of Sex Jams. Whatever your musical inclinations, you will find something here to enjoy. You can buy downloads for your own price on Bandcamp or invest in the complete cassette and zine
here
. Just don't ignore this.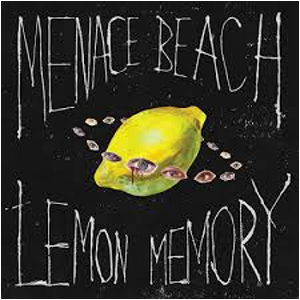 Menace Beach - Lemon Memory
Memphis Industries
Released: 20th January 2017
Having greatly admired Liza Violet and Ryan Needham's first album under the Menace Beach banner, we were very much expecting Lemon Memory to follow in the same vein as Ratworld, but it is good for bands to frustrate expectations and the new offering from the duo (with their usual accomplices) is so far removed from its predecessor, it is difficult to believe they even share the same DNA. Violet commented, "The one 'rule' thing we went into the album session with was to keep in mind that sometimes doing the opposite is much more interesting," with Needham adding, "Liza got that look in the eye and a head-down-blinkers-on thing, and only a moron would try and get in the way of that. It's all about keeping those ideas in their purest form and diluting as little as possible." What we are left with is an album very much shorn of the fizzing, distorted guitars that decorated Ratworld, full of songs that spurn traditional structures and replace them with driven, linear charges, repetition and psychedelic wooziness. What makes it even more confusing is that the opening track 'Give Blood' is more in line with the band's earlier work, gloriously guitar driven and uplifting, before the record is abruptly shorn of such worthless decoration and is thrown into a stranger world where inertia is the norm, nothing can be hurried, and all life is masked in an opium haze. Don't be confused if the first few plays leave you scratching your head; this is a difficult record to come to terms with, but if you persevere you will find yourself adapting to this alien environment and wondering why anybody was bothered in the first place. Some of Violet's vocals are gorgeously detached, floating above the miasma of sound that seeks to pull you down into its deathly folds, and there is no doubt that Lemon Memory is a trap that will slowly steal your will. And if the gentle tones of the lovely closer 'Hexbreaker II' don't carry your soul away, then you never had one in the first place. Tune Out, turn off and .... fuck it. What an interesting and brave record. Investigate.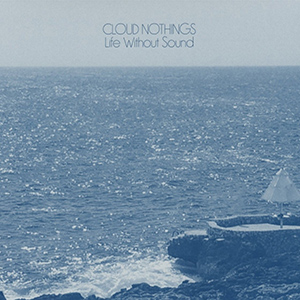 Cloud Nothings - Life Without Sound
Wichita
Released: 27th January 2017
After praising Cloud Nothings in 2014 for their enthusiasm in producing four albums in just five years, they have left it a mere fag paper away from three years before releasing their next. 2014's Here And Nowhere Else was a tough record, far harder hitting than the band's previous releases, but in Life Without Sound the Cleveland three-piece have reined in the power a little to replace it with more craft, its songs bustling with melodies, yet still carrying a bit of a slap. It feels like Cloud Nothings have spent more time on this release, working out the sound they wanted to capture and shaping the songs to that end. There are plenty of singing guitars and wordy lyrics as would be expected, but it is rare that the band's albums are as insidiously captivating as this and it only takes a couple of plays before these songs are burrowing into your brain and feasting on the tasty bits. There's nothing new here in Cloud Nothings' style or approach but they manage to press all of the right buttons without straying into the commonplace or mundane. 'Darkened Rings' is a joy with bendy riffs smothering a chugging punk charge laced with telescopic drumming and meandering guitar bursts. It goes round the houses in the nicest of ways and there is a similar complexity to many of the songs that is pleasing, especially when you discover the subtle undercurrents in 'Things Are Right With You', at first listen the most generic-sounding track on the album. The smartness of this collection is striking throughout, but it simply oozes out of the breezy 'Enter Entirely' and the soothing 'Up To The Surface' which are highlights, along with the cold hatred of 'Realize My Fate' which forms a stunning and powerful conclusion to what is a mightily impressive record.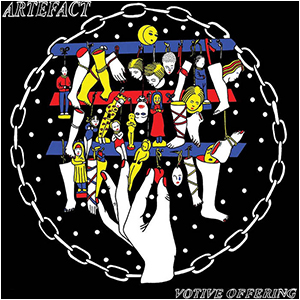 Artefact - Votive Offering
Adagio830
Released: 1st February 2017
Cardiff four-piece Artefact have emerged with their debut album two years after releasing a seven-song demo cassette early in 2015, unusually with no tasters in between. The band, whose music is an uncomplicated and cutting brand of gothic punk, sit somewhere between the sound of the 1980s' anarcho-punks and the solid rock of Ghost Dance; an almost classical approach that lacks the inate subtleties of the great dark post-punk bands. This is power over cunning with Matthew Green's razor guitars dominating the mix at the expense of Hannah Saunders's echoing vocals, which lends the music a raw charge that can thrill, if only in small doses. There are ten tracks here over thirty-one minutes with not one of them making it to four: punk ethics but perhaps lacking a little in scale and ambition. But where this record does hit, it hits hard. Jon Mohajer's bass sings nicely and Danny Parsons drums with proper restraint, while Saunders intonates keenly with plenty of venom in her voice. The guitars sting and slice and you feel Artefact would run you through with little compassion. Lyrically, Saunders narrates Wicca poetry and shows her sorcery to be unforgiving, rapid and deadly. "As I walked amongst the mist/The veil the earth commands/I gathered in my golden fists/The moonlight of the damned." As a debut album from a young band this is a fascinating and promising record that augurs really well for the future.
Votive Offering
overflows with slash and burn darkness and while we enjoy its gory glory, we look forward even more to the days when Artefact will play with your mind and tease the inner recesses of your soul before suffocating you gently. Stupidly limited vinyl available
here
. Buy it and duck.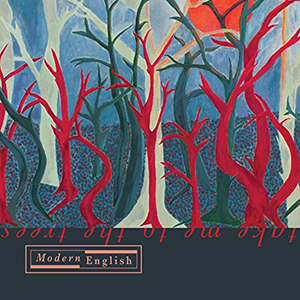 Modern English - Take Me To The Trees
Modern English
Released: 24th February 2017
Having reformed in 2010 with the band's original line-up (minus drummer Richard Brown), this is the first time Modern English have recorded new music since then, Take Me To The Trees funded by a Pledge campaign and finally seeing the light of day nearly a year after its initial scheduled release date. It's interesting to note the band have re-adopted the logo used by 4AD in their heyday in 1983-84 and the links to the legendary label do not end there as the album was co-produced by Martyn Young of Colourbox, who additionally has added some keyboards to the proceedings. This is the first album recorded by the band proper – Robbie Grey, Gary McDowell, Michael Conroy and Stephen Walker – since the patchy Stop Start release on Sire in 1986 and, fittingly, there are more than enough echoes here of the band's earlier work to make it sound familiar, even if the whole lies reassuringly left of centre. Take Me To The Trees steers clear of the poppier direction in which Modern English were moving after quitting 4AD and though it is not so raw and confrontational as Mesh And Lace, it combines the band's early approach with the more refined tones of After The Snow and Ricochet Days. We were always surprised Modern English never achieved much success in their home country, never even breaking into the top ten of the indie singles charts, while managing to dent the Billboard charts in the States as well as inspiring the fascinating This Mortal Coil project. Their music is melodic and accessible, but not lacking in edge, and it remains full of nice little touches that throw it firmly into the alternative field. Lyrically, there are coded assaults on the nature of a society that has been shaped by commercial forces to break the world in the search for financial gain, all relayed gently to eighties' keyboards and nicely shaped guitars. Well worth whiling away an afternoon or two to this one and a pleasingly successful return.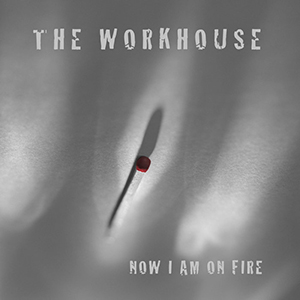 The Workhouse - Now I Am On Fire
Oscarson
Released: 4th March 2017
The Workhouse are one of those painfully intelligent, almost willfully obscure bands who live on the periphery of your vision, occasionally bursting into the light to remind you they still exist before once again ducking into the shadows.
Now I Am On Fire
is the band's fourth album in over twenty years, their first since 2011's
The Coldroom Sessions
, and their first release since 2013's
The Sky Still Looks the Same
EP. There have been subtle changes in the band's sound since their 2003 debut, a largely instrumental affair, though three of the tracks here remain wordless and throw up shapes of early 4AD band Dif Juz, while the vocals by bassist Chris Taylor and drummer Steve Hands on the other seven have similarities to those of Tom Smith. However, the songs are less anxious and abrasive than early Editors, touched as they are by the carefully melodic guitar work of long-time Workhouse mainman, Mark Baker, whose sound occasionally borders on the Marresque. This is an impressive record with some quite beautiful moments; at times it simply soars and seldom do alternative bands make such an impact with their instrumentals. The chiming 'Adventures In Winter' and closer 'Blankets' with its indistinct mumbling and escalating guitars are uplifting and embracing, rare moments in a record tinged with a mood of sadness. Perhaps the joy is a surprise for which there can be no words, for lyrically The Workhouse dwell on traditional themes of heartbreak, misplaced hope and alienation, the words finely framed by excellent musicianship and impressive craft. "Promise me horses once again / I believe you every time / If it means that I have hope / I'd rather live with lies," they sing on the touching 'Promised Me Horses', and that's as buoyant as it gets lyrically, though the music often raises the spirits despite the overwhelming helplessness of the situation. 'Menace' and the fantastic 'The Sky Still Looks The Same' stand out amongst a pretty fine collection of songs that are well worth investigating. Nip over to
Bandcamp
to get hold of this gem; there are some ludicrously limited editions so don't miss out. (Our vinyl/CD set came in a lovely handmade black card cover with copper embellishments and is numbered thirty-four out of forty-five!)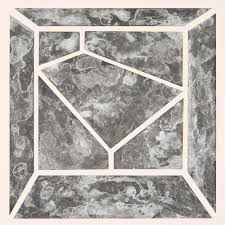 Spectres - Condition
Sonic Cathedral
Released: 10th March 2017
Very few bands make us as happy as Spectres, their car-crash guitar miserabilism a tonic for just about every condition known to man. Don't buy the depressive demeanour; this is a band having the time of their lives when they play, creating their own little maelstrom of blackness in which they are gods taunting and battering all who happen to stray into their realm. Condition is a marked step away from 2015 debut Dying and it seems Spectres have been listening closely to the experimental mayhem created by their mates in Girl Band, particularly the brilliance of Alan Duggan, as here they foist brutality upon their guitars in a series of adventurous songs which howl and scream and stretch the limits of sound to breaking point. It's a beautifully extreme record that will have you entranced before you are even halfway through. Though post-punk is certainly in vogue now, it is bands such as Spectres who are truly picking up where those great early eighties pioneers left off by taking things to new horizons and accepting no limitations in content and approach. Walls that once were breached now come tumbling down in the glory of Spectres' sound. And yet, this is no all out assault on the senses; the songs are carefully constructed and firmly founded, with melodies running through them and the gentlest of vocals whispering a rather personal darkness: there are plenty of lyrics here rooted in the first person. Of course, being Spectres, there is alienation and detachment, yet you can feel the emotion which is never brushed away by the torrents (or, occasionally, rivulets) of sound that accompany it. This is a starkly impressive, balanced creation. There may not be many notes, but none of the not-notes are out of place. In the game of sonic Buckaroo! Spectres never falter. It's difficult to put into words how good this record is as at essence it is all things we love and crave. There's no point picking out highlights as this review would take a year to write. Condition is a record without weakness and how often can you say that? There's an indies-only limited skin-coloured vinyl release, so grab one while you can.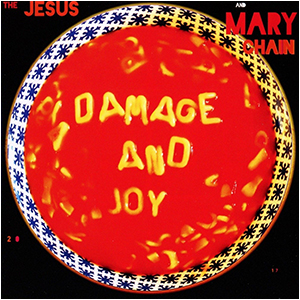 The Jesus And Mary Chain - Damage And Joy
Artificial Plastic
Released: 24th March 2017
Nineteen years ago, when The Jesus And Mary Chain released their last album, Munki, it was an record out of place and out of time. It certainly wasn't a bad collection, but it seemed the world had moved on, leaving them abandoned on an ever-shrinking island of indie-past. Days change, thankfully, and as the newly resurrected band offer up another double album, Damage And Joy, it is into a happier world where alternative music has re-found itself and the return of the greatest ever pop culture junkies appears to be right and proper. In fact, as opener 'Amputation' whizzes away on the turntable it feels like the Reid brothers have never been away; the song is an absolute masterclass in indie cool, buzzing with radio feedback as a very pronounced 'dum, dum, dum' announces the return of the masters. Within a minute background 'oooohs' and throwaway expletives are being strewn effortlessly like litter on the breeze. "I'm a rock and roll amputation," sings Jim and nobody is going to argue with that. The song is pure magic. Damage And Joy sports a cover reminiscent of the Creation Soup series and though this record in no way harks back to the band's earliest days on the Creation label (though Alan McGee has signed them to his new Creation Management), it does tie in nicely with all of their releases from Darklands onwards. There is moody cool, Americana, sixties girl band songs, plenty of male-female duets and angular British indie rock amongst its fourteen tracks that stretch to some fifty-three minutes. It all sounds so familiar, yet remains uplifting as the Reids not only sound like they are enjoying themselves, but are rejoicing in the realisation that the spark is back. It's a long time since this band was able to shock with their music, but when they are at their best they are pretty bloody untouchable. Damage And Joy is a triumph, as it was always going to be. It's the Mary Chain, stupid.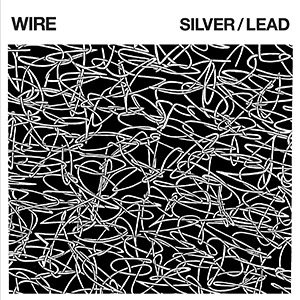 Wire - Silver/Lead
Pink Flag
Released: 31st March 2017
Having witnessed Wire performing live in recent times, we had expected their latest album to be a bit of a roaring monster, but it turns out to be nothing of the sort. Singer Colin Newman recently explained the title came from bassist Graham Lewis revealing that the philosophy of Mexican drug gangs was to solve all problems with either silver or lead, by paying people off or shooting them, but the contrast between reward or death here is more cerebral than sonic. Silver/Lead is neither filigree nor bludgeon, however refined its musicality or blunt its message. This is a gently insistent collection, offering value rather than weight, with the songs built around motorik rhythms and never swaying from the blueprints laid down in their opening seconds. Decoration is superficial; these songs do not sparkle at their core. Being Wire, of course there is a nice grasp of melody, though this is chained, restrained by rigid parameters, leaving the whole never less than a lesson in discipline. Silver/Lead is rarely urgent, lyrically considered, with a measured and weighed vocal delivery. It is what it is from the surface to the depths, with no flaws and no contrasts. Solid, stable and unbending. Such constraint leaves the whole sounding a little one-paced at times as the songs defy expectations by refusing to grow and spread their wings, spurning any opportunity to take on a life of their own. Wire never allow this this to happen and reject evolution. Yet within these constraints guitars scrape pleasingly and keyboards sweep along bringing flickers of relief, yet they never dig deep enough to expose any cracks; mere surface irritations. This is a masterclass in control and a complete change from the more experimental Nocturnal Koreans. The intelligence, class and wit here are more than enough to prevent the mood from becoming stifling and, once again, Wire leave us with an intriguing record that will fascinate as much as entertain. Such challenging bands are a rarity and a treasure and it is so good to see them turning out music so prolifically and impressively. Young bands should aspire to be this good. Wire set the standards.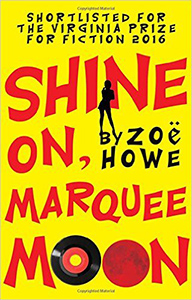 Zoë Howe - Shine On Marquee Moon
Matador
Released: 28th September 2016
We don't usually review fiction on these pages, but this book is slightly different in that it is about music and is written by Zoë Howe, one of the most vital music biographers of the age. It is not just that Zoë has produced important works on The Slits and The Jesus & Mary Chain in recent years (as well as portraits of Feelgood legends Wilko Johnson and Lee Brilleaux), but she did so at a time when interest in alternative music was at its lowest ebb and when many of us felt like voices crying in the wilderness. Zoë, then, is one of our own, a positive voice helping to fan the flames of musical renaissance, and one who approaches her work with such passion and effervescence that it almost makes us want to step out of the shadows and run around on a sunny beach. Almost.
Shine On, Marquee Moon
is Zoë's first novel, and as you would expect if you have spoken with her, or read her earlier works, it is smart and funny, a book that flows beautifully and makes a truly satisfying read.
There is so much here that will be familiar to all readers of this site. The plot revolves around Concierge, a famous new romantic band of the eighties who are playing the lucrative nostalgia circuit, and it highights the problems that go hand in hand with a successful, monied band and the machinations of a manager who attempts to manipulate every situation to his own advantage. Viewed largely through the eyes of the band's dresser, Sylvie, the reader's perspective is that of an interested, but increasingly detached, outsider and this gives the author space to introduce some heart-wrenching moments alongside hilarious bouts of band-bitching, ego-stroking and starry-eyed adulation. You would be a hard person indeed not to laugh out loud many times as you breeze through this book, and breeze you will as it is an easy read, a testament to Zoë's strength as a writer, and the lack of complication in construction, character and plot. And this is despite Zoë emulating Patrick O'Brian by using the word floccinaucinihilipilification in her debut novel, something we applaud greatly, and even beating O'Brian by using it twice. Thankfully, Shine On, Marquee Moon puts Zoë's knowledge of the music world to more entertaining use than O'Brian's interminable discourses on rigging.
It does lead to the question of where the author goes from here. No doubt there will be further biographies and further novels, and if Zoë wishes to write a series of warm, readable and witty books then the world lies at her feet. If she wants to develop into a great novelist, then there is work to be done stylistically. Though spiritually revolving around the famous Television album Marquee Moon, as the book's title suggests, there are no intricate, intertwining sub-plots here in what is a relatively simple tale and the shifts in narrative viewpoint throughout are far from conventional. She punctuates cleverly, can balance a sentence beautifully and often surprises with witty adjuncts, but occasionally slips up grammatically: the opening paragraph of chapter twenty is a bit clumsy and we stopped there re-reading several times to get the meaning straight. Minor points, these, but worth a thought if the author is harbouring deeper ambitions. Of course, this fussiness won't interest the average reader and certainly won't impinge on anybody's enjoyment of this witty and impressive debut.
You can buy a signed copy of Shine On, Marquee Moon directly from Zoë's website rather than help fund tax-dodging corporate on-line booksellers. If you search hard you may be able to trace an unsigned copy, which are apparently worth a fortune.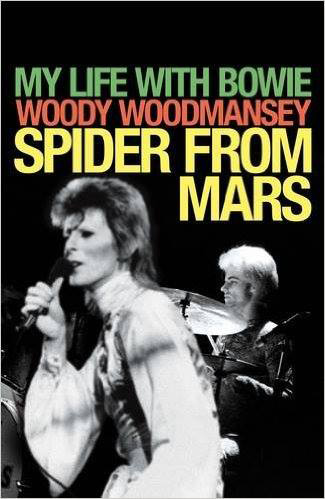 Woody Woodmansey - My Life With Bowie
Sidgwick & Jackson
Released: 3rd November 2016
An endangered species these days, Woody Woodmansey is the only remaining survivor of David Bowie's brilliant band that tore the music world apart in the early 1970s. With cancer taking all three of his former colleagues – Mick Ronson in 1993, Trevor Bolder in 2013, and Bowie himself in 2016 – this is a welcome account of the years when the Spiders From Mars helped Bowie rise from obscurity to become one of the biggest stars on the planet and tells how the pressures arising from that success changed him. Woodmansey's uncomplicated and direct style makes the book easy to read (in fact, devour in one session) and it is not ony a fascinating tale but the whole is utterly charming as the drummer recounts little tricks and jokes that have stuck in his mind over the years that highlight the band's camaraderie. It is clear that the solid friendships with his bandmates are the things he treasures, and though Woodmansey touches upon the more sordid side of rock stardom, it is obvious that he, Bolder and Ronson were nothing like the rock monsters of legend and though he may have indulged in the odd drink and groupie, an epiphany while one of the latter was bouncing up and down on him made him realise there were cleaner ways of living his life.
What is inescapable on reading the book or listening to Woody talking about his career (as we were fortunate enough to have experienced in November 2016) is that the man is a thoroughly decent individual and a lot more forgiving than many of us may have been after suffering some particularly poor treatment from supposed friends. On finding out on an American tour that the band members were being paid considerably less than the backing musicians, it was left to Woody to confront manager Tony Defries and threaten to withdrawn his labour unless this situation was rectified. The matter was sorted, pay rises accepted, and the band continued as normal until revenge was gained when Bowie got Defries to phone Woody on his wedding day to tell him his services were no longer required. Though many wouldn't have done so, Woody readily forgives Bowie for this. This is largely because he later discovered the singer had become addicted to cocaine due to the pressures of fame and that had been influencing his behaviour. Bowie confirmed this to him when they met up in Europe some three years later and though no apology appears to have been offered, this explanation was accepted as one. Woodmansey also never has a bad word to say about Mick Ronson who found himself manipulated into situations where he would turn his back on his bandmate in his hour of need; Defries certainly had the ability to divide and rule.
It always raises a smile to see how Bowie managed to influence three northern lads and persuade them to dress in outrageous glittery costumes and pile on the slap. Woody reveals all with a wry smile and an understanding of really how easy it was for him to be persuaded; deep down there must always have been a secret desire for glamour and adulation despite the tough image he had been bred to assume. If you are more interested in the actual creation of the music, Woody reveals his approach to the songs on which he drummed and how he adapted his style to fit in with Bowie's ever-changing ideas. All his influences are laid bare and his pride in his work is both justified and heartening.
This is the only account of these years now we are ever going to see, so if you have any interest in the Ziggy era, you really need to snap this book up. It's a delight to read and you'll return to it time and time again. Terrific.