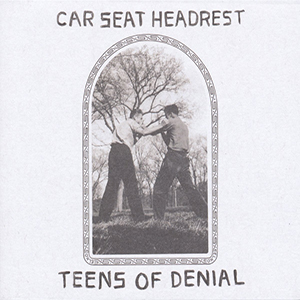 Car Seat Headrest - Teens Of Denial
Matador
Released: 8th July 2016
Will Toledo has a massive collection of DIY solo albums behind him, yet the young singer moved into a different league with Teens Of Denial, his first 'proper' album recorded in a decent studio with a full band behind him. As with Parquet Courts, the collection is massively helped by good production and mastering, yet still retains the primitive appeal of previous outings. This is due in no small part to Toledo's experimental soul and lyrical dexterity. It would easy here to quote a hundred lyrics from the album, amazingly stretching to seventy minutes over twelve songs. Safe to say, there will be couplets you will hold on to for years to come, yet enjoy most in their natural environment where guitars crash and soar as songs ebb and flow, bob and weave, and sneak in to poke you in the ribs. There may be plenty of self-analysis and doubt here but it is framed in such an attractive way that only a hard person would not fall for its charms.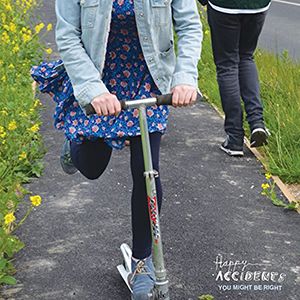 Happy Accidents - You Might Be Right
Alcopop
Released: 29th July 2016
It's a simple fact that over the past couple of years, we have played more songs by Happy Accidents than any other band. This was due to the infectiously uplifting couple of EPs the band recorded over this period, namely the home-produced
Demos
EP and the quite splendid five-track
Not Yet Jaded
EP released by Don't Ask Records in 2014. These were astonishingly addictive collections of songs that we could quite happily play on repeat all day, full of clever, wordy songs backed by cuttingly effective guitar riffs, fantastic backing vocals, neat changes in pace and joyously leaping melodies. There were some great videos as well, nicely capturing the band's youthful energy, and to say we were eagerly awaiting the release of HA's debut album was pretty much the understatement of the century.
Now You Might Be Right has finally arrived it is interesting to note that it doesn't include any of the tracks from those two EPs, so in many ways it cannot be judged as a traditional debut album; it is old school indie in the fact it is seeing light of day a couple of years after the band's intitial recordings and is not, then, a collection of early songs. Often it is a band's early works that help infuse their debut albums with confidence and energy as they have been living with them and refining them for an age. This collection, however, is a snapshot of Happy Accidents as they were when recording in November 2015 and marks a band taking their second steps rather than one bursting away from the start line. Guitarist-vocalist Rich Mandell comments in the accompanying fanzine, "As soon as we finished our last EP, I was so certain we should rush out another one as soon as we could. But the further I got into the songwriting, the more it felt like the songs were suited for an album." He is right in that it would be difficult to have picked four or five of these tracks to stand together on one EP; there is obviously a theme and mood running through the whole, and surprisingly it one of resignation, the words and music tinted by a grey backwash, with the songs often downbeat to the point of being glum.
Opening with 'But You're Probably Wrong', the song from which the album's title is drawn, Rich offers up the resigned, "Having been all on my own for such a time/It's kinda strange to have a person in my life/Who believes one day I'll achieve some peace of mind/You're probably wrong..." and this pretty much lays down the tone for the remainder of the album. Not that this is a bad thing, but as the record alternates between faster and slower moody numbers there are times you hope for some sort of lift-off à la 'Autopilot' just to shake things up a bit. As it stands You Might Be Right is intense, even bordering on gently oppressive, despite including all of the elements that make this band so wonderful. Happy Accidents think nothing of ending a line with the first half of a word, the lyrics are intelligent and thoughtful, and musically the masters of the simply effective riff also demonstrate they are capable of greater complexity: 'Quiet' has terrific, inventive depth and 'Feel The Same - Unfavourably' opens up like something by The Doors, which leaves us mildly astonished.
Fear, confusion and self doubt, underlined by a solid streak of determination and purpose, are this young band's hallmark, but they choose to present it this time around in a more sombre mood rather than laugh everything off with a shake of the head. It makes You Might Be Right rather a dark offering but it is still a worthy one; beautifully recorded and admirably presented, it is far too classy to ignore, despite its weight. Buy it now and make them smile and who knows how the follow-up will sound.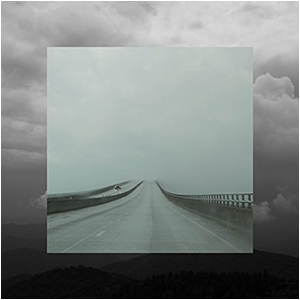 The Wedding Present - Going Going
Scopitones
Released: 2nd September 2016
It's over four years since The Wedding Present released their last album,
Valentina
, a record that saw light of day on the cusp of the massive revival in alternative music. It perhaps didn't show off the band at their very best, but it still stood head and shoulders above most other records released that year. The recent renaissance has seen the bar raised far higher as new bands have loosed a torrent of exemplary records which in turn has led to the old guard considerably raising their game. The lack of disappointment over the past three years has been an unexpected highlight and one that seriously leads us to consider we are living in another golden age. Over the years The Wedding Present have seldom been much moved by outside forces, ploughing their unique furrow, so it was fascinating to see how their latest offering would stand up in the brave new world.
We should never have doubted. Going Going is a pleasingly heavy beast: twenty tracks over seventy-seven minutes of muti-faceted music that clearly shows the band not falling into the trap of making music simply to fill the length of a CD, but offering up something weighty and different, with very little running spare. With a ton of film shot on a trip to the States, the music on this album was built around the pictures, leading to a disparate but connected collection, full of both experimentation and nods to history. In a surprising opening, the listener is dragged through the oppressively laden instrumental 'Kittery' and prodded by the post-punk ambience of 'Greenland' before being allowed to relax to the hymnal chant of 'Marblehead' and the haunting string-laden 'Sprague'. There's then a rude awakening as the record bursts into more traditional Wedding Present territory with 'Two Bridges', which leaps out with joyous, bounding energy. Yet, as usual, this joy is not shared by mainman David Gedge whose life appears to revolve around a Groundhog Day of emotional misery and broken romance; he's either led the saddest life or he feels too much pain, but thankfully this mental turmoil gives The Wedding Present their raison d'être. "I'm a different person now," Gedge sings on 'Little Silver' but there's little sign of it lyrically.
Going Going touches on all eras of Wedding Present past, showing plenty of the controlled menace first encountered on Seamonsters, earlier freneticism with chopping and bubbling guitars on 'Secretary' and 'Birdsnest', and some of Gedge's most touching lyrics to date. In the band's litany of heartbreak, there has seldom been a song as affecting as 'Bear', and seldom one better sung, all enhanced by the lovely grumbling accompaniment to the chorus. 'Bells' is another triumph, both musically and lyrically, Gedge declaring that "I called you darling because I already forgotten your name" in a nicely resigned vocal. There's so much here to enjoy, it would take a hard person indeed not to embrace it and acknowledge Going Going as one of the band's best offerings to date. Terrific.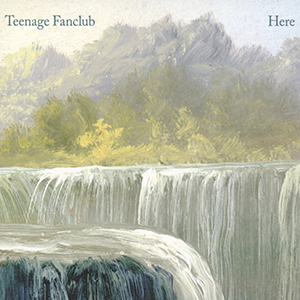 Teenage Fanclub - Here
PeMa
Released: 9th September 2016
It is twenty-six years now since Teenage Fanclub announced their arrival with the abrasive
A Catholic Education
and there was little hint at that time as to how highly regarded the band would eventually become. As they prepared to release their tenth album this year (prolific they are not), expectations were so high, it was clear the Fannies had come to be seen as some kind of modern Beach Boys, masters of the beautifully melodic pop song and, even in the sanitised world of digital media, you could hear pulses quickening. That their reputation has become so lofty is down entirely to years of them producing exquisitely crafted music and, thankfully, yet again they do not disappoint,
Here
matching up to the pastoral beauty of its cover with a collection of sun-drenched, easy-flowing harmonic charmers, four apiece from original band members Gerard Love, Norman Blake and Ray McGinley.
Perhaps the secret is the simplicity. Teenage Fanclub don't wallow in the dark recesses of the mind, but focus on love, life and the beauty that surrounds us all, spurning speculation and semantics in the pursuit of evident truths. And the music they fashion is almost cleansing as though the band has easy access to the fountain of life and are seeking to imbue all with its silvery promises. Let yourself be immersed and the barbs of life will slip away, almost unnoticed. Here is a beautiful creation full of magical moments such as the grating outro to 'I Have Nothing More To Say', the uplifting horns in the luminescent 'The First Sight', and the fuzzy solo in the gorgeous 'It's A Sign'. Yet there is so much more to revel in than these joyous snapshots. The only shame is that this is Teenage Fanclub's first album in six years and only their second in eleven. How many more glorious songs have been lost in the passage of time? Life is short, so get your fingers out while we ponder whether these albums should be listed by UNESCO. Radiant.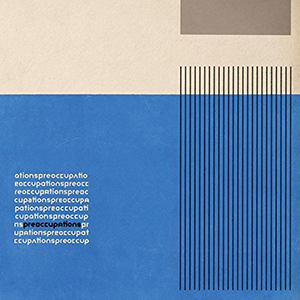 Preoccupations - Preoccupations
Jagjaguwar
Released: 16th September 2016
Having taken all manner of grief for their previous name, Calgary four-piece Viet Cong announced earlier this year they would henceforth be known as Preoccupations, giving the band the rare opportunity of releasing consecutive eponymous albums under two different names. This latest offering, an almost-perfectly classical nine-tracks over thirty-eight minutes, does show a marked change from Viet Cong in that it is less spiky, dissonant and piecemeal, though the band's sound remains solidly in the post-punk field, full of stuttering guitars and gloomy synths. Indeed, this less frenetic collection serves to focus the band's sound into something altogether more dense and taut; there is a powerful darkness here that remains unbroken by any light, which is fitting given the subject of the songs, the all one-word titles revealing the plot: 'Anxiety', 'Monotony', 'Degraded', 'Forbidden'. Matt Flegel's approach to his vocals always calls to mind Dead Can Dance as they have a detached quality to them and they bounce between slower, haunted narratives to more impassioned torrents. The bands may be a world apart musically, but there is a neo-classical feel to both of Preoccupations' albums, a grandeur in approach that gives the lyrics more gravity whilst throwing a spotlight on the finely honed musical backdrops, turning synths and electric guitars into cunning orchestras able to draw ferocious degrees of emotion from tiny timeframes. The one minute of 'Sense' is enough to tease your brain into uncertainty, while the minute and a half of 'Forbidden' leaves you gaping. In contrast, the eleven and a half minutes of 'Memory' unleashes a welter of emotions, a ragged symphony of dirty melodies, stuttering interludes, eighties' synth pop, drone and huge choral refrains. Throw in the slicing guitar breathlessness of 'Stimulation' and the evil circus synths of 'Fever' and there really isn't much more to be desired. This is an exceptional album that plays with your mind as it unfurls: thrilling, inventive and moving. It's a beautiful thing.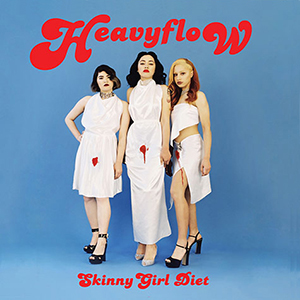 Skinny Girl Diet - Heavy Flow
Fiasco Recordings
Released: 21st September 2016
We've seen Skinny Girl Diet live a few times now and they have never ceased to blow us away with their energy, style and uncompromising attack. This is a band who look like a band, which is important, yet one who realise that style is no substitute for substance. Their music is bruising guitar punk, with a heavier infusion of grunge here than we would have predicted, and an odd sprinkling of indie fuzz that brings occasional warmth. This is a band capable of producing the most grimacing sound, devoid of every slight trace of melody or grace, and yet match it with hooky, catchy rhythms that draw you in irresistibly. They even manage the two at the same time in 'Yeti', a chaotically piecemeal, twisted monster of a song that slaps you round the face and embraces you at the same time. It is obvious that plenty of thought has gone into this record in delineating the contrasts in style, and
Heavyflow
is no mindless assault. The warping buzz of 'Fix Me' is shambolically tuneful and likeable while the sheer bloody-mindedness of the following 'Pretty Song' is an inspiring tornado. "I'm not going to write a pretty song ... I don't know what to say," screams Delilah Holliday as she unleashes some dislocated PiL guitar slashes in a blazing outro. 'Okay' builds slowly from gentle beginnings, while 'Wolf Pack' falls over itself to bruise and batter from the start. Of course, you cannot make a record such as this without being slightly miffed with the world and there's plenty of bitter personal reminiscences here mingled with political outrage and feminist encouragement. For Skinny Girl Diet it is bloody obvious that things are messed up in the world and completely bewildering that nothing seems to get done about it. There's a youthful, righteous anger here, and it's great to see. The title of the record, and the cover where the band members are dressed glamorously in white dresses stained with menstrual blood, are an attempt to shake a blinkered world into reality, to
demythologise
aspects of womanhood that so often get swept under the carpet and ignored. It can be easy for those of us who grew up in the alternative culture where it was perfectly normal for your best mates and favourite musicians to be women to forget how difficult it can be in the mainstream world for women to overcome still dominant prejudices. Skinny Girl Diet hope to inspire young women not to be cowed into abandoning their dreams; to reach out and seize what is rightfully theirs. Hopefully they will succeed in this; they bloody inspire us.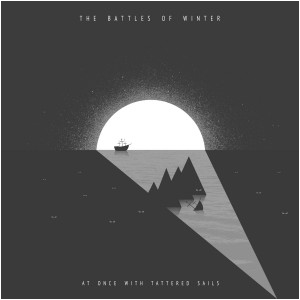 The Battles Of Winter - At Once With Tattered Sails
Same
Released: 23rd September 2016
It has taken two years for The Battles Of Winter to follow up their formidable debut album
Standing At The Floodgates
and sadly their new offering
At Once With Tattered Sails
has not been given a physical release, but is only available to download on
Bandcamp
. As with Ghost Outfit's second outing, it is alarming how much great music is not currently finding its way into physical form, for this is another offering of outstanding quality and surely there must be some label out there willing to give these works a body.
Whereas Ghost Outfit give unparalleled shape to naked, burning emotions, The Battles Of Winter take a more refined approach, providing their songs with an epic scope: lyrics fat with imagery beautifully enunciated over powerful and cutting musical backdrops. There's a sensitivity here that is warming, and at times quite beautiful, yet the panoramas created are huge in scope, drawing you into a world of seascapes, ships and lemon groves; familiar sights but with indeterminate purpose, like following a treasure map without an X. For The Battles Of Winter are not overtly explicit and prefer to let their listeners shape their own thoughts from their songs. There's no escaping the waves of hope and loss that lap at its shore and an overriding sense of looming danger, but the concept behind this album is in the listener's imagination and it's a remarkable achievement as this sounds like a concept album to its very bones.
The musicianship is startling. 'Hare Hunter Field', 'Love's White Thread' and 'Death In A Lemon Grove' lead an almost endless list of songs that are finely decorated, with some delightful guitars building layered melodies, sonorous and resonant, with vocalist Alastair Gale working within finely created boundaries rather than setting his own limits as he did on the first album. It makes for a less angular sound, with a greater depth, and though there are no songs that scream out at you as obvious standouts, this collection is a complete whole, round pegs in round holes, and eminently satisfying. This band should be massive and this record should be in every home, so buy the nasty download and spread the word. Excellent in every way.



Singles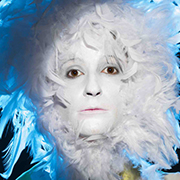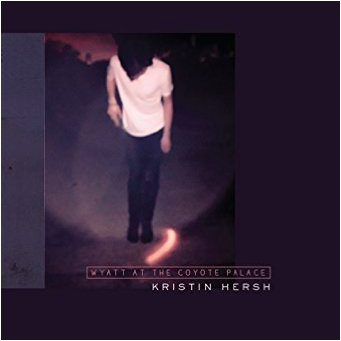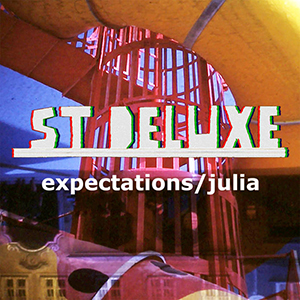 Rachel Mason - Tigers In The Dark
As the first single from her new album
Das Ram
(out on 18th November on Cleopatra Records), 'Tigers In The Dark' is a bit of a belter from long-established performance artist Rachel Mason. There's an awful lot of Siouxsie Sioux in the singer's vocals which dominate a throbbing electronic backdrop and there's a touch of Nina Hagen in the extraordinary
video
to the single, apparently written from the voice of a hybrid animal-human, expressing the idea real life can only spring from the creative dimension. There's the occasional bursts of cutting guitar which work well with the singer's cold, soulful delivery to create a track that's just a little bit out of the ordinary and well worth investigating. Available to download on
Bandcamp
, where you can also get hold of the new album, amazingly the thirteenth of Mason's busy career.
Kristin Hersh - Soma Gone Slapstick
The first taster single from Kristin Hersh's new book and double album collection, Wyatt At The Coyote Palace, shows the singer in imperious form. As with previous recordings, this has been an album meticulously pieced together over the years with Hersh playing all of the instruments and she admits she dragged out recording the drums for this song all night to avoid walking home in a blizzard. There's a certainty to recording drums that is not affected by changing moods unlike a vocal which is a fragile thing. That is reflected here as the singer moves from purposeful strides into quieter reflective moments. "I did feel sorry for you/Overwrought and see-through" she sings in control before the certainty drains away, "A glimmer of the future/Made this winter even crueller." The dual-faceted vocal presents a nice reflection of the period Hersh describes as the "on fire underwater years", uncertain times in which this album was shaped. Behind it all the noise of life goes on which further frames the melancholy air. First released exclusively for Strange Angels as part of the Spark Meet Gasoline work-in-progress series, the completed song is a beautiful piece and augurs well for the album which is due out on 28th October.
St Deluxe - Expectations/Julia
Having been busy playing with Stephen Lawrie as The Telescopes, Glasgow three-piece St Deluxe release their latest single as themselves and it's clear they are enjoying loosening the shackles and letting the melodies flow. February's Draw A Line EP was a fairly heavy and dense outing, but 'Expectations' is like all your summers have come at once, a gorgeously poppy guitar stroll with only a mild psych hangover intruding into its peripheral vision. There's a touch of early Fannies here in its easy grace and summery charm and a beautifully deranged guitar solo carries the song away to a magical conclusion. It's quite splendid. Joint a-side 'Julia' is less immediate, but no less appealing, as it stutters and wails through a fuzzy two and a half minutes. Well worth an investment and available on cassette and download at Bandcamp.