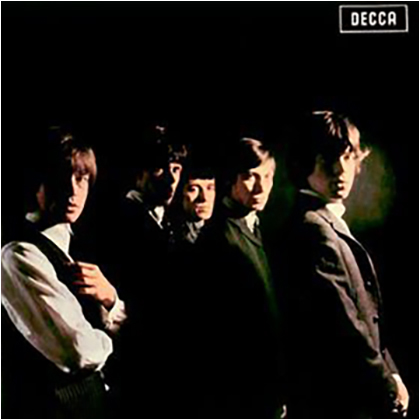 The Rolling Stones
16th April 1964
The Rolling Stones
was recorded at Regent Sound in London over the course of five days in January and February 1964 and was released by Decca in April. It was produced by the band's then-managers Andrew Loog Oldham and Eric Easton. At the time of the album's release the Stones had put out three singles but had not yet hit the number one spot, 'Come On' reaching No.21, 'I Wanna Be Your Man' No.12 and 'Not Fade Away' No.3. None of these singles appeared on the album and the Stones were not to include a single on any of their albums until 1967's
Their Satanic Majesties' Request
.
This differed from the American releases of Stones' albums where it was much more common to include hit singles on album collections. The single 'Not Fade Away' was added to this album for the States, with 'Mona' being dropped. It was rebranded England's Newest Hit Makers. Again, it was not to be until the release of Their Satanic Majesties' Request that the UK and US albums contained the same tracks. In the meantime, US albums included songs taken from UK EP releases and bits and pieces from different albums. All the more galling, then, that when the American company ABKO began their series of Stones' reissues in 2002 they neglected to include the first two Stones' albums in their entirety and branded others as 'UK' versions. 'UK Version' simply means the album as it was conceived and recorded.
A month before the Stones released their first single in June 1963, their manager Andrew Loog Oldham had told them that their pianist Ian Stewart should be dropped from the band because six was too many people for a pop group and Stewart didn't fit in with the image of the band he was trying to project. Stewart decided to stay with the group as road manager and pianist and was with them right up to his death in 1985. He was hugely influential to their sound at this time and on this album he played the piano on 'Can I Get a Witness', 'Little by Little', 'Tell Me', and 'I Just Want to Make Love to You', and the organ on 'Now I've Got a Witness' and 'You Can Make It If You Try'. Keith Richards has been quoted as saying that even when he records today, he is doing it for Ian Stewart, who he has always considered to be the boss.
The album is very much built around the Stones' love for blues music and contains nine covers as well as three original band compositions. It opens with the Stones' version of 'Route 66' which is one of the most dynamic songs on the album and very much the most cutting version of that song recorded up to that time. This was a popular rhythm and blues number, composed in 1946 by American songwriter Bobby Troup who, perhaps surprisingly, was a white musician and actor from New England. He got the idea for the song on a cross-country drive from Pennsylvania to California after he had decided he wanted to try his hand as a Hollywood songwriter. He began his journey on US 40 and initially considered writing a tune about that road, but his wife suggested the title 'Get Your Kicks on Route 66' and that stuck.
The song was first recorded by Nat King Cole in 1946 at the latter end of his jazz days when he was still playing piano with the Nat King Cole Trio. It was a soft, jazzy version that became a big hit, though this wouldn't have inspired the Stones to take the tune on. They had discovered it from a 1961 recording made by Chuck Berry which featured on his album 'New Juke Box Hits'. Again, Berry's version is no rip snorter, being slow and largely led by the piano with a guitar solo added. The Stones' take on it was much sharper with its cutting guitar riff driving everything along at a good pace. It is probably now considered the standard for this number.
Second track 'I Just Want To Make Love To You' was written by legendary blues musician and composer Willie Dixon and first recorded by Muddy Waters (as 'Just Make Love To Me') in 1954. This would have been the track the Stones fell in love with as the recording captures an astonishing, intense blues sound that shakes you to the core. The second version, recorded by Etta James in 1960, would also have been in their conciousness. The backing here is more jazzy, with strings and horns, but Etta's voice is simply incredible. The Stones' version really sums up the band in their early days: it's faster and rockier than the earlier versions but very respectful of its roots and Jagger's voice is pleasingly forceful.
The Stones always named Jimmy Reed as a major influence on their music and from their early days they used to feature 'Ain't That Lovin' You Baby', 'Bright Lights, Big City' and 'Shame, Shame, Shame' in their live sets. Reed's music was particularly appealing as it was such easy listening; the singer was so laid back he was almost horizontal and he managed to make the blues sound like the most accessible pop. The band chose to cover 'Honest I Do' for their debut album and injected the song with a little more bite. The guitars are heavier, Bill Wyman's bass is all-embracing, and the song opens as Jagger begins his vocal.
The fourth track, 'Mona (I Need You Baby)' was written by another of the band's big heroes, Bo Diddley, who is credited under his real name Ellas McDaniel. This is the song that was dropped from the US version of the album, which on the face of it appears to be a strange decision as it is one of the most powerful numbers here. What would have made that choice even more peculiar is that it ran in at over three-and-a-half minutes whereas 'Not Fade Away' only managed a paltry 1:47. In truth, they could have stuck the single in as the first track without dropping any of the other songs as the album barely breaks half an hour in either format. The problem was that Buddy Holly had used 'Mona' as the template to 'Not Fade Away' and to have included both tracks would have made their similarity glaringly obvious.
The original song had been released in 1957 as the b-side to the single 'Hey! Bo Diddley' and there was no way the Stones were ever going to match the emotion that Diddley captures in his voice. Mick Jagger's vocals, then, are slightly buried beneath the big sound of the rhythm section with the guitars lacking the prominence they have in the original. Not that the guitars fail to hit the mark. Keith Richards rated Brian Jones's playing as the best thing he did with the band: "Brian got Bo's sound and technique down better than anyone, even Bo himself was impressed. Not particularly hard to play but the sound he gets is unique. Brian always knew what sound he wanted to get on tape." Diddley himself was so impressed he stated that the Stones were the only band who captured the essence of his music accurately.
Moving on a few years, there is another well known song with obvious 'Mona' influences; Johnny Marr borrowed Diddley's shuddering guitar sound for The Smiths' track 'How Soon Is Now', something he is happy to admit.
The last two tracks on side one are band compositions. Though
The Rolling Stone
s included the first Jagger/Richard song, these two were written by the whole band and credited to "Nanker/Phelge". This was a collective pseudonym used between 1963 and 1965 for several group works. Bill Wyman wrote in his book
Rolling With The Stones
: "When the Stones cut 'Stoned' as the b-side to 'I Wanna Be Your Man', Brian Jones suggested crediting it to Nanker/Phelge. The entire band would share writing royalties. Phelge came from Edith Grove flatmate Jimmy Phelge, while a Nanker was a revolting face that band members, Brian in particular, would pull." It's possible that in these early days the name also included Ian Stewart and Andrew Oldham, thus giving their erstwhile bandmate and their manager a share of the songwriting royalties.
Wyman also stated that 'Paint It, Black' was a band composition that should have been credited to Nanker/Phelge, but was mistakenly credited to Jagger/Richard instead.
The two songs the band wrote for this album were 'Now I've Got A Witness' and 'Little By Little'. 'Now I've Got A Witness' is a companion piece to the Motown song, 'Can I Get A Witness', which is on the second side of this record, and is very much driven by Ian Stewart's bubbling organ. 'Little By Little' featured contributions from some very well known names, including Graham Nash and Allan Clarke of The Hollies on backing vocals, Gene Pitney on piano, and Phil Spector on maracas! The song itself was a pastiche of Jimmy Reed's 'Shame, Shame, Shame', a song the band played frequently in their live set.
On to side two. 'I'm a King Bee' is a swamp blues song written and first recorded by Slim Harpo (James Moore) in March 1957. It was his first solo release for Nashville's Excello Records and became a regional hit, though it gained more national fame over the coming years. This release was different from more mainstream numbers in that it not only had a sparse arrangement which was typical of producer Jay Miller's work, but it had an irregular number of bars, as opposed to the blues standard of twelve. It is thought that Harpo based the rhythm figure on that of Lil' Son Jackson's 'Rockin' And Rollin'', which had been released by Imperial in 1950.
Harpo's version squeezes incredible power from the barest of contributions. Though Harpo played guitar on stage he often used other guitarists when he was recording and though Gabriel "Guitar Gable" Perrodin doesn't have a lot to do here, his three isolated notes a minute in carry a huge weight through their pure understatement. Other than such little touches, this record is all about the vocal delivery.
The Stones' version is more regularly paced and if you play the two songs at the same time, it makes a horrendous racket with completely different timings. Jagger attempts to mimic the tone of Harpo's delivery and doesn't make a bad job of it. The Stones probably recognised they couldn't recreate the sparse intensity of the original and added a slide-guitar break by Brian Jones which impresses with Jagger also demonstrating his talent on the harmonica. Keith Richards played acoustic. The Stones' love for the original was underlined when Jagger commented at the time, "What's the point in listening to us doing 'I'm a King Bee' when you can hear Slim Harpo do it?"
'Carol' is a song written and recorded by yet another idol of the band's, Chuck Berry'. It reached No.18 in the Billboard charts when it was first released by Chess Records in 1958 and is pretty much a classically-structured Berry song, driven by his well-known rock and roll guitar riff. The Stones' version is a pretty faithful copy, though they add a bit of pace and drive the song along with a handclap that works strangely well. This approach allows them to shave some twenty seconds off Berry's original, though that was no slouch in itself.
The Rolling Stones
included the first song by Mick Jagger and Keith Richards to feature on a Stones' record. 'Tell Me (You're Coming Back)' is very much of its time, yet it shows a few of the neat touches and hooks that would make their later compositions so successful.
'Can I Get A Witness' was a relatively new song which the Stones latched on to quickly. It was written by the Motown writing legends Holland-Dozier-Holland for Marvin Gaye and only released in September 1963. Lyricist Eddie Holland was used to going through his songs four or five times with Motown's recording artists before they attempted to sing them. Gaye listened to Holland run through the track once and then recorded it in a single take. He was undoubtedly an artist of consummate talent. Gaye's version is of course smoother than the Stones', driven by a boogie-woogie piano lead and featuring harmonies from the Supremes as well as the writing team. This was perfect for the Stones as Ian Stewart was a brilliant pianist who thrived on this type of music. As with most of their covers, the Stones took the song a bit faster and this was emphasised by Charlie Watts's fantastic drumming which was sharp and driving, but never unnecessarily showy.
'You Can Make It If You Try' is a ballad written by Ted Jarrett and first recorded by Gene Allison in 1957 with the single reaching the top forty of the Billboard charts the following year. This is a slow number and while it doesn't seem out of place on the album, it does lack the thrust that makes this collection so exciting. If you check the Spotify playing figures it sits right at the bottom of the list, some 300,000 notches behind 'Now I've Got A Witness', the next least played. It's a shame as when you dig down deep there is a lot on offer. Allison has an attractive, soulful voice and his song has a hymn-like, gospel quality as the organ accompaniment dominates. Ian Stewart takes on the organ in the Stones' version but the whole thing sounds less religious, a touch bluesier and Jagger's voice on occasion hints at desperation. It's all so much darker than the original as, once again, the Stones take their version of a song into different, unexplored territory.
The Rolling Stones
concludes with another fairly new song that the band quickly adopted. 'Walking The Dog' was written and performed by Rufus Thomas and it not only became his signature tune, but it was by far his biggest hit, reaching number ten in the US Billboard charts in December 1963, only a matter of days before the Stones went into the studio to begin work on the album. In truth, the song has 'surefire hit' written all over it, with its dog whistles, proto-rap and brilliant introduction featuring fourteen notes of Mendelssohn's 'Wedding March' from
A Midsummer's Night's Dream
. It stayed in the charts for an impressive fourteen weeks.
The Stones' version drops the intro and comes in with the first line of the lyric. It's a pretty faithful rendition, though the band would not have had a lot of time to have worked in many of their own little twists. The saxophone that appears on Thomas's original is done away with and the band also forgo the use of the organ, thus making their version cleaner with the two-guitar attack sounding sharp.
'Walking The Dog' is unique in the Stones' catalogue as it features harmony vocals on the chorus performed solely by Brian Jones. Most of the early Stones songs saw Jones and Bill Wyman working together, with Keith Richards coming to the fore as time went on. It's great to hear Jones's distinctive tones and it's a pity he didn't feature in this way on more recordings.
It's sad to think that
The Rolling Stones
is now in danger of becoming lost. The Stones have produced so many iconic albums that youngsters investigating their records are immediately guided to the classic collections of the late 1960s and early 1970s and spending time on
The Rolling Stones
seems like listening to something that is curiously out of date and largely irrelevant. What in reality this record offers is the sound of a band who are helping to invent rock music by drawing in the sound of (largely) black America and demonstrating its power and excitement to a (largely) white teenage audience. At the time this was threatening and incredibly exciting; it provoked a reaction not dissimilar to the punk explosion of the late 1970s as the whole weight of the establishment moved against them. The Stones were raw. They got people's backs up. And they treated that reaction with the contempt that it deserved.
The cover of the record had no title or mention of the band on it; it merely depicted five young musicians in a moody pose, shrouded in mystery. What dangerous secrets were they hiding? It was brilliant and it worked because they were talented enough to deliver the goods. Friends who saw them play live at this time were drawn back again and again, attracted by the power and class of the rhythm section, the laid back style of Brian Jones, the jack-in-a-box antics of Mick Jagger and the glower of Keith Richards. They were opening a door to everything that was to follow and throwing a spotlight on the musicians who had inspired them, introducing them to British audiences, and hugely raising their profile in their homeland. This record was a game-changer.
The Rolling Stones - Top Songs
Poll results from Twitter and Facebook revealing the people's choice:

1. Route 66 (86 votes)
2. Can I Get A Witness (56)
3. I Just Want To Make Love To You (53)
4. Walking The Dog (52)
5. Carol (48)
6. I'm A King Bee (46)
7. Little By Little (41)
8. Mona (I Need You Baby) (35)
9. Tell Me (33)
10. Now I've Got A Witness (20)
11. You Can Make It If You Try (12)
12. Honest I Do (11)