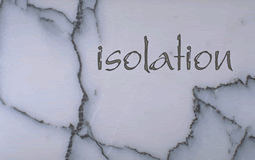 A look at all of the releases of the first coming of the Inca Babies
with comments on each recording from mainman Harry Stafford.
The Interior
Black Lagoon INC 001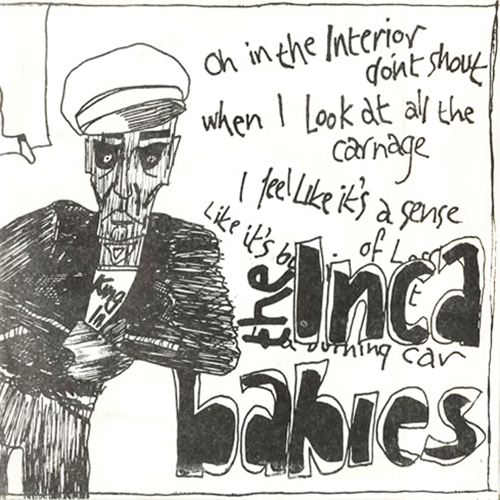 1) The Interior
2) Sense Of Loss

Harry Stafford (guitar), Bill Marten (bass), Julian Woropay (vocals), Alan Brown (drums)
Recorded on 8th August 1983 and released on 7-inch vinyl only the following month, there were no composition credits on this release which came housed in a plain white cut-out inner sleeve within a monochrome picture cover. On the label, the b-side is listed as 'Sence Of Loss' and the matrix number was cut incorrectly on one side, with INC 001B having the letter scratched out and replaced with an 'A'. The heavy marking on the run out groove hints that the labelling was a rather hit and miss process.
'The Interior' was destined to become an instant classic, introduced by its looping riff and the deliciously rough vocals breaking through a mere heartbeat before the pounding bass and drums come into play. The almost guitar solo after the third verse is glorious. 'Sense Of Loss' is bass heavy, redolent of Prayers On Fire era Birthday Party, with a plungingly deep vocal.
Harry: I still like 'The Interior' because it was a road to Damascus moment. You're doodling with the guitar and you pick out a riff which sounds great. I still like that riff. We still play that song. I introduced this to the rehearsal room and drummer Alan immediately shouted "YESSSSS ... We have our first single!" Five months later having recorded on a four track Tascam machine (Sgt Pepper was recorded similarly), me and Bill went down to London to collect this first 500 pressing with two decent sized rucksacks; we were so chuffed that it was a George Peckam cut, that we forgave him for only scratching 'Porky's' on the run out instead of 'A Porky Prime Cut' which he usually did. We got it back and spent the entire evening scissoring, folding and sticking the sleeves together which had my design, an ancient Brando sans ice cream habit, printed by an art school mate, probably potato print, hence the rather rudimentary nature of them. The typo on the record label of 'Sence of Loss', was probably my fault as I couldn't spell for shit in those days. We sent it to Red Rhino who loved it and flipped but couldn't get hold of me for three weeks (no e-mail, mobiles, tweets etc in those days –if you didn't stay by the phone to all intents and purposes you did not exist.) They eventually heard from me and demanded to repress another thousand. I have never actually seen a reprinted sleeve so I'm not sure it ever really got re-pressed.
Grunt Cadillac Hotel
Black Lagoon INC 002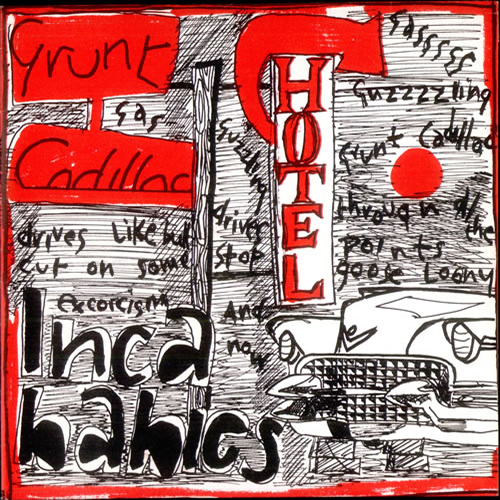 1) Grunt Cadillac Hotel
2) No Sacred Sound

Harry Stafford (guitar), Bill Marten (bass), Mike Keeble (vocals), Pete Bogg (drums)
Another 7-inch vinyl only single, mixed by the band themselves in January 1984 and released on 3rd March. This was housed in a more professionally produced two-colour picture sleeve.
Marking the debut of Mike Keeble on vocals and Pete Bogg on drums, the Inca's second single is hindered somewhat by its thin sound. 'Grunt Cadillac Hotel' is dominated by its pounding drums and Keeble's convincingly aggressive vocals which are not a million miles away from Woropay's efforts. The unstated guitar riff fails to carry the song, leaving it feeling like a series of punches to the face. 'No Sacred Sound' is faster, dragged along by its speeding guitar and Keeble emitting some of his best recorded grunts and growls. A fine moment is when everything stops, leaving Marten to plough on alone with his dirty bass line. The band chose to use the Peel Session track of 'Grunt Cadillac Hotel' on the Plutonium compilation, the only collection of the Inca Babies' work to be available on CD.
Harry: Recorded at Out of the Blue on an 8–track Fostec ¼ inch tape machine, and it sounds like it. With new drummer Pete Bogg, we made a percussion heavy racket with a rather thin guitar effort from me. We later recorded this for John Peel with the pudgy fingers of (Mott the Hoople legend) Dale Griffin at the controls and Mark Radcliffe tape 'opping'. With reverb units as a big as a house and state of the art compression the BBC Maida Vale recording of it blew us away.
Big Jugular EP
Black Lagoon INC 003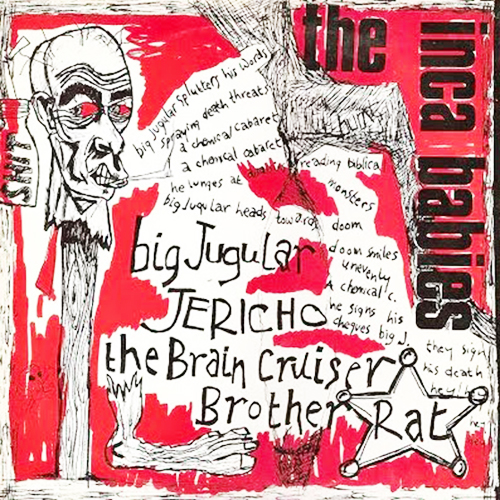 1) Big Jugular
2) Jericho
3) The Brain Cruiser
4) Brother Rat

Harry Stafford (guitar), Bill Marten (bass), Mike Keeble (vocals), Pete Bogg (drums)
A four-track 12-inch vinyl only EP release from May 1984. This came in a plain white inner sleeve housed in a fabulous two-colour picture cover featuring a head on a spike next to a large bottle marked 'Shit'. It was the first to feature photographs of the band on the sleeve, mostly named with aliases: Bill Bonney, Pete, Mike Louis and Harry S.
This is undoubtedly one of the band's finest moments with the whole EP benefiting from a much improved sound. 'Big Jugular' see-saws into a remarkable vocal from Keeble where he whistles and squeaks like someone very annoyed their voice is inconveniently breaking. And there are fantastic 'hey, hey, heys'. 'Jericho' is slow paced and full of creeping menace, while 'The Brain Cruiser' sees guitar, bass and vocals all fighting for prominence as it whoops along. There's a brilliant musical interlude where Stafford's guitar has an argument with itself, the drums have a brief fit and Marten ploughs through the chaos like nothing in the world can stop him. Something like the Birthday Party on uppers. 'Brother Rat' sees Keeble pushing the boundaries of theatrical growly rage. It's all terrific stuff. Again, no tracks from this EP are available on CD, with the band choosing to use the impressive Peel Session recording of 'Big Jugular' on the Plutonium compilation.
Harry: It was just going to be a 'Big Jugular' single but we quickly wrote three more track to boost it up to an EP, and a 12" to boot. We went to Revolution Studios in Cheadle for this one and recorded in a posh 24-track studio; we were slowly moving into the big time(?!). The results though were similar, but still brilliant. Pete and Mike spent the entire time on the state of the art Space Invaders and Asteroids games, me and Bill snorted that they were for dim-witted, geeks and they'd never catch on.
The Judge
Black Lagoon INC (T)004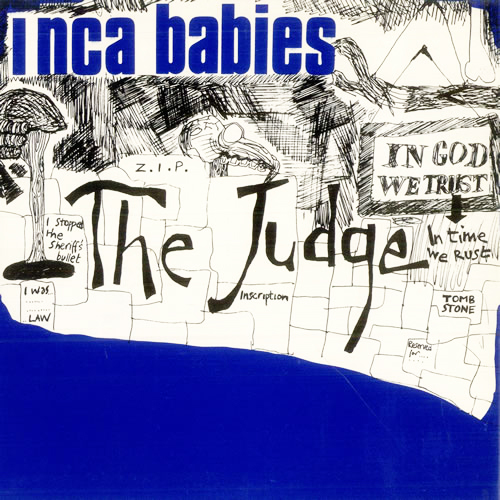 1) The Judge
2) Bus Breaker

Additional track on 12"
3) The Cowboy Song

Harry Stafford (guitar), Bill Marten (bass), Mike Keeble (vocals), Pete Bogg (drums)
Recorded and mixed at Cargo Studio in July 1984, and released the following month, 'The Judge' was the first Inca Babies record to be released on both 7-inch and 12-inch vinyl versions. This was housed in a traditional, top-opening, twelve-inch single sleeve as opposed to the album-type sleeve used on 'Big Jugular'. Again the artwork was in two colours, but it looked a little half formed with a third of it left to a blue solid with the traditional Stafford doodle lying above. Apparently a politically targeted record, the American motto of 'In God We Trust' evolves into 'In Time We Rust' which always brought a smile.
'The Judge' is a pounding monster of a track, the band playing off each other and clearly on fire. Keeble gets off to a marginal false start and sounds supremely confident in one of his most deeply evocative performances. Stafford's guitar meanderings frame the whole brilliantly and he crowns everything with a half buried, messy solo. Bogg plays more metal than drum while Marten's bass throbs darkly. Whilst not drifting too far from the band's trademark sound, the b-sides reflect a slightly different angle of approach. 'Bus Breaker' is a perilous descent into nastiness with more than a little psychobilly edge, while "The Cowboy Song', which features only on the twelve inch version of the single, climbs back out of the pit and has a bit of a glam tinge to it. There's certainly some Mick Tucker drumming in there and a bit of a stomping riff.
Harry: Recorded at Cargo studios, this was a cracking record and we recorded half of Rumble in the same session. The song stated life as a ten-minute 'Sister Ray' type noise-jam but was soon chiselled into a lean four-minute, characterisation of corruption in the time of Thatcher. My favourite single. I like the simplicity of it. It's just a one riff song really with an A chord in it. It could almost be a piece of Count Basie doodling or something along those lines.
Rumble
Black Lagoon INC LP 005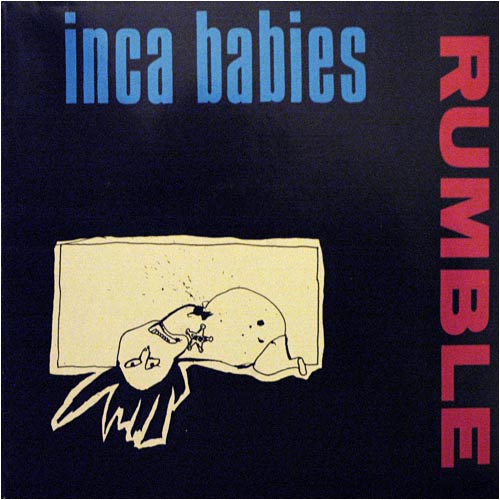 1) She Mercenary
2) The Interior
3) Blindman (The Chiller)
4) The Diseased Stranger's Waltz
5) Leucotomy Meat Boss

6) Big Jugular
7) 16 Tons Of Fink
8) Cactus Mouth Informer
9) Grease-Ball Mechanic
10) Untitled

Harry Stafford (guitar), Bill Marten (bass), Mike Keeble (vocals), Pete Bogg (drums).
[Julian Woropay (vocals), Alan Brown (drums) on 'The Interior']
The cover art of the debut album, Rumble, recorded at Cargo in 1984, was their simplest to date and showed only the same drawing of a shot corpse that first appeared on the back cover of 'The Interior' and had gone on to feature on most of the band's subsequent artwork (with the addition of a sheriff's badge). More Stafford doodles adorned the back cover with the accompanying inner sleeve featuring duotone photos of the band on one side and Stafford's handwritten lyrics on the other, ghastly spelling and all.
It had been barely fourteen months since the partly formed Babies had first entered the studios to throw down their first recordings and over that period of intense activity they had released four singles and completed their first long player. The quality of Rumble was a just reward for those months of hard work and it is a mightily impressive debut album, nicely produced, keenly performed and sounding huge. From the pounding bass introduction to 'She Mercenary' to the conclusion of the brooding, untitled final track, Rumble maintains an impressive mood of menace and intent which isn't shaken by the inclusion of the earlier singles 'The Interior' and 'Big Jugular' despite their rawer and less replete sound. ('Grunt Cadillac Hotel' was probably omitted because of its thinness.) What makes Rumble stand out above all things is the restraint. Missing are the breakneck tumbling adventures of some of the earlier songs and these are replaced by controlled and measured bursts of nastiness which all add to the pressure cooker environment. Of course, this leaves Mike Keeble with less room to flay about in and his vocals occasionally come across as a little understated; even when the band take off, as on 'Grease-Ball Mechanic' the singer lets eveything fly past him, but ultimately it all works for good. Rumble sounds a complete record, interwoven and purposeful and a stunning reminder of how good things used to be.
Harry: I was so pleased with this record that I couldn't bring myself to listen to it for a month in case it wasn't as good as I thought it was. It really caught the right mood and energy we had, not to mention days and days in our rehearsal room practising to be as solid and as sharp as a jockey's prick. The Review in Sounds gave us 5 stars and said, "From Elvis to the Ramones to the Incas the story of Rock and Roll is complete". Well, in 1984 anything was possible. We had some fun putting it all together and it got us a load of gigs all around Europe; we nearly got on to Rough Trade's Touring Agency but they changed their minds at the last minute when their American partners told them not to book any more "English haircut bands". This was at the end of New Romanticism and I think they might have confused us with A Flock of Seagulls or Kajagoogoo. But no fear, we had a number 2 album (indie charts) with this, just behind Meat is Murder which we just couldn't shift from the top spot – probably because they sold ten times more records. Interestingly, the track 'Cactus Mouth Informer' inspired someone to put up a blog site in 2006, so we were remembered for that. It's a small site so I don't think I should really ask for royalties. Five Stars.
Surfin' In Locustland
Black Lagoon INC 007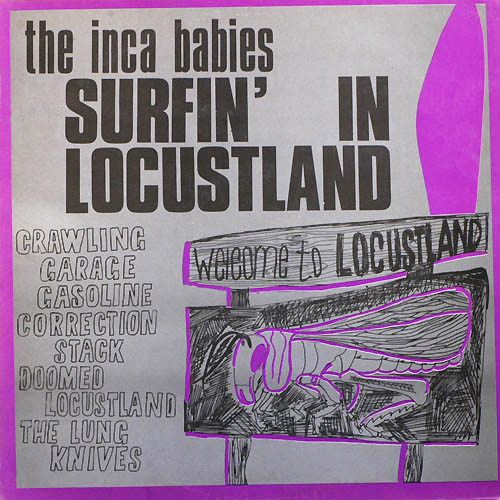 1) Crawling Garage Gasoline
2) Correction Stack
3) The Lung Knives
4) Doomed Locustland

Harry Stafford (guitar), Bill Marten (bass), Mike Keeble (vocals), Pete Bogg (drums)
A four-track 12-inch vinyl only EP released on 1st September 1985. Again housed in an album-style cover with a plain white die-cut inner sleeve. The cover featured the usual style of artwork by Harry Stafford and the back cover a blurred photo of the guitarist playing live.
If you thought the Incas had peaked with Rumble, you were wrong as Surfin' In Locustland is even better, with a superb production giving a meaty sound, some nicely worked song construction and a little bit of a wilder edge than on the album. 'Crawling Garage Gasoline' is built over tribal drumming and sawing guitars and hits every right note, one of those gloriously rare tracks where everything comes together in perfect harmony. Keeble is magnificent, given the freedom to explore the open spaces, and we'd love to hear a version of the song with two drummers. 'Correction Stack' follows close behind, weighty and furious, with some great bass work, fine drumming and a splendidly strangled, spaghetti western harmonica. 'The Lung Knives' is an explosive psychobilly stomp, while 'Doomed Locustland' has a blues thing going on, helplessly painful and unforgiving. Top work.
Harry: Recorded in Foel, this was a record that we had high hopes for. I thought it showed a lot of forward movement and potential for new ideas. Certainly people who knew us from the day tell me they have a copy. It has a good collection of sounds and again we were both at full pelt and in a 'sliding in slow-motion' groove mode. Great.
Splatter Ballistics Cop
Black Lagoon (T)009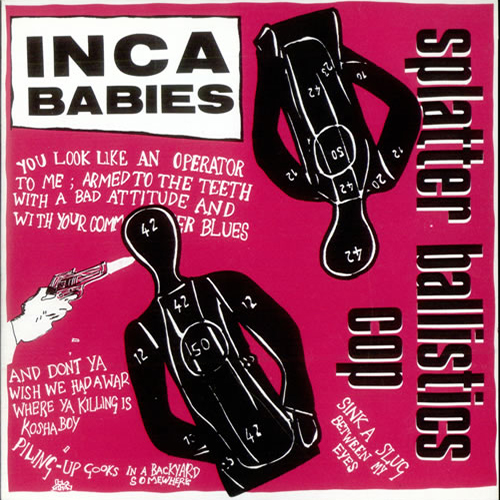 1) Splatter Ballistics Cop
2) Burying The Swagger

Additional track on 12"
3) No Sacred Sound
Harry Stafford (guitar), Bill Marten (bass), Mike Keeble (vocals), Pete Bogg (drums)
A November 1985 single, the second from the band to feature on both 7-inch and 12-inch vinyl. The 12-inch came in the customary album-style cover with a die-cut white paper inner sleeve. More refined cover art here, with the band name in a different font for the first time, and a photo on the reverse of the band in the USA, or made to look so.
A more restrained record here than its predecessor, perhaps strangely so giving its subject matter. There's a swing to the music which might have thrown Mike Keeble a little as he doesn't give one of his better vocal performances ... or maybe the title is just too difficult to sing with feeling. Whatever, the song goes from A to A without much meandering. 'Burying The Swagger' does indeed have a bit of swagger to it, with a lovely boasting bassline and a swampland guitar sound which is carried into 'No Sacred Sound' which explodes from a slow start into a furious middle section before dying on itself once again. 'Spatter Ballistics Cop' only scraped into the lower regions of the indie charts and probably remains the band's least convincing single release.
Harry: I might add that in the field of Crime Scene ballistics investigation, there was no way of measuring blood splatter at this time (no CSI on TV), so I'd like to claim that in some small way I sent a few people to the chair with my timely invention/suggestion.
This Train ...
Black Lagoon INC LP 010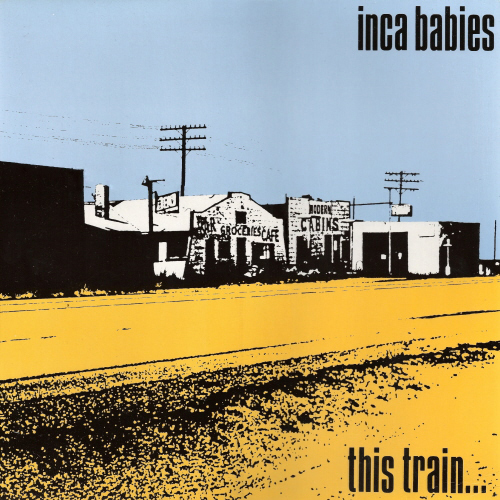 1) Plenty More Mutants
2) Correction Stack
3) Hole In The Gulley
4) Candy Mountain

5) Splatter Ballistics Cop
6) The Depths
7) Backyard Bones
8) Daniella
9) Call Me Enemy

Harry Stafford (guitar), Bill Marten (bass), Mike Keeble (vocals), Pete Bogg (drums)
The band's second album was released in 1986 and was issued in a gatefold sleeve, the outside of which features an extremely effective three-colour working of a sketch of the band in a deserted western street, with the inside containing the song lyrics along with more of Harry Stafford's etchings, all in back and blood red.
Named after the American gospel song 'This Train Is Bound For Glory', the Babies naturally focus on all the characters that train would not be carrying: rustlers, thieves, two bit liars, big shot ramblers, con men and small time jokers. Difficult as it always is to get a firm understanding of Stafford's lyrics, the subject matter appears to switch between these western dropouts and desperate soldiers caught up in impossible conflicts. Two tracks from the singles feature, the slightly disappointing 'Splatter Ballistics Cop' and the fantastic tale of the doomed chain gang from Surfin' In Locustland, 'Correction Stack'. Like Rumble, This Train ... maintains a convincing mood of desperation and darkness, kicking off with the Western tinged 'Plenty More Mutants' with its quivering guitars and evocative harmonica, and it's a sound that resonates through the album. 'Hole In The Gulley' is the band's 'Deep In The Woods' set in Once Upon A Time In The West, slow and menacing, while side one ends with 'Candy Mountain' which comes over as a little frantic and possibly should have been allowed to explode rather than be unconvincingly reined in. 'The Depths' is one of the highlights of side two, with some fine metal banging as the song throbs and soars along to some mighty fine guitar licks, 'Backyard Bones' is splendid, tumbling in on itself messily, while 'Daniella' stalks and spits, and 'Call Me Enemy' throws itself around with dangerous abandon. Perhaps lacking an explosive screamer, but This Train ... is an impressive piece of work and like its predecessor is crying out for a release on CD.
Harry: Recorded at Foel Studios in Wales and Suite 16 (which was bought by New Order before the Hacienda drained away their entire royalty fortune). This was not so much a difficult second album as some of the less good ideas from Rumble. But it had 'The Depths', 'Daniella', 'Correction Stack' and 'Splatter Ballistics Cop' so it can't be all bad. The gatefold sleeve was brilliant though and my friend Mick who put the outside bit together with my doodlings should get the credit here. Four Stars.
Opium Den
Back Lagoon INC MLP 012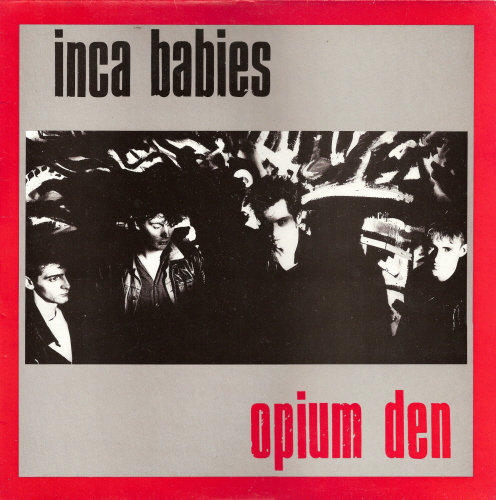 1) Opium Den
2) Thirst
3) Devil In My Room
4) Ramblin' Man

5) Big Cyprus
6) A Grim Thought
7) Dresden
Harry Stafford (vocals, guitar), Bill Marten (bass), Pete Bogg (drums), Darren Bullows (guitar)
A seven-track mini album recorded at Out Of The Blue in February 1987 and released in May of that year. Housed in a standard two-colour album sleeve with a monochrome inner sleeve which includes the lyrics on one side and a large Stafford doodle on the reverse featuring skeletal figures marching towards barbed wire defences with a snippet of the lyrics from 'Dresden' accompanying them, "Blind cats-eyes collecting light / Ill gotten gains in wartime." The album was released on Black Lagoon in the UK and on German label Constrictor after the collapse of Red Rhino.
Opium Den marked a massive change of direction from the band. With Keeble having quit the band, Stafford took over on vocals and he doesn't sound at all out of place, his voice a little lighter than his predecessor's, yet certainly more expressive, something that possibly arose from the fact he knew what he was singing about and was able to convey the emotional intensity of the words. His performance on 'Dresden' is terrific, one of the more testing vocals on the album, and a cracking song, the music nicely dislocated with a huge rumbling bass and dangerous stabs of razorwire guitar. The song continues with themes touched upon by This Train ... and the western element also remains in abundance, perhaps most typified by the inclusion of Hank Williams' 'Ramblin' Man', a 1951 two-chord composition in which Stafford makes a pretty decent attempt at the yodelling. 'Devil In My Room' continues the western sound, possibly the band's most intricate song to date with involved lyrics and some subtle guitar touches. Once again the album sounds great all the way through: the drums are hard and unrelenting, adding to the overall power of the record, though the bass is sometimes too much hidden away beneath the double guitars of Stafford and new boy Darren Bullows. Opium Den sounds just like an Inca Babies' record, but when you play it back to back with the earlier material the difference is extreme. From the deep drum intro of the splendid 'Opium Den', laced with venomous guitars, these are more rounded songs, losing some of the dangerous, free-form element of the early releases, yet able to focus their darkness more intensely for an imposing overall effect.
Harry: The Incas change direction. I took over on vocals and found that I could get the songs to do more of what I wanted them to do, so the overall effect here is rather pleasing. 'Devil in my Room' and 'Big Cypress' are favourites and we still play 'Opium Den' to this day. If Rumble is our five star album this is our four and a half star album. We did a video of 'Opium Den' (on Youtube now) with young, very keen filmmakers Adam T. Burton and Mick Conefrey in China Town and a Hulme flat that was made to belittle the Yacht Rock videos of people like Duran Duran and Ultravox. Looking at it now it's just quite brilliant and stands as a great piece of archive/document on 80s counterculture.
Buster's On Fire
Constrictor CON! 0027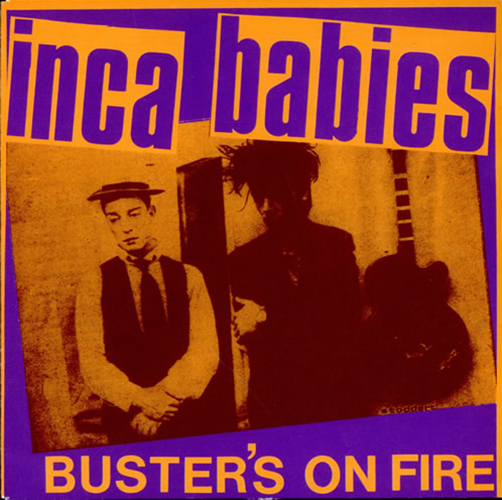 1) Buster's On Fire
2) Grunt Cadillac Hotel
3) Walking Over Glass
Harry Stafford (vocals, guitar), Bill Marten (bass), Pete Bogg (drums), Darren Bullows (guitar)
German label Constrictor had released Opium Den in 1987 but this was the band's first release not to be issued by Black Lagoon, a limited edition of 1,500 seven-inch vinyl records in 'violet' vinyl in a paper, duotone, purple and orange cover. The tracks were recorded and mixed at Out Of The Blue in 1987, probably in the Opium Den recording sessions.
A bit of an oddity this one. 'Buster's On Fire' is probably as out an out a rock song as the band ever recorded with very little of an Inca Babies' edge to it. Bulit on an unhurried stepping stone bass line, the rest of the song charges along with some alacrity, the vocals pouring over some thrashy guitars and one-armed punk drumming. There are two songs on the b-side, the band's second single 'Grunt Cadillac Hotel', credited solely to Harry Stafford on the label, and the just over one minute long 'Walking Over Glass' which sounds like a snatch of a Lou Reed Velvet Underground number.
Harry: You need a single; I got a single. Wham bam, give a damn. Purple vinyl doesn't quite make up for the rushed job. I wish I had spent a little more time in the studio with this as it does seem a little half cocked. I remember leaving the producer to just get on with it while I chased skirt or demi-dragons. We play it live now and it's a great track. Ah well.
Evil Hour
Vinyl Drip International SUK 2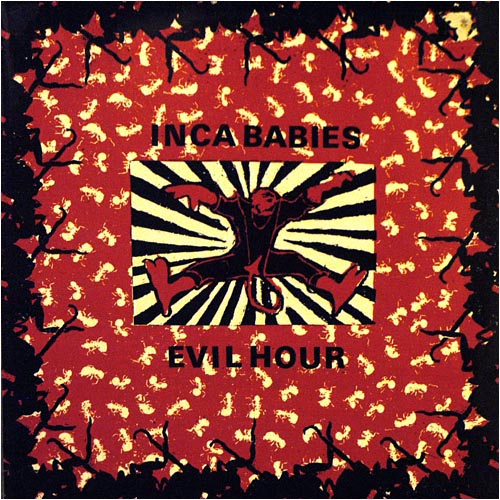 1) Evil Hour
2) Long Uphill Trek
3) Partisans River
4) A Madman's Demise
5) Bad Hombre

6) Artillery Switchback
7) Two Rails To Nowhere
8) Volts
9) Burning Town
10) Young Blood
Harry Stafford (vocals, guitar), Bill Marten (bass), Darren Bullows (guitar), Clint Boon (keyboards),
John Scarles and Tony Clarke (drums)
The final album from the first incarnation of the band was recorded and mixed at Out of The Blue in 1988 and featured Clint Boon of Inspiral Carpets on keyboards. Like the previous single, it was not released in the UK on Black Lagoon but on Blackpool label Vinyl Drip International (in a monochrome cover with no inner sleeve) as well as being available on import from Constrictor (CON! 0027) with a completely different reverse to the cover. In 1991 Communion Records supposedly brought out a CD compilation of Evil Hour combined with Opium Den, though apparently they only managed to get the one album on the disc. The band members' problems remembering their names continued with Darren Bullows being credited as 'Dirk'.
The difficult third and a half album from the band is pretty much a straight rock album, barely stretching to thirty minutes over its ten tracks. There aren't an awful lot of hints of the Ghost of Incas Past and the introduction of keyboards gives the band a whole new dimension to their sound which, depending on your view, is either a good thing or an abject surrender. In truth, Boon's playing is not all-pervasive which is a plus and on occasion it really does combine magnificently with the guitar work to produce something quite sublime as on 'Burning Town' which is head and shoulders the best track on the album. Elsewhere, 'Evil Hour' does a job, 'A Madman's Demise' throws out some Howardesque guitar shapes and 'Artillery Switchback' demonstrates some purpose and feeling as it storms along at Mach 2. There are some oddities. 'Volts' could have been lifted straight from Damned, Damned, Damned, with Stafford (unintentionally) capturing Dave Vanian's intonation as the short number charges to an abrupt end, 'Two Rails To Nowhere' never fails to bring up images of Mud's Christmas abomination with its repeated "dum, dum, dum, dum", and 'Young Blood' is slightly grating until it explodes halfway through into a 368mph punk thrash. On the down side, 'Partisan's River' fails to capture its intended malice despite opening with the riff from 'The Interior' (only slightly modified) and 'Bad Hombre' is just unadventurous. Decidedly hit and miss and decidedly different.
Harry: Preposterously named after a Gabriel Garcia Marquez novella, this was an album that had the songs and the ideas, but somehow the delivery of the essential elements, was flawed. Having said that I cannot blame either Darren and Clint who were the mainstays of the beautiful instrumentation and indeed contributed much of the colour and depth to the recording. I blame myself for not telling our stand-in drummer to just slow down why don't you? He was in a rock band who played everything at 110mph and sadly he brought a little too much of that to the table. But I now love this record. 'Two Rails To Nowhere' is a little slice of folk blues with the spirit of Huddy Ledbetter, 'A Madman's Demise' was just a great "I hate you and I hate myself" angst-type song and with Clint on board to play that organ it seemed to work really well, but best of all was 'Burning Town', of which I was mightily proud. Four Stars.
Plutonium
Anagram cdmgram 197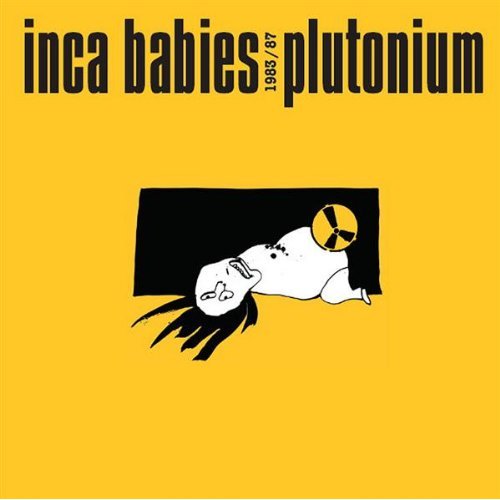 1) Devil In My Room
2) Big Jugular (Peel Session)
3) Correction Stack
4) Thirst
5) The Diseased Stranger's Waltz
6) Burning Town
7) The Judge
8) Grunt Cadillac Hotel (Peel Session)
9) Daniella
10) Plenty More Mutants
11) Big Cypress
12) Opium Den
13) She Mercenary
14) The Lung Knives
15) The Interior

2006 saw the release of what is ludicrously the only collection of the Inca Babies' material to be readily available on CD. Accompanied by a brief essay on the band which astonishingly seems to claim that all alternative music fans had gone raving by 1988 (load, take aim ...) there is also a complete discography of the band with some seemingly random release dates. Our copy also has track twelve distort badly in the middle, though this may be just a dodgy pressing as we never took it back.
Presumably with its content selected by Harry Stafford, included here are the first four singles, though the Peel Session recordings of 'Grunt Cadillac Hotel' and 'Big Jugular' are preferred to the originals. 'The Diseased Stranger's Waltz' and 'She Mercenary' are added from Rumble, with 'Correction Stack' and 'The Lung Knives' included from Surfin' In Locustland and 'Daniella' and 'Plenty More Mutants' from This Train ... Four tracks are chosen from Opium Den: the title track, 'Devil In My Room', Thirst' and 'Big Cyprus' which is here entitled 'Big Cypress'. Additionally, 'Burning Town' is snatched from Evil Hour.
As an introduction to the band, this is a pretty decent collection, though it remains a pain to have to keep changing over vinyl discs when the urge strikes you to play your favourite Incas' tunes that are not included here. Unfortunately, Stafford has hinted that any further transfer of the early material to CD is unlikely.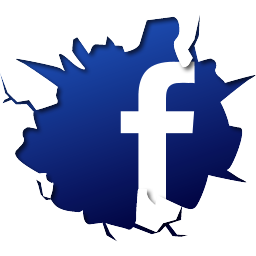 Isolation on Facebook. Like us.

Isolation contact