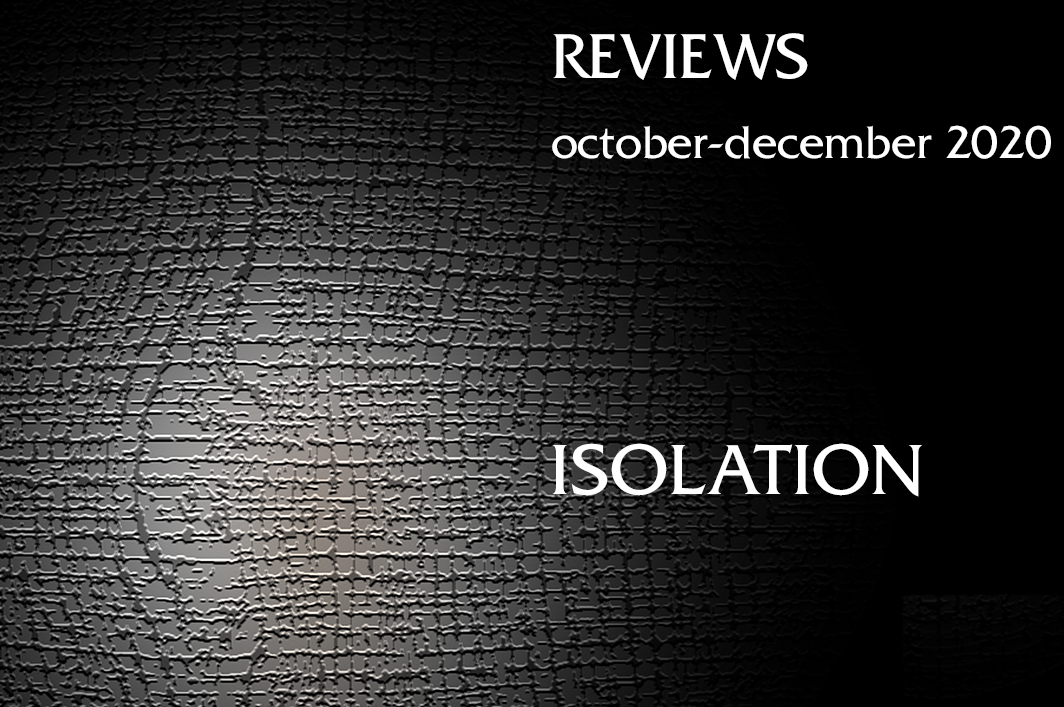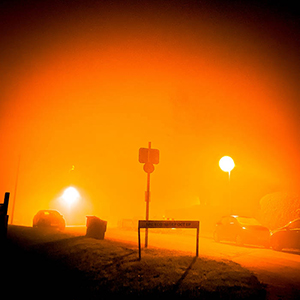 SPC ECO - 10EP
Same
Released: 1st October 2020
It would be churlish not to mention SPC ECO again here as the year dribbles away. The dream pop duo have been prolific in 2020, releasing recordings on the first day of every month. There was a single song as 2020 arrived, but after that the band released a four- or five-track EP on the first of February, March, April, May, July August, October and December. The first day of June saw a ten-track album and September was greeted with a soundtrack album. Throw in three bonus single tracks which were added at notable times and you get a very comprehensive souvenir of this most memorable of years. Not every one of these releases stands out as being especially noteworthy; the nature of this band means that they are more than capable of getting weighed down by their own inertia, their staple diet being viscous dream pop that is in no hurry to get to nowhere. However, at their best, SPC ECO sparkle, their buried melodies penetrating the heaviness to underline the prettiness of Rose Berlin's whispered vocals. October's 10EP is one of the best of the year, in no small part down to the third track, 'Tied And Twisted', which attacks with a force not generally seen from the band. Don't get us wrong, SPC ECO are still not in the greatest of hurries, but at least we reach walking pace, and a forceful one at that. What makes the song so appealling is the constant attack throughout by space age whirls, rushes and bubbles that lift it off the ground, if not quite into the stratosphere. It's certainly nicely worked as is second song 'Can't Breathe' which is teased by Dean Garcia's guitar with Berlin's voice rising and falling and occasionally echoing. 'All In My Dreams' is wistful, 'High As The Sky' sees Berlin's vocals triumphing over the heavy, ponderous backdrop, while closing number 'Taking Control Of Me' almost bursts into dance. There's plenty of music to dive into, so get over Bandcamp for a mega listening session. If we did awards SPC ECO would be top of the list for being both prolific and interesting, despite their seemingly bloody-minded addiction to mogadon.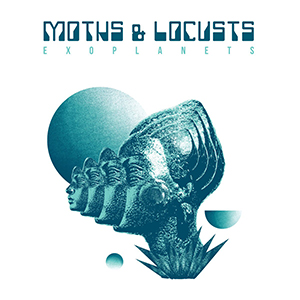 Moths And Locusts - Exoplanets
Weird Beard
Released: 30th October 2020
This is the second release from Canada's Moths & Locusts this year, following on from the Cardinal Fuzz reissue of 2016's emotional tug-of-war, Helios Rising. Like the earlier release Exoplanets sees a blending of moods, but it is a different beast from its predecessor, being harder, darker and unremittingly edgy. Indeed, much of this album has you looking over your shoulder as its black edges inspire paranoia. An exoplanet is a planet outside of our solar system, discovered to be a reality less than thirty years ago, but with thousands now confirmed to exist. Moths & Locusts knew this all along; this album takes us to the most distant and darkest of them where everything is beyond extraordinary and though touched by beauty there is no disguising the very real threat of something far beyond our understanding and consciousness. The seven songs over forty-five minutes are mainly built around the epic title track which takes up more than a third of the collection and shows the band's focus to be far from grounded. This is a bit of prog gold. It opens with a human touch, a gently shimmering background sheltering choral vocals which would soothe if not for the lurking alien vibe in the background. As the backing builds, the bass grows in menace and the vocal becomes disembodied as flutes glide in and dance around. It's a subtle attack that takes everything apart as guitars bend the piece into a meltdown from which it barely emerges. The relaunch is a purely alien affair with nothing in its expected place, powerful and warping and crashing its way to the distant horizon. Closer 'Fresh Red Blood' takes a similar trajectory as human molecules are swept away in a gentle tide of reverb and alien chatter. Though ending in spaced-out prog, not all the album follows the same path. Opener 'Coke Roo' is major heavy rock from out of the late sixties or early seventies, more than a little reminscent of Black Sabbath if they were being probed by little green men. 'Ghengis Khan' has eastern tones as it sways hypnotically like a poisonous snake, but east of what planet is always the question. 'Nero's Surgery' is snatch of radio interference and humming uncertainty, while 'A Ram Named Drama' sees guitars mud-wrestling to a solid, unflinching beat. 'Avulsion' is back to more basic rock and roll and charges along at breakneck speed before treated vocals add another layer of otherworldliness. This extends the tension to breaking point and the conclusion is that it may always be better to stay at home. Listening to this record makes you feel you are a Star Fleet officer dressed in red just about to beam down to an alien world where you just know you are going to die. First. In 2020 we know the world is out to get us, but the whole bloody universe? Maybe it's inevitable. Just give in and remember the ride.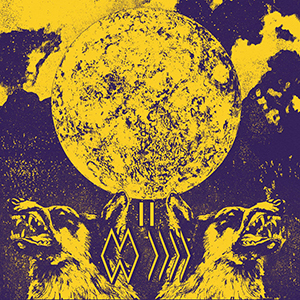 TBWNIAS - Berserkir Volume II
Cardinal Fuzz
Released: 30th October 2020
If
Berserkir Volume I
whetted your appetite back in March, Cardinal Fuzz have at last released
Volume II
into the community. Recorded at the same four-hour session that gave birth to its predecessor, this is a four-track, four-song album that stands as it was conceived, featuring no overdubs and no studio gimmickry. There is just over forty minutes of music on offer, with an additional fourteen minutes on download which, again, proves to be superb value for money. In the mad world of 2020 TBWNIAS are not ones to hide away from their fears and are happy to confront their enemies head on.
Volume I
was a force to reckoned with, powerful and overwhelming.
Volume II
is even bigger, bolder and a damn sight scarier. It's the horns that do it, setting you on edge from the very beginning of this journey, making the hairs on the back of your neck rise up in panic. 'Binning One's Regrets' is well named. It begins in pieces, its various dislocated parts creating a disjointed introduction with its wayward strands only slowly beginning to resolve their issues and meld together to find common purpose. And that common purpose is to reach for your soul. A bass drives its way through your outer defences before an all-out assault rips into your insides and throws them merrily around the room. The haunted horns again announce 'Sumac Revisited' which sounds like a broken death march that assimilates everything in its path, poisoned tongues flickering in every direction, infecting and leaving no corner for escape. It's an astonishingly powerful piece of music; almost crushing in its weight and cutting with its intent. 'Beyond Space Travel' charges along at speed, again driven by an insistent bass as guitars snake all around. It carries the same energy as the other tracks but this is carried away in the slipstream rather than aimed in one defining punch. Closer 'Mt Olympus' hisses and ruminates before the drums rouse it into purpose as the horns sound in the distance. It is filled with doubts, never able to take solid physical shape as the horns chase it down and send it tumbling in confusion. It runs for its life, but appears to be chasing itself. There is no escape. As suspected
Berserkir Volume II
is music to be reckoned with. It would be great to see it played live, but often TBWNIAS create sounds that are played for the first and last time in the studio and we should just be grateful it was laid down to tape. Staggeringly powerful from a band clearly united in a single purpose and in complete harmony with one another. It's some achievement and the fantastic artwork from Brett Savage only adds to the effect. Grab a copy quickly
here
.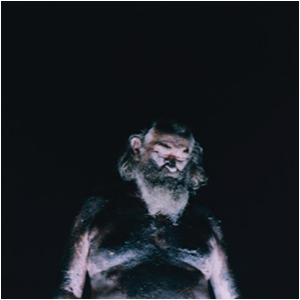 Nothing - The Great Dismal
Relapse
Released: 30th October 2020
Four albums in and the one thing that is clear about Nothing is that they are firmly rooted in their own misery. Mainman Domenic Palermo has poured his heart into the band's three previous releases, but he does not appear to have found this a cathartic exercise and The Great Dismal does not offer a great leap forward, or even fairy steps in a positive direction. Again, this is an inward-looking collection of songs, fogged and devoid of solutions. 'The Great Dismal' is a mighty swamp in the east of the United States and this is symbolic of how the band, and Palermo in particular, remain completely stuck in one place; there is no escape from a troubled past and a confused present. The move from prison to a career in music has thrown up as many problems as it offers solutions, so his mind is never free, though his body may be. Musically, this album is tidier than 2018's Dance On The Blacktop, devoid of the weighty layers of guitar and bursts of hot and cold, and it is more on par with 2016's Tired Of Tomorrow. Indeed, the producer of that record, Will Yip, is again at the helm here, so that may not be remarkable in itself, just maybe another sign that any step away is a step in the wrong direction. Opener 'A Fabricated Life' sees Palermo isolated with just his voice whispering over a single guitar. It's almost an admission of guilt, that things have not moved in the way he would have hoped: "Sing the same old songs / Beat the same old tired drum / I'm nauseous from the ride." 'Say Less' sees the band back in their usual routine; let's not get this wrong, Nothing sound great as guitars fly and drums rattle while the vocal sits calmly in middle ground. It's shoegaze par excellence as guitars dip and dive over a world of fuzz creating melodies that momentarily lift your spirits and when on the odd occasion everything is stripped away it is just a pause to allow the next movement to sneak in with maximum effect. 'Famine Aslyum' begins like a Pixies song (from when they were good) though its guitars shimmer and dance rather than cut and spar, while 'In Blueberry Memories' is almost the essence of shoegaze, floating and dreamy and infected with prettiness. Nothing often throw up memories of Cocteau Twins in the empahsis they lay on certain movements and 'Blue Mecca' is certainly built on those foundations, while 'Just a Story' hints at Pale Saints. The band wear their influences on their sleeves just as they wear their traumas. There have been marked changes in the band for this album with founder members Nick Bassett (bass) and Brandon Setta (guitar) both departing and being replaced respectively by Aaron Heard and Doyle Martin. The change has not altered the band's dynamic in any notable way and if they are still together in ten years' time it is pretty certain they will still be making albums like The Great Dismal. And we wouldn't mind that one little bit.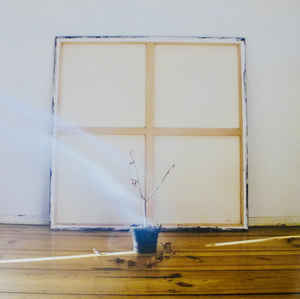 Spectres - It's Never Going To Happen And This Is Why
Dark Habits
Released: 30th October 2020
Well, this one has turned the world on its head. We've made no secret of our love of Spectres over the years and their first two albums, Dying and Condition, were pretty much triumphs, the latter being our album of the year in 2017 and the former only just coming in behind Girl Band's momentous 2015 debut. Quite simply Spectres have been one of the most important bands of the past decade, their music full of invention and a quite transparent humanity. Where It's Never Going To Happen ... differs from its predecessors is that it lifts up its head and confronts its issues head on. Spectres are no longer buried under the weight of existence, awaiting their imminent and deserved demise, but they exude disdain and exert an authority that is really quite remarkable. The vocals are more than apologetic whispers and the guitars are not fighting for the shadows; this is Spectres with muscle. Perhaps they have been working out with Joe Wicks over the lockdown and that's one broadcast we would love to see. Hell, it even sounds like they are enjoying themselves on occasion which is really disturbing. But whilst looking forward to the band's fourth album, Vitamins, it is pleasing to note that Spectres have actually lost none of their desire to innovate, to tread new paths and create new vistas. Initially we were worried that this record would be a head-on punk thrash as the opening two tracks 'Idolise Us!' and 'Tanning The Albatross' charge along at a hectic pace, full of squealing feedback, Mary Chain rhythms and apparent choruses, but it is clear Spectres have not changed so much as to take their albatross to the local parlour for a top-up. They skin it and, with their new found confidence spilling over, make the opening a symbol of their change rather than a statement of intent. 'Murder Castle' is more oblique, its vocals submerged under an industrial squeal and Andy Came's powerful drumming. It's quite stunning and Joe Hatt even has the room to sing despite the overriding tension. 'Define 'With'' has very little form as it whines and clatters before 'An Annhilation Of The Self' sees a vocal approach not dissimilar to that of Dara Keily, the lyrics snapped out blankly as Adrian Dutt's guitars chop and scrape. Just as the album appears to be taking a definite shape, it flies off in a different direction with 'On Nepotism' featuring a fine punk vocal from Elvin Brandhi. It's another short one: seven tracks on this album are under three minutes and this makes the whole appear as a collection of snapshots from different times and places. INGTHATIW doesn't work as a coherent whole, but we no longer live in a coherent world so somehow this makes perfect sense. 'Sociopath Discotheque' and 'Choucoune Asphyxiate Retreat' rumble in the murk, while 'The Boats' is hit by turbulence that cracks it around the edges. Closer 'I Was An Abbatoir' stretches to eight-and-a-half minutes and, again, pushes at the edges of convention. Echoing, gentle vocals front howls of protest and guitars that have no idea of what song they are meant to be playing. As throughout, Dom Mitchison's bass is stretched and brooding. It's an astonishing track and certainly a case of leaving the best to last. The album was recorded by Alex Greaves at a nineteenth century Methodist church in Leeds and it was clearly an effective place to be as some of the music here has a resounding hugeness, while other tracks sink grubbily into the ground. It has been way too long since we last heard from Spectres; hopefully they won't wait for the next pandemic to get together again. A journal of discontent from the year of plague ... an echo of all our lives.
The Wytches - Three Mile Ditch
Cable Code
Released: 13th November 2020
Perhaps things happened too quickly for The Wytches. It was only eight months after they released their debut single that they were snapped up by Heavenly Recordings who put them in the studio to record their debut album under the guidance of former Coral guitarist Bill Ryder-Jones. 2014's Annabel Dream Reader was an exciting, if uncompromising, collection of songs with the darkest of edges. Rummaging among the offcuts of musical styles, the band pieced together their own sound from the scrapings of punk, death rock, surf punk, garage blues, grunge and goth and managed to create something truly disjointed and unhinged. Everything was looking promising, but their world fell apart with 2016's follow-up All Your Happy Life which failed to meet expectations and by their own admission the band lost interest in what they were doing, believing they were now merely going through the motions. A four-year break has seen The Wytches rejuvenated and they have emerged with this ten-track collection, stretching out to some forty-two minutes. Three Mile Ditch is a curious beast, not really sounding like a band finding themselves, but like a band finding themselves to be three different bands, so diverse are the songs on offer. It's a credit to The Wytches that in whatever direction they turn they manage to do so classily, but it leaves the record feeling somewhat disjointed and unfulfilling. It all starts off so well, with 'Cowboy' occupying the swamp blues territory of the early Inca Babies with guitars vibrating and basses stretching lazily, and 'Three Mile Ditch' continues the journey with Rowland S Howard riffs and stuttering rhythms. 'Midnight Ride' sees a complete change of tack, sounding like Elliott Smith with its gentle acoustic guitars and soft vocals, while 'Fly Inside' moves sideways again, dancing like it was a feature of some sixties experimental film. Side one of the album concludes with 'A Love You'll Never Know', a wavering ballad, with side two opening in grunge rock mode with 'Meat Chuck' which sees Kristian Bell's voice stretched and breaking. 'Everyone's Friend' continues in the same vein with spoken vocals interchanging with furious howls before everything turns four hundred million degrees again with 'White Cliffs' a gentle chug-along in Big Star style and 'Silver Trees' a soft acoustic ballad. The album concludes with 'You Looked Happy To Me' which builds up nicely with a big guitar outro and has hints of John Lennon about the vocals. It's a weird one. Surely if a band need to find themselves again they should do so in the rehearsal rooms? There's probably not a song on Three Mile Ditch that we don't like, but also not three that should be sitting on the same album. Does that matter? Yes, it probably does.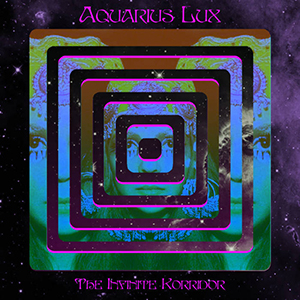 Aquarius Lux - The Infinite Korridor
Weird Beard
Released: 20th November 2020
It has been a fine year for Weird Beard with the label producing a fabulous range of vinyl albums and tapes that have reflected the different shades and colours from every corner of the psychedelic realm. It's a remarkable thing to have such a boundless reach and deep appreciation of diversity, but even as we applaud this we cannot but feel that at the label's very core lies an abiding passion for the trippy space rock that can sit happily in the background as you work or blow your brains away late at night with the volume up to twelvety. The recent Korb album was a case in point, almost classical in its approach, and again here on the label's thirteenth vinyl release (lucky for you) the touchstick lights a fuse that will send the listener on another interstellar journey through infinite space. It's a perfect way to end the year, with a trip that at times appears celebratory as it whisks you along to god-knows-where without a thought for safety or destination. It will get to where it gets to and it's only the ride that matters. Aquarius Lux is the melding of The Wyrding Module (Christopher Gladwin) and Manchester experimental project Primitive Knot as they search for dark spirituality together. We are informed that,"ground control has dropped acid and someone has split their Kool-Aid over the navigational computer. The starship Moorcock is now woefully off course, its cargo of GoGo girls destined for the orbital casino on Phobos now careering through a time-space anomaly." If you're not intrigued by that description then you are in the wrong place. If that does touch a nerve, then settle down for a fateful ride in five stages that will take thirty-seven minutes off your life but guarantees you will end up grey. At the very least. 'White Out In A Black Room' (great title) is our introduction to the wayward galactic taxi service of Aquarius Lux, bending oozily from take-off before crashing around like a hopeless drunk to a wild guitar commentary. There's no hint of solution; the controls are a confusing blur as we hurtle along wildly, pressing every button in the forlorn hope that one will just do something. 'Ripped And Starlost' only gains momentum as warp speed becomes warped sound and you begin to dread the inevitable implosion as every kind of alien life crashes against the hull. Somehow we survive and 'Priestess Of Phobos' briefly carries us through more sedate space, its big bass almost comforting as both keys and guitars lecture us on emergency procedures. It's a short break as we are led into the near eleven-minute title track and realise that we are beginning to enjoy this ride. We may have wet ourselves and have the certainty that our lifespan can be measured in mere minutes, but this universe has a groove and we will dance. And guitars will play. And synthesisers will carry us away. The dance continues with 'Green Suns And Flying Sharks', the final leg of the journey, opening to tribal drums and chattering guitars and we wave our arms in the air as we celebrate our voyage into infinity, recognising that the journey will never end. And we never want it to. This is an immensely enjoyable collection, if a little nerve-shredding, and there's not much more you can ask from your music. Send a copy to Santa to play on his sleigh and it will make Christmas a hell of a lot more exciting.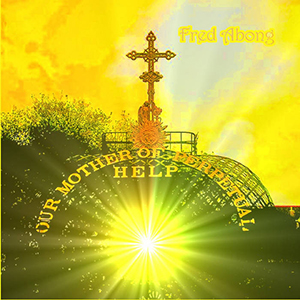 Fred Abong - Our Mother Of Perpetual Help
Same
Released: 20th November 2020
Following on from his two EPs, Homeless (2018) and Pulsing (2019), former Throwing Muses and Belly bassist Fred Abong released his debut solo album at the end of 2020, OMOPH containing ten tracks stretching over thirty-three minutes. Every one of these songs hovers around the three-minute mark but that is the only concession here to classic pop tradition as Fred doesn't worry about choruses, solos and middle eights, he is simply relieved that his songs have come into existence in whatever form they take and that they can now find their own way in the world. The great thing about Fred's music is that it is impossibly intimate and uncompromising. Many people would listen to this record and miss the point entirely: OMOPH is not about entertainment or radio play or sales figures, but it is the work of an artist attempting to lay down his emotions in words he doesn't always understand to guitar accompaniments that sometimes tell a different story to his vocals. It's a struggle, but an honest one. Fred is not looking for approval, or empathy, or understanding. That's not to say he wouldn't welcome any of those, but his priority is to build bridges between himself and his songs and if anybody wants to wander across these bridges with him then they are more than welcome. As with his previous EPs, all of these tracks are sparse in arrangement, played out to voice and guitar, though the sound is denser than on his previous work with his vocals sounding a touch deeper and more gravelly. Fred will freely admit that some songs lose something in this format and would benefit from greater instrumentation, but this collection has all been recorded at home, without the resources to decorate them further. Conversely, some of the songs benefit from this simplicity and are moving in their relative penury. Opening track, 'The Minit', is one of these where the backing and vocals work together for good, emphasising a tale of resignation in defeat. Other songs see Fred's guitar acting as a shield as if he is more comfortable having something to hide behind as he reveals his thoughts. "When I come home and see your face / I am confused and out of place", he admits in 'The Lock' though his words are made small by the solidity of the backing. Sometimes the path of the guitar is begging for the vocals to take another route and sometimes the vocals demand more co-operation from the guitar, but lines are drawn and are never crossed. It's all rather vulnerable and appealing. As the guitar bends in 'Cork Off' offering new directions, Fred won't stand his ground. "I won't resist ... I lose every night to cowardice", he admits, while the most fluid of his backing tracks in 'Invisible Man' plays out to his admission that he doesn't have the strength to tread these shifting paths: "The invisible man can't walk through those walls / take any calls / or lift any fingers." These are songs of love and doubt and hope and helplessness that have forced themselves into the world. Don't dive in unless you are prepared to spend some time with them. If you "listen with half a mind and no ambition" you won't find much reward; if you persevere you will find yourself thrilling at the brittle nature and complexity of the human condition. And that's a prize worth having.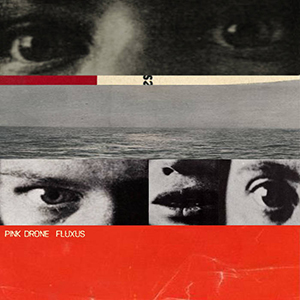 Pink Drone - Fluxus
Hip Slang
Released: 23rd November 2020
Pink Drone is the solo project of Herefordshire-based John Rose who took the opportunity to focus on his music over the 2020 lockdowns resulting in the release of his debut album,
Fluxus
, near the end of the year. This was the culmination of a prolific few months for the multi-instrumentalist who released the five-track
Sleeper
EP before the troubles began in January and followed it up with the seven-track
Visitors
EP in July.
Fluxus
contains twelve tracks and comes in at just under forty minutes, being very classical in form with most of the songs hovering around the three minute mark. Pink Drone's sound also borders on the classical, being synth-driven post-punk with plenty of references leaping to mind, including early Human League, Wire and Joy Division. The overriding mood here is one of disconnection and no doubt the crisis bought about by the pandemic has helped in this, though it can't be said that
Fluxus
depicts total darkness with Rose on occasion offering up some lighter touches. Opener 'The Light' offers a deep contrast between the coldness of the music and the lyric which encourages us to "feel the light in your heart". The synths are remote, the drum beat distant and lonely, and the mood is maintained by the second track 'Radiation' which inevitably sounds like the Joy Division classic that used our (then) record label's name. The vocal is again disjointed and fits well in front of the doomy synth that plays music for a robot dance. Just as it appears that everything in the Pink Drone world is in shadow, the light synth pop of 'Signals' bursts through the gloom as it chimes along jauntily. 'Zeitgeist' also is inherently uplifting despite some wooshing and moaning. Back on the dark side, 'Doppelganger' is hopelessly dislocated and the ominous, flickering instrumental 'European' is particuarly edgy as it brushes off waves of distortion. It's certainly one of the highlights here, as is 'The Underground' in which the plangent guitars add a welcome new texture. It has been so long since we have heard an album like this that it took us by complete surprise. It's the sort of record that could have been put out by Factory Records in 1980, but is a very welcome addition to the 2020s. Available on CD from
Bandcamp
.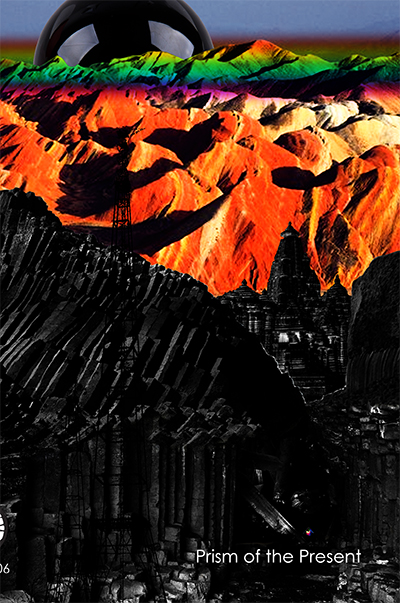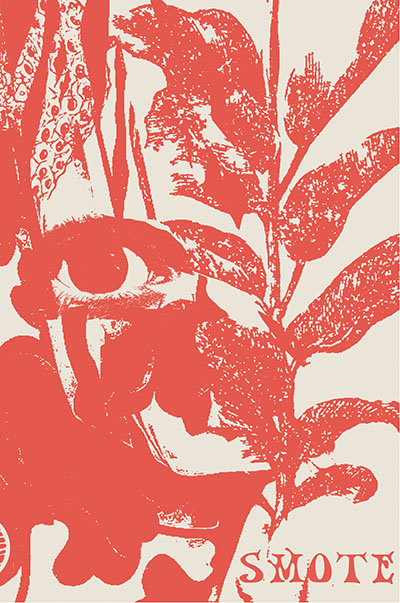 Black Tempel Pyrämid

- Prism of the Present

Smote - Smote

Weird Beard

Released: 27th November 2020
It's fitting that the final two tape collections from Weird Beard this year have a lot to do with the lockdown. Black Tempel Pyrämid's bleak offering was recorded in May 2020 at the FoCo Zodiak Sound Lab in Colorado and is simply described as being "created during the Dark Times that are COVID19." Back in the UK, Smote only came into being as Cave Suns and Hermitage guitarist Daniel Foggin missed playing with his bandmates and friends so much during the lockdown that he began jamming with himself, and ended up producing two sets of solo recordings. Both face the world crisis in different ways. Patrick R. Pärk (BTP) has recorded music that fronts up to the disease, staring deep into its eyes, while Smote's journey is one of escaping into a different environment, a fantasy world untouched by everlasting restrictions and gloom.
The fifty-three minutes of Prism Of The Present are unsettling indeed. From the opening wavering notes of 'As Long As Grass Grows' there is little escape from the uncomfortable vibe. Notes stumble into each other, drum beats are splintered and the background sways awkwardly. Even the guitars that introduce 'Symbol Bridge' appear to be tumbling down a slope. They fall in a continuous loop, making no progress as dark droning clouds in the background threaten grudgingly. There really is no interlude from the darkness. 'Permian Basin Boogie' is as far from a boogie as you can imagine, never being able to build on shifting foundations, while 'Old Lodge Skins' is a melancholic drone that breaks down under pressure. 'Burns Red In The Sun' is the shortest song here, just under two and a half minutes of praying to deaf gods, and the answer to 'May There Be A Road' will never be found as the question is never asked with any clarity; the dislocation is all-encompassing and rational thought impossible. Despite knocking at doors and begging for release, we are lost on an ever-circling journey with no seeming hope of arriving anywhere near redemption. The drums on the seven-minute 'A Holy Place' are some of the bleakest we have heard and the wavering collapse of 'Pale Flower' simply drips sadness. Closer 'Fire On The Plains' is the odd one out here, almost coherent with hints of classicism, and possibly delivering a faint glimmer of hope. There are ten tracks on the cassette, but a bonus eleventh on the download, with 'Hand Woven Silk' rumbling and scraping and reintroducing the tension. Once again everything is stretched to breaking point. If you have listened to Pärk's work before you will know that he is capable of producing the lightest of touches that can make his music soar. This makes this achievement all the more remarkable as Prism Of The Present is unremittingly dark and intrinsically disturbing. We have yet to hear any work that captures the mood of the year so tellingly. Powerful in the extreme.
Smote's offering is a combination of two EPs that were released over the lockdown. The three-track Questing was produced in April and the four-track Portcullis appeared some five months later. There is certainly an ambient feel to the music, built on light drones and owing more than a little to Scandinavian bands such as Parson Sound, Träd, Gräs och Stenar and Goat. It's far removed from the darkness of BTP as it builds landscapes that allow escape from the horrors of the real world. Foggin sees his music as serving the same purpose as fantasy literature, allowing internal release, and the mood is certainly mellow, particularly in Questing, with the instruments dancing sedately around the edges, never making any abrupt intrusions. When the guitar in 'Cedar' adopts a more vigorous stance, it is far from threatening, chattering briefly before fading away. The closing twelve-minute 'Trad' shimmers with guitar notes falling like drops of water cascading over rocks. It's a pretty thing, meditative and calming. Portcullis is more purposeful, with little room for dreaming, and perhaps the extra five months of lockdown explain the shift in focus, as it yearns for answers rather than just a safe haven. Opener 'Ardnamurchan' is brisk march, encouraged by positive guitars, while the title track fills its ten minutes questing; pushed on by a firm bass and covering new terrain which intrigues without causing unease. Flutes seranade as they guide us on our way and the buzzing guitar reinforces our purpose. Our arrival is greeted by the hymnal 'Portuairk' where deep chants invoke the power of the land as chimes ring out in a ritualistic way. It is though we have been granted entrance into the inner sanctum to witness what no outsider has ever before seen. And it changes us. Closer 'Sennen' sends us on the journey home, but we are looking at everything with new eyes. The looping bass reveals previously disguised twists and turns and when the flutes call, they are weaving spells that colour our vision and leave us bursting with renewed determination. As the song builds, it uplifts and strengthens and becomes almost euphoric.
Emerging together, these two collections are finely matched in that they don't match at all but together reflect two sides of a nightmare that will live with us all for the rest of our lives. Hopefully they are a conclusion rather than a continuation of the story.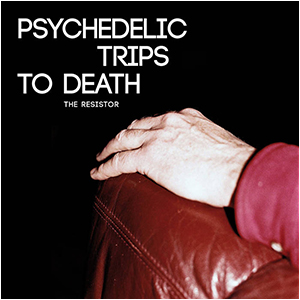 Psychedelic Trips To Death - The Resistor
Dirty Filthy Records
Released: 28th November 2020
"If dystopian literature was a voice, this would be it." So Dirty Filthy Records describe this six-track, thirty-seven-minute blast of stark intensity from Greek psych-rockers, Psychedelic Trips To Death. This is the Thessaloniki four-piece's first release since 2017's Blood For Blood and it has been pressed in a very limited run of 250 copies in Reign In Blood (red) translucent vinyl, so if you fancy having your head beaten against a wall for the better part of an hour, then get in quickly. As with previous recordings, The Resistor has been recorded live which gives it undoubted power, and it has now been given physical form after first appearing as a digital release back in April. PTTD have been recording their happy little ditties for some eight years now and show no signs of mellowing with age. From the second the opening title track explodes into life, the listener is caught between the threat of deep, ominous synths and crushing walls of sound. Drums pound and feedback squeals as attack after attack is launched. The throbbing 'Headlock' shows no let-up in power as guitars crackle and slash while vocalist and songwriter Konstantinos Iosifidis howls defiant warnings. Push the volume up and this is all-consuming noise terror. The band are even more scary when they slow down. The opening to 'Sending Flowers To The Ignorant' is an insidious threat and as the pressure builds the low end makes you shake with nervous anticipation. Let's face it, this isn't going to end pleasantly for any of us. 'Burn Your Eyes' builds into chaos and 'For The Sake Of Our Song' ponders for a while before smacking you round the head and instructing you on where things went wrong. It's all nicely mixed, the songs carrying amazing weight without blurring at the edges. Panos Anastasiadis's guitars are razor sharp, and Giannis Rematas's drumming is huge. Thanasis Sampaziotis sends spiral waves of synths through the songs and Iosifidis's bass is big and brutal. The closer 'The Crate' may well be where they'll dump your remains after listening to this album, but is also near ten minutes of paranoid repartee and explosions of fury. Whatever the question, there is no waiting for the answer. Guitars ring out like sirens announcing disaster as Iosifidis leads us to the record's stark conclusion in a punching finale. It's difficult to compare and contrast here as this is punishing stuff. There are undoubted gothic elements, undoubted melodies and form, yet the whole is mainly shaped by rage. It's a bit of a monster. We're not sure what the front cover depicts but he better be holding on tight.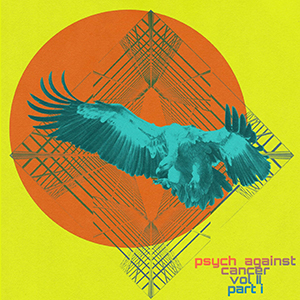 Various Artists - Psych Against Cancer Volume II
Psych Lovers
Released: 4th December 2020
This is an absolute monster of a compilation, put together by the Pysch Lovers Facebook group and totalling nearly nineteen hours of music over 163 tracks!
The list of contributors is just about a roll call of every important contemporary psych outfit and it is heartwarming that so many bands were eager to contribute to a project in which every penny raised is being donated to Macmillan Cancer Support.
Obviously available on download only, the collection comes in two parts, each selling for £10 on
Bandcamp
. Of course as Psych Lovers say, "This is one of those moments when we want to encourage you to donate as much as you can to this incredibly good cause … if you can afford it please do 'name your price'. You are going to find something here that you really love. You are going to discover new bands you never knew existed. Most of all you are going to help people work through their own cancer stories, and while this doesn't guarantee more happy endings … it does help make those narratives more bearable for all those living through them. Let's say FUCK CANCER and dig deep!"
It takes a good few listens to review a record, so it would take four solid days with no sleep even to begin to get a handle on all that is on offer here, but there are a few familiar tracks from Fuzz Club releases by Servo, Las Cobras, 10000 Russos, The Gluts and Sei Still and a track written especially for the Fuzz Club Isolation Festival by the mighty Helicon. There are offerings from other personal favourites such as White Canyon & The 5th Dimension, Sunset Images, Korb, TBWNIAS and a terrific new piece from Dead Sea Apes which stretches over fifteen minutes. 'Sea Of Ruins' ebbs, flows and crashes at the shore singing a siren song that will lure you into the seething waters from which you will never return. Other impressive moments that caught our ear on an admittedly quick dash through this notable gathering include a glorious psychedelic stew served up by Thee Telepaths, a teasing epic from Throw Down Bones, and some rollicking mayhem from TV Strange. Part Two sees some impassioned angular rock from Slint, a guitar serenade from Domboshawa, and some rumbling darkness from Kungens Män. Mugstar are at their usual blistering best, while Fabriccio De La Mora blows away everything in his path before The Janitors smoulder menacingly for seven shadowy minutes.
This is but a mere scratch on the surface. There is so much here to explore it will take you all Christmas to get through it. Having said that, here is an item that requires no delivery and no wrapping up and will keep the recipient quiet for days on end. (Or very noisy.) It's the perfect present. And all for the worthiest of causes ...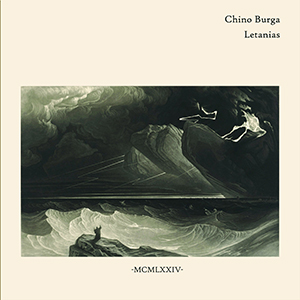 Chino Burga - Letanias
Drone Rock Records
Released: December 2020
If you have Christmas money burning a hole in your pocket, then Shoreham's Drone Rock Records may well be worth a visit, with three new releases lined up, all available in beautiful limited vinyl pressings that will no doubt disappear quicker than your New Year's resolutions. Having put out over forty records in roughly five years, label boss Adam Harmsworth shows no sign of slowing down and he has some fascinating projects lined up for 2021. January will see new offerings from Mienakunaru and Domboshawa, with the end of the old year marked by the debut solo album from Culto Al Qondor's Chino Burga.
The Peruvian space-rockers have already released two memorable albums on DRR (one originally pressed on CD by Necio) and Burga's solo album will join these as much sought-after items. There are just two tracks, 'Espacio' and 'Tiempo' ('Space' and 'Time'), which both break the twenty-minute mark and are well named. Both pieces are enormous in scope and it is strange that such expansive sounds were recorded entirely at home during the rigid Covid lockdown. No doubt the isolation brought on by quarantine gave the opportunity to exercise the mind, channelling its creativity to counteract the seemingly inexorable tread of the sickness in any way it could. Letanias (Litany) offers escape or, tangentally, relief. Its tracks were recorded with a D Minor tuning that vibrates at 396Hz which is said to have a healing quality. A petition to a greater power, or just an empty repetition?
The opener's drone vibrates gently as it absorbs every trace of unexplained noise from the distant reaches of creation, while 'Tiempo' pretty much picks up where its predecessor left off. Time and space are intertwined. There is the odd variance here, more insistence in the captured waves of sound which grow ever more layered and conversational. There is obvious intelligence, not just random sounds dragged from the outer reaches, though the chatter eventually fades away and dies. Everything was achieved. Or nothing.
Letanias is available now in a limited pressing of just 250 copies. There are 150 copies on clear vinyl with heavy, red splatter effect which can be ordered directly from the DRR website and a regular red vinyl edition of 100 copies reserved for shops.