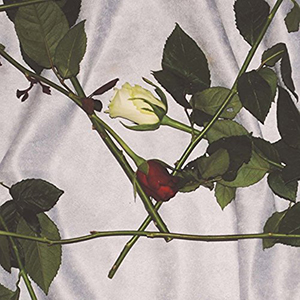 Chain Of Flowers - Chain Of Flowers
Alter
Released: 16th October 2015
The stream of exciting new bands embracing the ethos of experimentation enshrined by the post-punk era thankfully shows no sign of abating. It is quite incredible how brilliantly some of these musicians are able to gather threads from past and weave them into contemporary tapestries of sound that steal your breath away and leave your pulse racing. New interpretations of old approaches, new paths for old ... it is little wonder vinyl has revived when young bands embrace the past, feed from it and, most importantly, learn from it. The latest group to sign up to the renaissance are Cardiff six-piece Chain Of Flowers whose self-titled debut runs to eight tracks and just under forty minutes and sees light of day on London's excellent Alter label. What is offered up is a bruising amalgam of shoegaze and post-punk sounds with chanting, layered vocals struggling against an overwhelming density that is only partially relieved by waves of flashing guitars. It all throws up memories of the fantastic Ghost Outfit album of 2013 in its insistence, slightly unhinged focus and intermittent desperation and it comes as no surprise that the songs were recorded in a sleepless period of four days locked away in a Monmouth studio. Strangely, the album is at its most uplifting in grimly titled songs such as 'Death's Got A Hold On Me' where the Catherine Wheelesque dancing guitars can't fail to send your spirits soaring, whilst at the other end of the spectrum 'Bury My Love' is appropriately suffocating. This is music it would hard to cut through without oxy-acetylene, at times seemingly personal and intimate, yet shrouded in concrete as if these emotions were never really meant to be aired: painful whispers secretly expelled into the face of a storm. It may be confessional, but it's hardly cathartic; there is no relief for tortured souls who prefer to bury themselves in a prison of their own making. Of course, that can only be good news for the next record and long may Chain Of Flowers struggle with their emotions. Weighty and oppressive; this is great.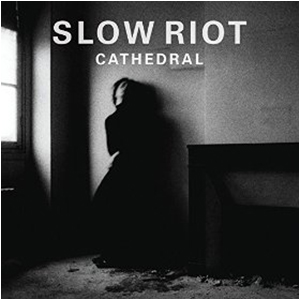 Slow Riot - Cathedral
Straight Lines Are Fine
Released: 23rd October 2015
And still they come. Limerick trio Slow Riot's debut release follows on from two digital singles and is available as a four-track EP in a very limited ten-inch clear vinyl edition (
here
) as well as a download. It's a pretty thing in its splendidly atmospheric monochrome cover which nicely reflects the music on offer: intense and cutting yet chillingly distant and detached. Obviously painstakingly recorded at the Manics' Faster studios in Cardiff with producer Kevin Vanbergen, the four tracks here offer little respite as they attack your senses relentlessly and ruthlessly, with no small degree of repetition, and the result is a collection of quite cutting power. Slow Riot appear to have been compared with every band in the world (including, bizarrely, Girl Band), yet their musical influences appear to be from the iciest regions of post-punk, territory once inhabited by Joy Division and In Camera, and they conjure up memories of Editors in their early days (when they were great), especialy in the phrasing of the vocals and singing of the guitars. Yet Slow Riot manage to remain even more detached and cut even harder with their music. Opener 'Demons' is slow paced and desolate, nudged along by unshakeable drums and a solemn bass while the guitars dip in and out with funereal chimes. 'City Of Cuture' is more urgent and driven, its sharp edges underlined by the biting lyrics and a beautifully distended guitar burst that should have stretched to eternity. The slowly opening 'Adele' quickly finds itself trapped; looping helplessly within self-imposed confines before finally managing to burst free and climb high to the serenade of triumphant guitars which spit and saw on reaching an impossible summit before hurling themselves into oblivion. It's a wicked cut off as the bass leads the listener into the melancholic 'Cooper's Dream' which grows achingly slowly, adding weight but never finding relief. This is impressive stuff indeed, imbued with all the power, purpose, passion and command of expression that grace great releases. Grab a copy of
Cathedral
while you can.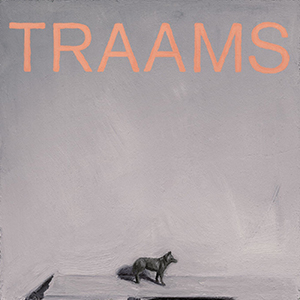 Traams - Modern Dancing
Fatcat
Released: 13th November 2015
As good as the debut Traams album was, you always got the impression with 2013's Grin that the band were a little doubtful of their own worth, giving the tracks throwaway single-word titles as if desperate not to come over as self-important. They weren't a band on a journey of self-enlightenment, but one with a desperate need to escape; infusing their spikily twisted alternative rock with a healthy dose of krautrock monomania that allowed them to set off on lengthy one-way rides away from the monotony of small-city England. The repetition in the music mirrored their enduring flight, yet Traams never seemed fully aware of the glorious flashes of light their breakneck dashes threw across the endless barren landscapes. They weren't just a band on the run, they were a band who made the run seem the best thing in the world; as though spitting out and trampling on your frustrations was the ultimate release. 2015 sees Traams still working on their escape, yet not with such a clinical focus; there is room to breathe here, there are melodies and thoughtfulness, and the dawning of the idea that how you run may be just as important as arriving at your destination. OK, there are still some reckless rushes of blood, with the charging 'Gimme Gimme Gimme Gimme (Love)' and 'Succulent Thunder Anthem' leaving little time for a glance over your shoulder, and there is still plenty of frustration bubbling under the surface, but 'Car Song' is a gentle ballad, though delicately laced with a feedback squeal, and 'Silver Lining' is smooth and harmonious. Title track 'Modern Dancing' also flows along beautifully before being injected with big guitars, and all this serves to widen Traams' horizons; there are bigger pictures being painted here as Traams finally look out of the windows and discover life outside. There are more facets to Modern Dancing than we discovered in Grin. Opening track 'Costner' is ignited by Stuart Hopkins' soaring guitar and it remains urgently uplifting despite the singer's desperate pleas for solutions that undoubtedly fall on deaf ears, "Oh God give me answers and not just the ones I know." 'Sister' is powered along relentlessly by Leigh Padley's bass and Adam Stock's metronomic drums with Hopkins' vocals displaying surprising feeling, and this new-found gift of expression is revealed again on 'Neckbrace'. As 'Bite Mark' closes the album with a squeal, it is clear that this is new, improved Traams and it's impressive in the extreme. A great live band making great records. What more could you want?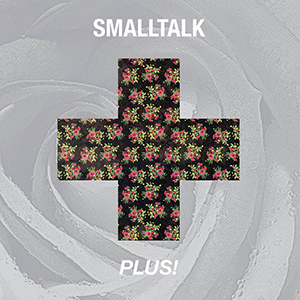 Smalltalk - Plus!
Chunksaah Records
Released: 27th November 2015
If you follow our reviews, you will be no stranger to Smalltalk, the New Jersey outfit who sound as British as mushy peas and have a penchant for all things Weddoes. Disappointing though it is that anyone from Neptune City is not spending their days on Stingray fighting the Aquaphibians, this five-piece offer up the next best thing by eschewing their hardcore roots and producing not only authentic 1980s UK indie guitar music, but songs of such quality they cannot possibly be ignored. Invigorating, touching, uplifting and lovelorn, this is music how it used to be – the moot point perhaps being that nobody else actually records this kind of stuff any more, thus leaving Smalltalk to fill a gaping void in both the market and our hearts.
Plus!
is a collection of the band's four three-track EPs which were released in very limited vinyl runs (100 each) over the past eighteen months and it is a splendid thing. Guitars rise and fall and rattle and jangle, while drums flick through familiar patterns as singer Zak Kaplan narrates his tales of heartache in beautifully affected vocals that sound as familiar as your best mate crying into his beer after another wayward romance. On occasion percussionist Tara Jones joins in and the interplay between the male and female voices adds another facet to the band's sound. Depth and talent. There's very little chance you will fail to be impressed by this collection, and some moments will take your breath away. 'Spellbound', the lead track from EP
III
, is quite simply brilliant with great lyrics, husky vocals and an astonishing guitar outro courtesy of Kaplan and Pete Steinkopf. You have to marvel that more bands have not embraced this sound as song after song hits the spot: 'The Last Ones', 'Only You' and 'June/July' will soon become old mates and take you on a journey back to the days of weekly music papers, John Peel in the evenings and a certainty that indie music would endure forever. It's a relief that bands such as Smalltalk are keeping the flame alive. Buy this record
here
.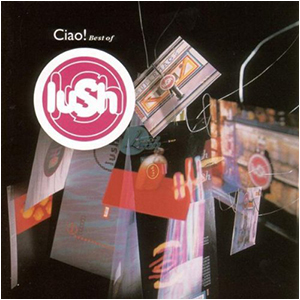 Lush - Ciao!
4AD
Released: 27th November 2015
With rumours of a Lush reunion abounding, in late November 4AD took the opportunity of reissuing the band's eighteen-track 2001 compilation on vinyl for the first time in a double disc set. Of course we had bought the collection on CD when it first came out, but probably neglected to play it very often largely because of what it stood for at the time. 4AD had slipped out of Ivo Watts-Russell's hands and was now a very different kind of beast. Alternative music was in sharp retreat on every front and while the label's new owners indulged themselves in all manner of hapless bollocks, their nod to the past consisted of a series of compilations from old (proper) 4AD bands as a sort of hello and farewell. It had been five years since Lush had broken up by the time of this release, but our refusal to treat their music as nostalgia kept it more or less tucked away on the shelf while we still gave airings to the albums proper.
Ciao! consists of six Miki Berenyi compositions, ten from Emma Anderson, one joint effort, and a cover of Young Marble Giant Stuart Moxham's 'Love At First Sight' which first appeared as a b-side on the 'Hypocrite' single. Looking back fifteen years down the line, it certainly represents a fair perspective of Lush's career with two tracks featuring from Scar, four from Spooky, five from Split, four from Lovelife and three from singles. The tracks run from the newest to the oldest which gives an interesting perspective on the band's evolution in reverse, regressing from the worldweary, knowing pop of Lovelife to the gently kaleidoscopic soundwaves of Scar.
For those who were with the band from the beginning, there is little that can better early tracks such as 'Etheriel', 'Monochrome', 'Nothing Natural' and the completely stunning 'Sweetness And Light', songs which remind us why we fell in love with Lush in the first place. There's a gentle, melodic beauty to these recordings, one that is often thrown into sharper perspective by the unobtrusive spiky edge that occasionally cuts through and surprises you like a burst tyre on an easy road, sending you spinning. Mid range Lush always appeared to be weighed down with sadness and regret, replacing sparkle and vitality with anger and pain. Not that this necessarily lacked appeal; it is difficult not to embrace the feisty 'Hypocrite' and drift away to the somnambulant 'Desire Lines', and what coud sum up the band's current sound better than the achingly sad descending strings at the end of the appropriately named 'Light From A Dead Star'? Late Lush saw the band successfully meld the sparkle of their earlier work with the fight of their more recent recordings to shape some quite cutting guitar pop music, the like of which had rarely been seen. Lovelife was a remarkable album of twelve songs, both soft to touch and as hard as rock. Many thought it was a successful blend that would catapult the band to stardom, and its failure to achieve this only appeared to knock them backwards, the final split coming in October 1996 following the tragic death of drummer Chris Acland, to whom this compilation is dedicated.
In truth, Lush were never going to be famous. They may have desired greater success, but it would not have done them much good; they had too much suss to wallow in the inanity and shallowness of the mainstream music world. But for those of us in the underground Lush were pop stars where none were supposed to exist. They had a spark that lifted them above their contemporaries and to see them playing live was always a thrill. If you don't know their music Ciao! is fine, but deeper investigation will be well worth the effort.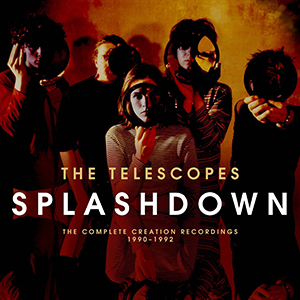 The Telescopes - Splashdown
Cherry Red
Released: 27th November 2016
By the time The Telescopes signed for Creation in 1990, they already had a back catalogue most bands could only dream of, full of blistering, intense and mesmerising songs such as 'Kick The Wall', '7th # Disaster', 'Perfect Needle' and 'To Kill A Slow Girl Walking'. Their work for the new label saw them begin to move in a different direction, discarding some of their music's rougher edges and embracing a more psychedelic sound underpinned with buried melodies. They released four EPs over two years and a rather belated album in 1992; all are included on this 2CD compilation from Cherry Red, along with the band's Peel Session from September 1991 (which consisted of four album tracks), and seven extra recordings that have not previously seen the light of day.
Their first offering for Creation, 'Precious Little', more nearly captures the essence of the band's early releases, though even here a more psychedelic sound is beginning to emerge. There are plenty of distorted, feedbacking guitars sitting on a clean bassline and the song is broken by two crushing instrumental breaks to which Steven Lawrie merrily sings along. It's a pretty splendid thing and picked up good reviews at the time which encouraged Creation to follow it up quickly with 'Everso' which was far sharper and trippier, with a distinct sixties' edge to its shimmering brightness. 1991's 'Celeste' was far blurrier with an unashamed baggy beat, while the same year's 'Flying' was pretty straightforward psychedelic rock in which the banjo solo will knock you over. Many of the accompanying EP tracks were more introverted, slower numbers which are well worth spending some time with.
The Telescopes became more introspective at exactly the wrong time to maintain commercial appeal and their second album was released just as the ebullient Britpop was taking its grip on Britain's music scene. Untitled 2nd or The Telescopes was by far the quietest, most considered record the band had yet made with guitars very much kept in the background. There's a jazz element at work on 'You Set My Soul' and even the vocals begin to sumerge on the dream-poppy 'And'. The double vocal on 'Yeah' works nicely as the song floats along on its danceable backbeat, while 'Ocean Drive' reminds us of what The Telescopes can do with guitars and a decent melody. The additional tracks here include a cover of 'Candy Says', the Velvet Undergound being a long-time influence for Lawrie, though most of the others included appear to be experimental outtakes, more interesting than essential.
With The Telescopes re-emerging to produce one of the most outstanding albums of last year, it is a good time to weigh up all they have offered in the past. Most of their earlier records are available on the band's Bandcamp page, but for the important Creation releases you can't get better than everything in one package.