Viet Cong - Viet Cong
Jagjaguwar
Released: 19th January 2015
Amongst the welter of new alternative bands who have emerged over the past couple of years, it is never more pleasing than when you come across those who are truly experimental, looking to bring something new to the equation, stretching their sound towards vague and distant horizons. For those of us who used to glory in the groundbreaking sounds of PiL, The Pop Group, The Birthday Party and their ilk as the seventies turned into the eighties, it was this sheer inventiveness, nerve and belief that separated good bands from great bands, ones worthy of being remembered as pioneers and indeed outlaws, flying in the face of all accepted convention. The debut album from Calgary's Viet Cong is happily all of these things, embracing the sounds and experimentation of the post punk era in an intriguing way. Yes, there are some excoriating guitars here and Viet Cong never sound better than when six strings rake through 'Newspaper Spoons', stab at the eyes of 'Bunker Buster' and carpet 'Continental Shelf' like a virulent and poisonous grass, grasping and tearing at your feet as you walk. At other times they dance through 'Silhouettes' like early Editors on speed and chime through eleven minutes of 'Death', but there is far more complexity here than feasting guitars. The relatively high pitch of the bass often leaves the vocals at the bottom end which gives you a constant feeling of being dragged down into the depths, submerging as a kaleidoscope of grey sound dances around you, resolutely unconcerned by your fate. There is also melody, prettily framed among the damage of 'Bunker Buster', for instance, briefly emerging into the light, offering rare glimpses of colour and hope, while at other end of the spectrum repetitive beats and morbid organs hint that it's way past time to bring out your dead. There are whispers of Wire here in the willingness to embrace sound and talk through it with a passion rarely seen in the vocals which only occasionally burst out of the deadpan, occasionally offering the hint of the chorus in a Greek tragedy. It's clever stuff, painstakingly layered and mightily impressive. We like this very much.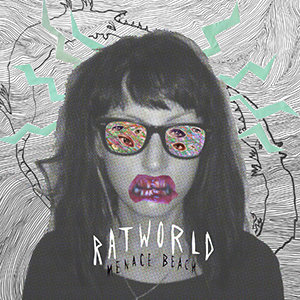 Menace Beach - Ratworld
Memphis Industries
Released: 19th January 2015
We're not mad keen on the epithet 'indie supergroup' which is often used to describe the somewhat fluid membership of Menace Beach but we are all for the interchange of personnel and ideas between bands and it was our dream as a label (some years ago) to be able to put random members of different groups into the studio just to see what they would come up with. Sadly, this never came to fruition but it is good to see the core duo of Menace Beach – Ryan Needham and Liza Violet – recording their music with a whole host of musicians from different bands which have included members of Sky Larkin, Hookworms and PABH; there is obviously a healthy vibe amongst independent bands in the Leeds area which is so great to see. We were first drawn to Menace Beach on the release of their 'Drop Outs' single for Too Pure in 2013 and there have been various physical and digital singles since that time that have now led to the release of their debut album Ratworld. And the wait has been well worthwhile as this twelve-track collection of songs, lasting just thirty-three minutes, is an appealing concoction of murky garage grinds and fizzing pop songs. Indeed, much here reminds us of Teenage Fanclub, but with much grubbier fingernails, as Menace Beach are not afraid to embrace melody and not afraid to chuck a spanner in the works if things are getting a little too tame. They don't shy away from including previously released material including 'Drop Outs' with its effective ebb and flow, the almost cute pop of 'Tastes Like Medicine', the stomping 'Tennis Court' with its gorgeous licks of feedback, and the warped organ swirl of 'Fortune Teller'. They are all fine songs, but the less familiar numbers also deliver big time. The effortlessly appealing opener 'Come On Give Up' hooks you instantly and teases you with some splendid guitars and its male-female verse-chorus vocals, and the interplay between Needham and Violet is effective throughout, offering up as neat as contrast as that between the pretty melodies and the warped and even brutal instrumental breaks that scratch through them. The year has started off well.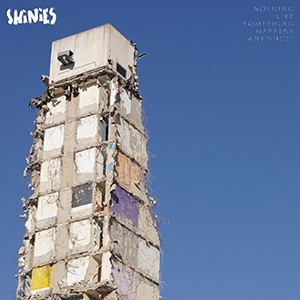 Shinies - Nothing Like Something Happens Anywhere
Dirty Bingo
Released: 2nd February 2015
It's beginning to feel a bit like we stepped through some sci-fi type crack in the space-time continuum and ended up back in 1991 without our knowing. For the current resurgence in indie music is not just seeing a burst of new bands resurrecting the spirit of post-punk, but there are so many bands around now that would have slotted seamlessly into the shoegaze era that we are beginning to get spoilt for choice. These, of course, range from those at the heavier Swervedriver end of the spectrum, to the ethereal Slowdive types and those pop groups with a more delicate touch such as Manchester's Shinies who have at last followed their four singles with a nine-track, thirty-five minute debut album. Of course the common factor with all of these bands is that they are not merely content to write songs, but strive to produce soundscapes with words, everything blending together to provide a complete listening experience. Often, then, the vocals are not dragged to the front, the lyrics no more important than the lines spoken by the guitars and bass, and just so here. Shinies' tunes are carried along by frothy and fizzing guitars that are every bit as eloquent as Adam Davison's vocals and more often than not evoke a dreamy vibe that is appealing in the extreme. Even the woozily distorted 'Soak' doesn't rock the boat, leaving an easy sense of calm, while at their best Shinies achieve a shimmering beauty to their sound, as on the delicately constructed 'Waves'. There is experimentation and distortion and plenty of attack here, but as with the best bands of this type – Pale Saints, Boo Radleys et al – this never grates but simply adds to the complete picture and the band's vision is not shaken by moments of musical mayhem nor seemingly downbeat lyrics. For even at its punchiest on 'de C' the battling bass and drums are calmed by chattering and singing guitars, while reciprocally the scratchy guitars on 'Spent Youth' are talked down by a beautifully smooth-flowing bassline. Everything is kept in line, the discipline is enticing and the nice production leaves no overlong pauses to break the ever-weaving spell. Good this.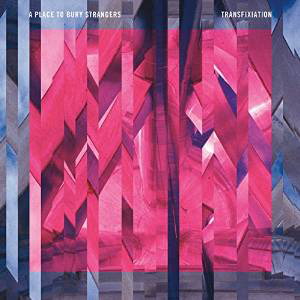 A Place To Bury Strangers - Transfixiation
Dead Oceans
Released: 16th February 2015
It's three years since APTBS brought out their third album, Worship, a Hadron Collider of sound that turned your braincells into dark matter with its unrelenting battering, and it was difficult to imagine the band were not on an inexorable quest to prove the existence of the elementary particle of noise that would render all other music forms obsolete. It is somewhat of a shock to discover then that APTBS, following some thirty months of almost constant touring, seem to have abandoned their quest. New offering, Transfixiation, shows a band in transition and the relative low key nature of its release may well reflect a nervousness as to the reaction it will receive. For APTBS here have abandoned noise as the be-all and end-all of their music and have recorded songs with a bit of noise draped over them. This is not a little disconcerting. Oliver Ackermann's vocals are far more to the front than on previous recordings, thus bringing his lyrics into a far sharper focus, as well as the quality of the songs themselves, and sadly there is nothing remarkable about many of them. 'Straight' and 'What We Don't See' are pretty straightforward indie rock rambles, whereas 'Deeper' aims to be menacing but is actually a bit cringey and embarrassing. It's all a bit soul-destroying to hear, but thankfully things pick up a bit on side two where the noise is back in force and the band sound far more comfortable in themselves, even the male-female vocal on 'We've Come So Far' working to good effect among the throb and hum. 'I'm So Clean' is pretty much the Mary Chain's 'The Living End' with a little less feedback, while 'Fill The Void' crashes and pounds convincingly. Closer 'I Will Die' ends the collection on a high, with its broken and distorted buzz, but there is no escaping the fact that Transfixiation is by some margin the least satisfying album yet produced by the band and a bit of a curate's egg. The good bits are good, but the rotten bits are pretty damn rotten.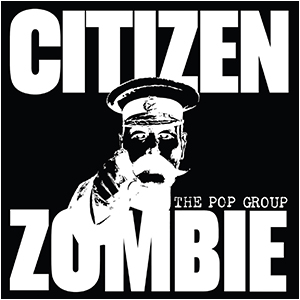 The Pop Group - Citizen Zombie
Freaks R Us
Released: 23rd February 2015
As the impact of the original punk blast faded away it was The Pop Group (along with Public Image Limited) who decided that things should not revert to the status quo and opened people's eyes to a new approach to music where dislocation replaced traditional song structures and tangents subverted melody. At a first listen people would either run away screaming or be blown away in admiration. It was music that reflected the times; the seventies was a dark and violent decade with the traditional building blocks of society begining to crumble and this new approach encapsulated the air of chaos and decay. Ultimately the Pop Group disappeared all too quickly, their records becoming impossible to find as if the establishment itself had buried them in some secret underground bunker. Last year this all changed as these early recordings were once again made freely available and the band reunited to play them on their first ever UK tour. Thanks to the current alternative renaissance, they were then able to go on to create a new album and make trips overseas they probably never even dreamed of first time around. And let's face it, with the world strumbling from crisis to crisis while its citizens remain content to stagnate in front of the telly, consuming a diet of corporate nitrazepam, there has never been a better time for them to re-emerge. Pleasingly Citizen Zombie does nothing to tarnish the band's reputation and indeed it is difficult to argue that it doesn't again reflect the times with uncanny ability. The chaotic punk-funk of old is still there, but these new songs are, if anything, even more broken and desperate than their predecessors. Opening to a scream 'Citizen Zombie' sets the scene nicely, its scratching and howling backing ebbing and flowing while Mark Stewart's vocals have the air of being sung through a megaphone to the accompaniment of soul girl backing vocals. It's a great mixture and Stewart does good work throughout, the pain just pouring out of 'St. Outrageous'. More familiar funky territory is covered on 'Mad Truth' and the almost singalong 'S.O.P.H.I.A.' while at the other end of the spectrum 'The Immaculate Deception' impresses with its vocals and fairground guitars drowned in bass. There's very little here that won't blow you away; perhaps the low point is talky song 'Nations', but it's a minor hiccup amongst so many glorious moments. We had desperately hoped this would be a great record, and happily it more than fulfils expectations.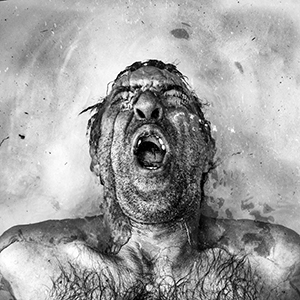 Spectres - Dying
Sonic Cathedral
Released: 23rd February 2015
In the splendid renaissance of independent music we are currently enjoying, one noticeable difference between bands of this era and those of yesterday is that the current crop of musicians have a far more intimate understanding of noise. No longer a weapon for shock and awe, today's musicians are able to bend it to their will, shape and caress it, and build layer upon layer with surprising dexterity and definition. Spectres are yet another West Country band endowed with such talent, but whereas The Fauns turn noise into filigree and weave intricate patterns, and Thought Forms gently ramp up the pressure before unleashing tidal waves of unstoppable power, Spectres are content to belt you around the face until you lapse into unconciousness, and then belt you some more. Dying is meant to cause you pain; a collection of songs so dark they should have been delivered by hearse, yet, ironically, far from dragging you down into the darkest depths of despair, the unremitting bleakness of it all is so cathartic that it fills your heart with joy. Go and watch this band live and see if you can wipe the massive grin of your face as Spectres immerse the world in a whirlwind of torment. It's impossible, and this record has the same effect. If suffering is good for your soul then Dying is spiritual amoxicillin, but medicines never tasted this good. Setting the tone by scraping guitars down the walls of Bedlam, 'Drag' is blown away after a minute and a half by the shattering 'Where Flies Sleep', Joe Hatt's breathy vocals hemmed in claustrophobically, before last year's Too Pure Singles Club outing 'The Sky Of All Places' offers one of the album's lighter moments, a sixties' psych piece only partially submerged in chaos. Of course, the term 'light' here is a matter of degree; in the context of Dying, it is positively Bucks Fizz: in the real world its a howling menace. However, it pales compared to the bruising mayhem of 'Mirror', the vicious punch of 'Lump' and the creeping threat of 'Blood In The Cups', and it is soon understood that when Spectres quieten down a little, it is only a pause to sharpen their blades. 'This Purgatory' veers between insanity and the sound of whales crying in a boiling ocean, while closer 'Sea Of Trees' opens prettily before its eyes are scratched out and it dies screaming. This is a terrific album and it is so heartening to see the first pressing already gone from the shops. Dying is great; everyone should try it.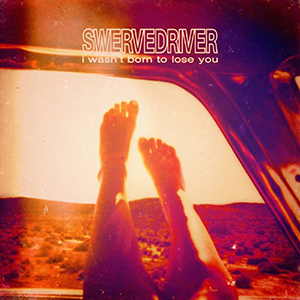 Swervedriver - I Wasn't Born To Lose You
Cherry Red
Released: 2nd March 2015
With the Shoegaze era back in vogue, there is undoubtedly a lot of love around at the moment for Swervedriver who reformed back in 2008 and now release their first album of new material since 1998's 99th Dream. Swervedriver were always at the harder end of the Shoegaze spectrum, the Oxford four-piece coming to prominence with the crushing Sandblasted EP on Creation that was followed by the equally heavy and deeply layered debut album Raise in September 1991. The band always had an obsession with Americana and road trips, strangely sparked by the sights and sounds of the British Leyland Cowley car factory they used to pass as children, and the obvious references in their music endeared them to an American audience who kept the flame of the genre alive when Britain turned away to embrace the more extrovert Britpop bands. 2013 single 'Deep Wound' was the first offering from the re-born Swervedriver, still containing original members Adam Franklin and Jimmy Hartridge, along with long-time bassist Steve George, and the song features on this collection, a pretty straightforward rock number with some pace and slightly fuzzy guitars but lacking the depth and intricacy of the band's earlier work. And the album as a whole follows pretty much in the same pattern; this is not a collection of breezy soundscapes and crushing guitar interplay but a far simpler offering of mumbled lyrics and riffery, some of it bruising, some not, and though it has coherence in its unanimity of sound, it is not always easy to separate one track from another. The secret, on repeated plays, is uncovering the subtleties that litter the songs but reveal themselves only unwillingly: a lovely descending chorus here, a slightly off-key guitar pick there, a brief droning intro or a flickering solo. It's a pretty decent listen that will grow on you the more you get to know it, but it's unlikely to become your best friend.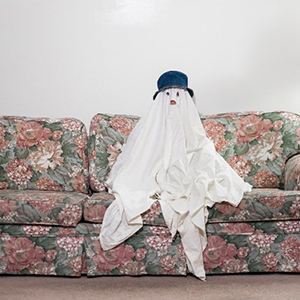 Chastity Belt - Time To Go Home
Hardly Art
Released: 30th March 2015
OK, we are a bit late with this one, but of all the records that take their time to grow in your consciousness, this is the undoubted boss. Time To Go Home may have been shy of revealing its inner glory, but it really is a subtle beast and if you don't grasp it immediately it is certainly worth the perserverence. This is the second album from Washington State's Chastity Belt, following on from 2013's brilliantly titled No Regerts, and it marks a big leap forward in its approach, if not its spirit, being less rudimentary and in your face than its predecessor, but cutting all the deeper for it. One thing that certainly remains the same is the vocal brilliance of Julia Shapiro whose voice can dominate a song, whisper at its edges, cut right through you, or lure you on to the rocks. The depth of expression she captures is simply astounding, framing the band's identity every bit as much as her and Lydia Lund's guitars that are almost lazy in their lack of endeavour, but startlingly effective because of it. It shows a mastery of control that so many bands never achieve; an understanding of the dynamics that can make a gentle three minute pop song knock a listener senseless. Annie Truscott on bass and Gretchen Grimm on drums provide the framework for Shapiro's magic, providing the right amount of space for a pause here or another carefully worked intonation, and when all four musicians hit the spot at the same time, the results can be quite beautiful. The fairy step guitars and soothing backing vocals of 'Trapped' add the weight to make it the undoubted highlight of the album, before an ever-so-slightly grating guitar outro ices the cake; 'Why Try?' then comes close to matching it in its bleak desperation. It's clear from the lyrics that Time To Go Home is as full of anguish as it is playfulness, wit and commentary and it is difficult to remain unmoved. This is a powerful record, full of subtlety, craft, passion and a cutting alternative edge. Chastity Belt want to inspire more women to join bands and what better way to achieve that than by being this brilliant? Investigate and buy.

Singles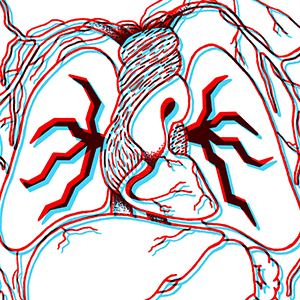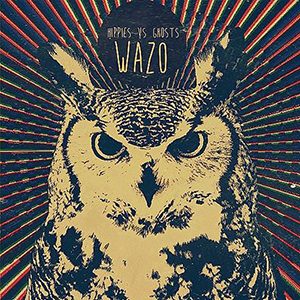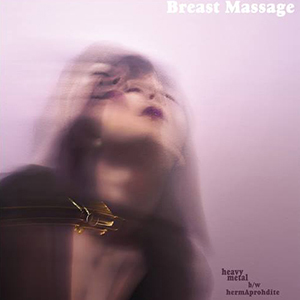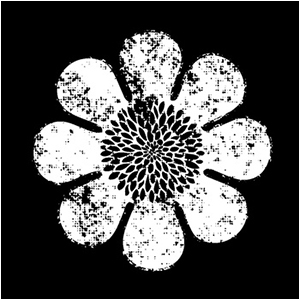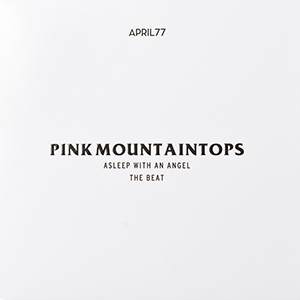 Battery Hens - Guts EP
Following on from their fabulous
Battery Hens
EP of last year, Portsmouth's rising stars have re-emerged with a five-track follow-up, due to be officially released on 4th April. Rather like its predecessor, this collection is a bit uneven but clearly shows that Battery Hens are one of the most exciting new bands around with the potential to go stratospheric. Their main problem appears to be a whirlwind of ideas that see them charging around in different directions, but when they hit the spot they blow your mind in the same way Girl Band did with their
France 98
EP. The real gem here is opening track 'Fuck Things' which is quite simply amazing: a thundering punk thrash with a fantastic screamed vocal and neat bubbling bass. Just two minutes twenty seconds and split by some gloriously screeching guitars, it leaves you stupified. 'L.U.N.D.' is another ripper with equally effective guitar squeals before 'Towards The Sun' gets narratey and proggy (both words in my dictionary) and lead into the only-alright 'DNR' and the closer 'Stuck' which is nearly eight minutes, slow and gets better near the end. The CD is available in a limited run of just ninety so get in quick
here
. Quite frankly I'd happily buy the lot just for the pleasure of the opener.
Hippies Vs Ghosts - Wazo
The first outing from this year's Too Pure Singles Club is a pretty decent throbbing instrumental effort from Hippies Vs Ghosts, Owain Ginsberg's offshoot from Welsh experimental rockers We Are Animal. Housed on that rarity for a Singles Club – black vinyl – 'Wazo' rumbles along nicely to a sturdy bassline and features some slashing guitars but ultimately a song without words generally leaves you faintly unfulfilled like eating chips without ketchup. The b-side 'Hibou' is dreamy and sways along nicely but has the same final result.
Breast Massage - Heavy Metal
February's offering from the TPSC is from a band of which we know nothing and research can only divine that Breast Massage are "Jake Orrall (from JEFF the Brotherhood)'s side project with Karl Bergman of King Karl". On milk white vinyl (of course) we can only count this as a novelty record which qualifies it for drowning at birth. Unimaginative metal track with b-side 'Hermaphrodite' no better. Pretty disappointed with this one.
Smalltalk - Smalltalk III
We like Smalltalk a lot. Hailing from New Jersey, they sound as if they were born and bred in a post-industrial town in northern England, so familiar is their sound. There's Smiths in there and a lot of Wedding Present and some nice guitars and warm vocals and dammit, they're terrific. They may not have packed my vinyl record of
Smalltalk II
very well, ensuring it was damaged by the useless mail service on the journey over the Atlantic, and the postage may have been as much as half a house, but no doubt we will invest again on the limited vinyl release of this one, which saw the light of day right at the end of last year (available here on
Bandcamp)
. Lead track 'Spellbound' is the star here, having some life of its own and dripping with feeling. 'Like You' and 'Indecipherable' are just a little
too
Smiths derivative to stand on their own two feet, but no bad listen for that. Oi Smalltalk - pack your records better...
Pink Mountaintops - Asleep With An Angel
Never had a record arrive in just an envelope before, let along one that has journeyed overseas, but somehow this latest offering from French lifestyle website April 77, a limited 250-run in a lovely red and white splatter vinyl, arrived in good nick and features the first offerings from the band since the release of their splendid
Get Back
album last year. The a-side is familiar seventies' inspired rock with a great vocal, faltering verses and and nice Mick Ronson solo. It's certainly worth getting hold of, though a streaming site may be your best bet. B-side 'The Beat' charges along without hitting hard, but is pleasant enough in a candyfloss sort of way.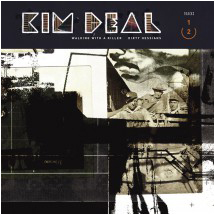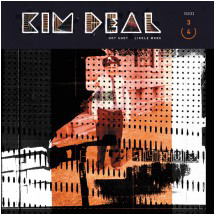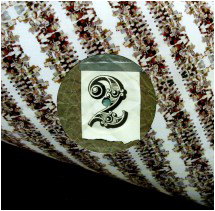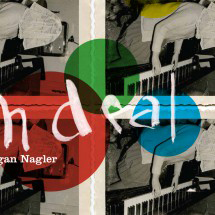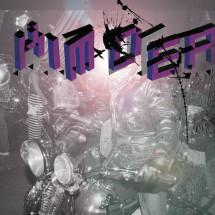 Kim Deal - Walking With A Killer
With Pixies marching on after their iconic bassist decided to jump ship, the obvious response to her old band producing their first new material in a billion years was quite obvious - to release five singles at the same time. The lead track on the first is a neat thing, a slowly pulsing bass carrying the vocal, aided by terrifically sensitive drumming from Lindsay Glover and the occasional burst of mad guitar. Kim sounds like Kim and it doesn't come much better than that. This really is fine work. B-side 'Dirty Hessians' features Kim playing everything in a take-it-or-leave-it instrumental. Words, words, words, words, words...
Kim Deal - Hot Shot
Complete with photo insert, 'Hot Shot' (labelled track three as well as side one) has a much more in-your-face vocal, with a quieter, deeper version double-tracked. It ducks and dives willingly enough, but is not particularly captivating and has filler written all over it. B-side 'Likkle More' (track four) is Kim on her own with an acoustic guitar and a plaintive, cracking vocal. It's not very long and doesn't need to be: the emotion is evident.
Kim Deal - Are You Mine?
The third single (tracks five and six) comes in a die-cut sleeve with a printed insert. 'Are You Mine?' is another quiet thing, slow paced and melancholy, with the simplest of guitar accompaniments, almost inaudible bass and the most basic drum backing. There's a helplessness to the vocal, which is appealing, but it all feels rather transient. The b-side, 'Wish I Was', has Kim on keyboards and is another instrumental with country guitars and is pleasant enough, but nothing out of the ordinary.
Kim Deal - The Root
A half die-cut sleeve for single number four, with track seven
'The Root' having the pared down, primitive sound of the Velvet Underground and indeed the drums were captured underground (in a cellar in Los Angeles) with the whole song sounding pretty badly recorded, muffled and distorted. That, of course, does not make it a bad song (though the awful pressing doesn't help either) and there's little doubt something could be made of this if it was cleaned up a bit. As it is, it sounds like a rough sixties bootleg recording. B-side 'Range On Castle' is one of the best tracks in this collection with some fine interplaying vocals with Morgan Nagler and some splendid guitar bursts.
Kim Deal - Biker Gone
The final single in the set, featuring tracks nine and ten, again ups the quality. 'Biker Gone' wouldn't be out of place on a Breeders album and indeed features sister Kelley on bass. Kim's vocals sound great, there is some splendid guitar work and some thoughtful drumming. It slows, stops, wavers and shimmers and has length and substance. Top work. B-side 'Beautiful Moon' is again just Kim and acoustic guitar and it's decent enough if you are happy to hear Kim Deal playing acoustic ballads. Which we are not to be quite honest.
Ten tracks then, with the vinyl available from the official
website
or if you prefer evil downloads, then they are retailing at 79p a track. Put together on an album, this collection would be a disappointment, but there is little doubt there are some fine songs here which would make a solid foundation for what could be a cracking long player. It hurts to say so, but download 'Walking With A Killer', 'Range On Castle' and 'Biker Gone' and save yourself some cash. You need these songs in your life.