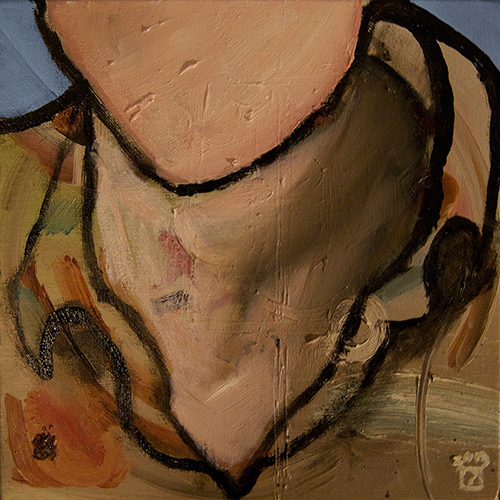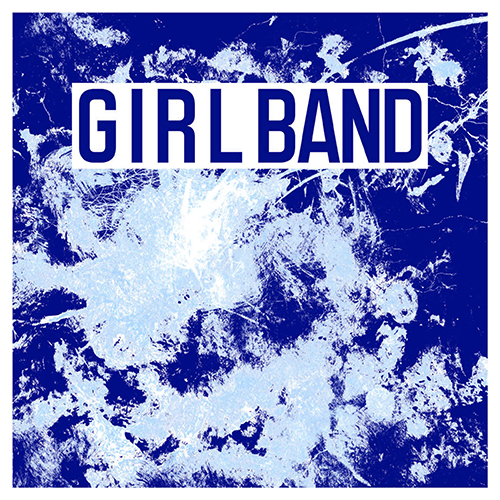 Tandem Felix - Ryan Hoguet
Trout
Girl Band - Lawman
Any Other City
The great thing about the music coming out of Dublin at the moment is its sheer intelligence. Not content merely to trawl around pastures where others only brave a nervy peek over the gate, painstaking thought is being put in to the structure and approach of the music and the way it is being presented. It was Girl Band who first alerted us to the depth of talent across the Irish Sea and their new offering 'Lawman' is available now in a limited run of three hundred seven-inch singles or on a free download (available
here
). The records are housed in screen printed covers on cotton duck fabric, hand stitched and numbered, and it makes a fine follow-up to the brown paper and string of their previous two highly impressive outings. Tandem Felix follow up their debut EP
Popcorn
with their own seven-inch single, 'Ryan Hoguet', limited to two and half hundred copies, each one housed in a unique, numbered cover, hand-painted by Dublin artist Salvatore Fullam, as well as on download (
here
). These are two impressive artefacts in their own right, but each is made infinitely more desireable by the sheer quality of the work etched into them.
While these records sound wildly different, both bands approach their craft in a similar way, not being content to churn out the same old indie rock, but looking to dissect their music and offer it up in innovative and surprising ways. Girl Band are at their best when they chainsaw a song into pieces and remould it into a four-pronged assault on the senses; Tandem Felix immerse themselves into the inner workings of a song and let their identity seep insidiously into every note. Both approaches work beautifully: both can take your breath away through their sheer quality and unbridled audacity.
'Ryan Hoguet' is a quite beautiful song which struggles into life as though being nervously resuscitated before finding its breath and floating along dreamily in a gentle wash of sound, sounding almost inside out as the half whispered vocal frames a gorgeous electric centrepiece which in another world would have been turned the other way round. It's a lovely thing with b-side 'How Strange, The Weather' following pretty much a similar path, all syncopated drums, gentle keyboards and a pleasant, doubled vocal. The whole thing stops halfway through as if to have a think about where it is going before deciding it was right the first time and setting off again with a strained warmth that makes you feel you are being dragged gently backwards through a field of poppies.
'Lawman' is built on Adam Faulkner's muffled drum beat that carries the song along for some fifteen seconds before Daniel Fox's bass begins to roll in like black surf on the whitest sand. Alan Duggan contributes some crashing guitar noise and it is over a minute before Dara Kiely decides to toss in his see-saw vocal and surely he puts in his best performance so far on a Girl Band recording. There is no doubt that Duggan is our favourite exponent of guitar noise at the present time and as Faulkner begins to find his metal, the guitarist writes a dissertation in grating fury before the whole song sinks into a melting pot of mayhem, somehow finding its feet for its final forty-five seconds, and somehow emerging from the morass with even more power and drive. It's six minutes of beautifully structured carnage and it is good to see the boys emerging from an overlong enforced break in such good form.
We refrain from drawing comparisons here as these are two unique bands and everything chucked at them so far has been at least eight miles off the mark. Let's just say if you need a reference point just look up quality in the dictionary. What more do you need?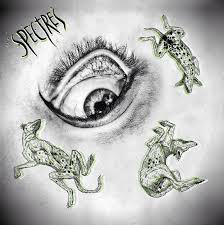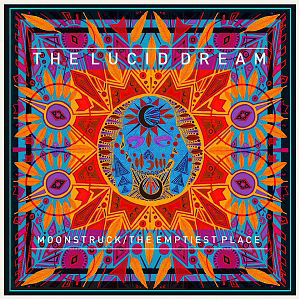 Spectres - The Sky Of All Places
Too Pure
The Lucid Dream - Moonstruck
Too Pure
The Too Pure Singles Club opens its campaign this year with January's release by Bristol noise merchants Spectres and February's offering by The Lucid Dream. Pressed on a particularly revolting mottled flourescent yellow vinyl, Spectres offer up two uncompromising tracks that follow on fittingly from their
Hunger
EP, released by Howling Owl last March. 'The Sky Of All Places' is a medium paced, grubby trawl through the indie-psych world with a growling guitar backdrop fronted by a half-buried vocal. It's blood on your hanky stuff, done very tidily, ending in a traditional blast of noise and vocals colliding into each other. "Do you ever get the feeling you've got nothing in common with yourself?" asks the picture cover and that nicely captures the essence of the wildly spiralling b-side 'Sooky Eyeball' which flickers and rages for just over three minutes, bludgeoning everything out of its path with reckless abandon.
Carlisle's The Lucid Dream have been pedalling their own particular blend of psych-rock for some six years now with their debut album, Songs of Lies and Deceit, being released on download in August last year. With a more traditional approach than Spectres, this doesn't prevent 'Moonstruck' from blazing away in a variety of colours and blooming into a bit of a happy racket. Cut into a positively purple slab of vinyl, b-side 'The Emptiest Place' is a spaghetti western theme on acid and, quite frankly, we'd like to see that film.
Now we love a Singles Club and Too Pure are currently offering one of the best around with thirty-five quid buying you twelve limited, numbered seven-inch singles over the course of the year and you can place your orders at their website while they still have stocks of this year's early releases.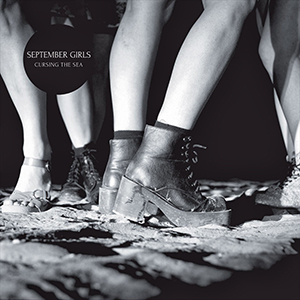 September Girls - Cursing The Sea
Fortuna Pop
Released: 13th January 2014
Walthamstow's Fortuna Pop have been releasing resolutely lo-fi garage pop records for nearly eighteen years now, most of which are well worth a listen and some of which are utterly essential to your life. This new collection from Dublin's September Girls falls somewhere between the two and you would be wrong not to give it a try. Apparently named after the Bangles' version of the Big Star track 'September Gurls', you can quickly gain some idea of the band's reference points though they don't produce the clean sound of their heroes, infusing their love of melody with a barrage of noisy guitars courtesy of influences much nearer to home. Thus the vocals and some mellifluous harmonies are largely submerged which works with varying degrees of success throughout.
Indeed, at times it is difficult to work out just which way this band want to move. Their poppier moments make pleasant enough listening, but there are times when their music takes off on a different tangent and this more leftfield approach is infinitely more promising and encouraging. Driven by a booming bass to the echo of grating, stabbing guitars and melodic chiming, 'Ships' is a bit of stunner, hinting at a much darker edge, while at other times the metronomic drumming and spiralling organ throw up memories of the gripping, sparse approach of Xmal Deutschland. Other moments conjure up hints of The Primitives and Inspiral Carpets, all making the whole a bit of a melting pot lacking in any essential direction. And of course it all sounds like it was recorded in a blender which doesn't help. But September Girls have been with us for a mere two years and are still finding their musical feet; it will be interesting to see which way they evolve. Well worth a spin. And we like the cover.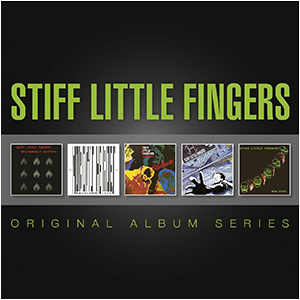 Stiff Little Fingers - Original Album Series
PLG
Released: 20th January 2014
The Original Album Series has been around for four or five years now and is aimed mainly at those who are perhaps discovering new artists for the first time and are keen to get their hands on a sizeable chunk of back catalogue at a remarkably affordable price. What you get are five cardboard sleeved albums in a slipcase, not necessarily the latest remastered versions of these discs, and certainly with no bonus tracks added. These are not a purchase for the collector, then, but when you can pick up five albums for under twelve quid, as with this new release from Belfast punks Stiff Little Fingers, then you can't really complain at £2.40 a disc, and with sets from Lou Reed (2), REM, Echo & The Bunnymen, The Pogues, The Jesus & Mary Chain, Patti Smith and Ministry available (among plenty of others), the world quickly becomes your proverbial oyster.
February 1979's Inflammable Material, with its focus on the Troubles in Northern Ireland, had a tremendous impact on its release, reaching number 14 in the charts and selling over 100,000 copies, a remarkable achievement as it was an early release on the nascent Rough Trade label and the first record to be distributed by them; it was also the first independent album to reach the top twenty in the UK. Thirteen clever and powerful songs written by singer Jake Burns and manager Gordon Ogilvie certainly struck a chord with a record buying public who were sending new wave acts to the top of the charts in droves that year, with Ian Dury, Blondie, The Boomtown Rats, Tubeway Army and The Police all finding their way to the summit. Burns's grating vocals gave added impact to tales of despair which underlined that however crap life was in Britain in the late 1970s, you could find worse horrors in the unrelenting violence which was an everyday fact of life in Belfast. 'Suspect Device', 'Barbed Wire Love', 'Law And Order' and 'Alternative Ulster' became immediate punk classics and SLF were able to build on their good work with follow-up Nobody's Hero, released in the Spring of 1980 on the major label Chrysalis who had been quick to take note of the band's soaring popularity. Featuring the singles 'At The Edge' (which reached number 15 in the charts) and 'Nobody's Hero' (the best thing the band ever recorded), Stiff Little Fingers were at the height of their popularity and their tilt at the American market was aided by the release of live album Hanx (September 1980), recorded at the Rainbow in London and Friars in Aylesbury, which was subsequently released at a budget price in the UK and became the Fingers' second consecutive top ten collection.
April 1981's Go For It also made it into the UK top twenty despite the band failing to make the same impact with their singles. It was a dark album with a noticeable reggae influence which dealt with a number of social issues, but perhaps lacked some of the biting edge of their previous releases. It was followed in September 1982 by the band's last outing before they split, Now Then, which still made it to number twenty-four in the charts despite the now rapidly changing musical landscape. Jake Burns considered it to be the band's best work and thought he could not top it, while guitarist Henry Cluney reckoned Stiff Little Fingers still had much to offer. The album marked the first appearance of new drummer Dolphin Taylor following the departure of Jim Reilly and featured some much smoother songs with Burns's vocals losing their trademark growl and the band covering 'Love Of The Common People', a song recorded the same year by Paul Young which became a big hit for him in 1983.
Though Now Then might not be your cup of tea if you are fan of SLF's earlier work, this collection should still be praised for gathering together the complete set of albums from one of Britain's greatest ever punk bands for such a remarkable price. Well worth it for the first two albums alone, but there is still a huge amount of good work in the rest perhaps to discover for the first time.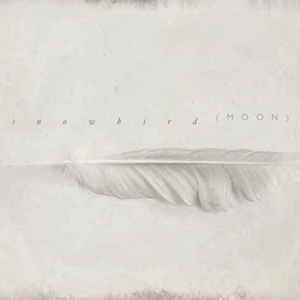 Snowbird - Moon
Bella Union
Released: 27th January 2014
It's some seventeen years now since Bella Union came into being when Cocteau Twins' guitarist Robin Guthrie and bassist Simon Raymonde decided to form their own label on which to release their future records and collaborations. Sadly, there were to be no releases by their band on the label as the Twins split up shortly afterwards, though Guthrie and Raymonde decided to persevere with their project and become label bosses rather than the musicians who moaned at them. With Guthrie moving off to France at the turn of the millennium, Raymonde was left in sole charge of the label and has belatedly taken the opportunity to release his first recorded work since his solo album,
Blame Someone Else
, appeared in 1997, a collaboration with Stephanie Dosen, erstwhile vocalist with the Chemical Brothers, Massive Attack and Midlake, under the soubriquet of Snowbird.
It would be churlish to complain that Moon mirrors the sound of late Cocteau Twins' records almost perfectly, as Raymonde was directy involved in creating those soundscapes of dreamy beauty, but at times it is quite breathtaking how sharply these songs bring the memories cascading back. Dosen has a glorious voice, not as free-spirited as Elizabeth Fraser's untameable tones, but one of cutting clarity which only multiplies in impact when played against itself in multi-layered streams. Raymonde conducts the music, largely from the piano, though guitars and flutes intrude, creating a pastoral backwash which is emphasised by the subject of the songs, 'I Heard The Owl Call My Name', 'Where Foxes Hide', 'Bears On My Trail' and 'We Carry White Mice'. Yes, it occasionally borders on the twee (as did the Cocteaus) but on the whole it passes muster and builds landscapes of shimmering wonder. 'I Heard The Owl ...' ebbs and flows, 'All Wishes are Ghosts' floats by with lilting charm, 'Where Foxes Hide' dips and dives, and 'Porcelain' is unsurprisingly finely cast and delicate, decorated in intricate patterns. Not everything grips your attention, with 'Bears On My Trail' and 'Come To The Woods' too wispy and insubtantial to endure scrutiny, but there is nothing overlong, nothing that outstays its welcome, and nothing that grates on the senses. It's a pretty, pretty thing and hopefully there will be more to come.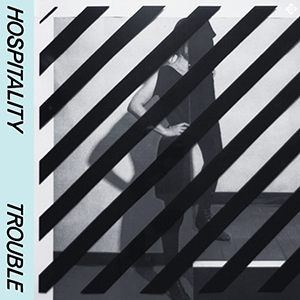 Hospitality - Trouble
Fire Records
Released: 27th January 2014
We came very close to bringing Hospitality's debut album to your attention in 2012. It was good work but may have just lacked any of those special moments that get the pulse racing and the thrill running down your spine. Now the Brooklyn three-piece have returned with their follow-up, Trouble, and though the same doubt still nags at the back of the mind, we'll leave it up to you to decide. Hospitality have been treading the boards for some seven years now producing a pretty blend of alt-pop that at times sounds captivating and at others a little over-worked. At their most alternative they can capture that peculiarly New England sound that is so difficult to pin down but may stem from the languid peevishness of the female vocalists, or the amount of white space left for you to fill in the blanks. At their least alternative they produce really rather sharp pop music that is difficult to turn away from, most markedly here in 'I Miss Your Bones' which comes across as a smoother early Blondie, bubbling along to Brian Betancourt's big bassline and decorated with some quite lovely guitar work from singer-guitarist Amber Papini. There's very little repetition on this collection. 'Going Out' is slow and almost funky, 'Inauguration' is choral electro, 'Rockets And Jets' has a nice underground feel to it, 'It's Not Serious' is ridiculously cool, and 'Sunship' gently flows between the borders of hippy feyness and wistful dreaminess. It is unlikely you are going to like all of this, but it is good to see a band probing around the edges and taking bold steps in different directions. Worthy of applause and worth a spin at the very least.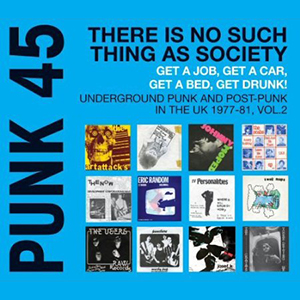 Various - There Is No Such Thing As Society
Soul Jazz
Released: 27th January 2014
Volume 2 in the Punk 45 series is subheaded 'Get A Job, Get A Car, Get A Bed, Get Drunk!' and is devoted to obscure punk and post punk singles released in the UK between 1977 and 1981. It follows on from Jon Savage and Stuart Baker's excellent book The Singles Cover Art Of Punk 1976-80 and the first volume of accompanying music which dealt solely with American underground punk recordings. This volume of twenty-four songs is equally well presented in a slipcase with a thick, detailed booklet and it is clear that a lot of care and love has been spent on its assembling. As you would expect, it is a fascinating listen with some real gems hidden deep in the forest of obscurity, though there are some equally awful moments as well if you stumble upon the wrong path. It's not all long forgotten stuff; you will find Johnny Moped, The Mekons, Television Personalities, The Cravats and Swell Maps all present and correct, with Josef K perhaps being a surprise inclusion. Many of these records, though, you will never have heard before including one-off singles by York's The Jermz, London's The Rings, Stafford's The Nerves and Exeter's The Scabs. The brilliant sole recording by Puncture, 'Mucky Pup', was the first ever release by Small Wonder and that gem sits here alongside The Killjoys' sole single, 'Johnny Won't Get To Heaven', featuring Kevin Rowland on vocals, The Users' 'Sick Of You' which reportedly sold 20,000 copies, and the posthumous debut single by Birmingham's Prefects, who later went on to become The Nightingales. This is a terrific collection of huge historical importance and not a little quality, humour and invention. A wonderful snapshot in time.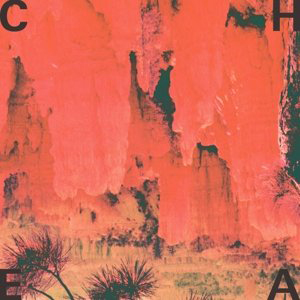 Cheatahs - Cheatahs
Wichita
Released: 10th February 2014
You know we try really hard not to use the 'S' word. Not that we have any disdain for the bands disparagingly labelled as 'Shoegaze' in the early 1990s by a sneering music press; we loved them all, saw them all and still play a lot of their records. It is just that the term was so randomly applied to a whole swathe of bands who dared to focus on sound rather than image, many of whom otherwise had as much in common as chalk and half a pound of brussels sprouts. In the intervening years, the word has become almost a badge of honour, certainly embraced as such on the other side of the Atlantic, and when you are confronted by a Cheatahs record, it is virtually impossible for the term not to bash away at your brain until you finally cave in and admit that, yes, Cheatahs
do
capture the essence of Shoegazing and it may not be wrong to label them as such. Indeed, throw Catherine Wheel, Swervedriver, Ride, Slowdive and MBV into a box, shake them up a bit and tip them out and you would have pretty much what Cheatahs have offered up here in their eponymous debut album.
The most important thing to grasp is that whatever their influences Cheatahs have produced a fine sounding record with some blistering tunes, lilting melodies and splendidly soaring guitars, and that's about all you can ask from anyone. It's solid stuff with no real disappointments from the storming rock of 'Geographic' and the woozy 'Northern Exposure', through the punkier thrashes of 'Get Tight' and 'The Swan', to the more experimental MBV-inspired 'IV', 'Fall' and 'Loon Calls' with its brilliantly out of place solo. The highlight is the slower paced 'Mission Creep', ever so slightly warped with its gentle vocal increasingly submerged beneath a growing tide of foaming and suffocating guitars, while the pleasingly short 'Leave To Remain' is also a stunner, with its occasional burning guitar bursts threatening its effortlessly smooth flow. Very nice stuff, neatly done and while not opening doors to new horizons, certainly refusing to close a few on some comforting, well trodden paths.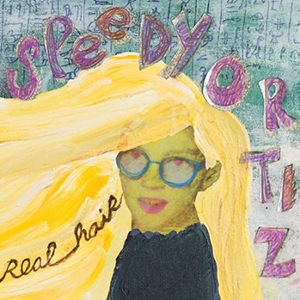 Speedy Ortiz - Real Hair
Carpark Records
Released: 11th February 2014
The first release from Speedy Ortiz since their rather good
Major Arcana
album of last year preceded a brief UK tour (
review here
) and consists of four tracks on a twelve-inch vinyl single with accompanying download code. If you liked the album, this is pretty much more of the same, though in lead track 'American Horror' the New Englanders may well have surpassed any of their previous efforts. Opening to a tumbling guitar riff, the track quickly becomes a big, murky grind, Sadie Dupuis and Matt Robidoux's guitars working beautifully together to create a whining, feedbacky mess which is quite terrific. Throw in Darl Ferm's dirty bass and Mike Falcone's measured drumming and it's one mighty noise. It's certainly the high spot here, though 'Shine Theory' runs it close, sounding like it has been cobbled together from the scattered remains of broken songs, whistling guitars clambering over the ruins finding Dupuis' vocals awkwardly strewn over the wreckage appropriately depicting a dysfunctional outlook on life, "My heart looks in on itself and any friend I make's a stagehand at best to help along the play." Not many bands manage to mirror their lyrics with their sound, especially when they portray such a skewed outlook on life, but Speedy Ortiz succeed brilliantly, even when the end result can be a little disturbing as on 'Oxygal' which is edgy, throwing out as many unanswered questions as its lyrics which ask, "Who wants to sleep by her who death becomes, someone who sleeps with her neck in reverse?" 'Everything's Bigger' ducks and dives in a similar way with some lovely rumbling guitars, making this a pretty nice package in all. The band's recent live shows clearly demonstrated a power and purpose as well as burgeoning popularity, so all is looking good for Speedy Ortiz and this new EP will do them no harm. Decent stuff.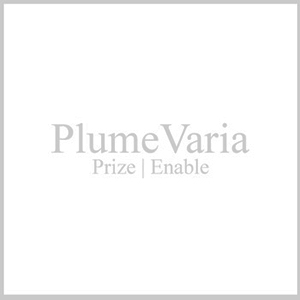 Plume Varia - Prize / Enable
Same
Out now
We've been living with this record for a little while now and it certainly has the power to burrow into your consciousness and feed your dreams. Plume Varia are Cherie Rae and Shon Cobbs, based in Denver, Colorado, which to British eyes doesn't immediately spring to mind as a hotbed of alternative music, but we are reliably informed is home to a wide and varied music scene which has certainly helped nurture an impressive piece of work. There are actually three tracks here, 'Prize', 'Enable' and 'Bend', none under six minutes, and on the whole consisting of Cherie's magnificent voice floating over a minimalist piano accompaniment, all thrown into a shadowy hinterland by Shon. It's affecting and moving, and if you ever loved the painfully intense soundscapes of This Mortal Coil, you may find yourself falling for these songs big time. The seven minute 'Prize' is the killer track here, hopelessly lost in itself, while the dense 'Enable' follows in the same footsteps and 'Bend' wanders more into dream pop territory. Give them a listen, and they will soon lie close to your heart. We can't help thinking that with this band and a buried, raking guitar (a la Gemma Thompson) we could quite possibly conquer the world. The EP is available for free download on Plume Varia's
Bandcamp
page, or as a CD from
Kunaki
.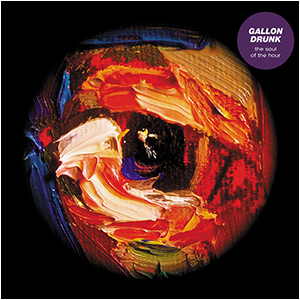 Gallon Drunk - The Soul Of The Hour
Cloud Hills
Released: 10th March 2014
We were disappointed when Gallon Drunk disappeared from the face of the earth after the release of 2007's
The Rotten Mile
, but in retrospect their long hiatus appears to have done them nothing but good. 2012's return to action,
The Road Gets Darker From Here
, was undoubtedly the most satisfying album the band had yet produced, a howling monster of a record that sucked the blood from a variety of sources and spat it out into a cauldron of seething malevolence and anguish. Our only concern was whether the band could possibly match that record, but all doubts have been set aside with the release of
The Soul Of The Hour
, seven tracks of impossible power, lit by moments of touching and unexpected beauty.
To open your follow-up to an acknowledged classic with a nine minute song shows quite remarkable style and confidence and 'Before The Fire' is brilliantly named, the song building up slowly with Ian White's drums and James Johnston's piano slowly finding common ground before gaining rapidly in urgency and attracting some grinding organ accompaniment. The first guitar cuts in after five and half minutes and Johnston's lost vocals on six manage two brief verses before Terry Edwards begins to trumpet the end of the world. This is fabulous stuff; a song maybe of passion and desperation but sounding like a knowing last walk to the edge of the cliff to gaze upon approaching armageddon. 'The Dumb Room' rages furiously throughout with Johnston proclaiming, "It's endless, useless, quite our style ..." with bitter irony, and 'The Exit Sign' continues the onslaught, White and bassist Leo Kurunis laying down a ceaseless, pounding rhythm. The Drunks manage to draw breath for the shimmering, haunting 'The Soul Of The Hour', but it's only a ploy to steal your own away. Johnston's weeping guitar is quite moving over the last verse and the break into the big finale where Edwards again becomes the herald of doom is absolutely magical. Quite astonishingly it brings a lump to the throat; it's that affecting. 'Dust In The Light' is pretty and slow with Johnston's smooth vocal showing what an adaptable singer he is; the pulsing Mellotron and tiny, silky guitar solo building a fitting frame for an apparent love song that touchingly proclaims, "We're here like dust in the light, tonight." There is a more controlled firmness to 'Over And Over' which see-saws in a typically Gallon Drunk style before 'The Speed Of Fear' closes the album in a most untypical manner, with a jagged psychedelic guitar riff dragging the band through a darker, lonelier stab at Their Satanic Majesty's Request.
Gallon Drunk used to be a a bleakly entertaining sideshow, but no longer. There's little doubt they are now major players, producing deeply affecting, powerful records with consummate musicianship and a seemingly easy grasp of how to drag you through worlds of their own making that appear to be crashing down around your ears. This is the first great record of 2014. It's a record that will stand the test of time and one that will trample on your soul while telling you how much it loves you. Marvellous.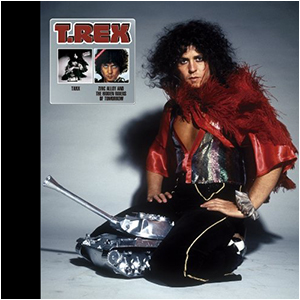 T Rex - Tanx / Zinc Alloy ...
Demon
Released: 10th March 2014
It doesn't come much better than a Bolan box set and a new Gallon Drunk album on the same day, and Demon have continued their recent fortieth anniversary repackaging of T. Rex's albums by sensibly pairing 1973's
Tanx
and 1974's
Zinc Alloy And The Hidden Riders Of Tomorrow
. Included in this deluxe package are the two original albums, newly remastered by producer Tony Visconti, and two discs containing all of the associated singles' a- and b-sides along with some thirty-seven demos and outtakes. A fifth disc is a DVD featuring six promotional films and
Top Of The Pops
appearances and all of this is tucked into a nicely thin twelve-inch hardback book with essays by Visconti and Mark Paytress supplemented by no end of rare pictures.
Tanx captures Bolan just past his peak, as the cocaine begins to affect his work (see the horrendous cover - man with huge gun between his legs), and it fails to live up to the heights reached by its predecessors, Electric Warrior and The Slider. The classic singles of the time, 'Children Of The Revolution', 'Solid Gold Easy Action' and 'Twentieth Century Boy', none of which are included on the album, all show that Bolan could still write a damaging tune, but the miserly thirty-four minute Tanx rarely comes close to matching them. 'Tenement Lady' is two songs badly glued together, 'Mister Mister' is an uninspiring plod, and 'Shock Rock' and 'Country Honey' are both under two minutes and sound painfully generic. There is an improvement on the second side of the record, with 'Mad Donna' and the classic 'Born To Boogie' the highlights, but Tanx remains the least satisying of any T. Rex album and Bolan's claims that he was a poet were beginning to look laughable in the face of some of his lyrics, the closing track featuring the utter cobblers, "Ain't no neighbours upon our hill, 'Cept Sly Thigh Be-Bop and Old Gumbo Jill. But I'm Left hand Luke and the Beggar Boys, O yes we are".
The following year's Zinc Alloy And The Hidden Riders Of Tomorrow (A Creamed Cage in August) shows Bolan changing tack and introducing a more soulful sound to his music with prominent backing vocals provided by, amongst others, Gloria Jones who was later to become Mrs Bolan II. Despite universally lukewarm reviews, it is actually a much more credible piece of work and features no end of clever touches and even moments of pure genius. Of course, lyrically, it remains absurd as its full title may suggest, but musically it is far more challenging and far less complacent than the insipid Tanx. The excellent, meandering 'Sound Pit' blends strings and two styles of backing vocal seamlessly into more familiar T Rex territory, while 'Explosive Mouth' is leftfield atmospheric, full of nice little ideas that work incredibly well. The slow and mesmerising 'Change' is Bolan at his best with relatively straightforward lyric countered by a stunningly insane burst of guitar at the end, while 'Teenage Dream' remains the best single T. Rex ever released: verbose, overlong and pompous, yet ludicrously infectious with its terrific string backing and one line chorus that you can't help singing on every play. In fact, it is difficult to listen to this without your fists punching the air with the utter conviction that the jet junk jiver will soon be speeding past in his machine. Conversely, the other singles of the time perhaps did not live up to past glories, 'The Groover' benefitted from its terrific 'T-R-E-X' opening, but 'Truck On (Tyke)' was always a pretty poor offering.
One fine album, then, and one weak one, a collection of singles that are vital additions, and a load of demos and outtakes that will only matter to you if you are that way inclined. The DVD is fascinating and underlines why Bolan was so mistaken in neglecting his band as he set off on a cosmic ego trip when he hit the big time - Mickey Finn, Steve Currie and Bill Legend look fantastic on stage and were no mean musicians either. Their complete absence from February 1974's Top Of The Pops appearance to promote 'Teenage Dream' shows just how far Bolan had crept up his own arse. Recently discovered on a home video, it shows Bolan being lowered on a star, as if coming down from the cross, to give an unconvincing solo mime with no musicians in sight. It's awful to watch and would have done nothing to boost the single's popularity despite the record being one out of the very top drawer.
For all his faults, and credit to the man for recognising them and pulling himself together before his untimely death, Bolan remains a fascinating character and his music pretty much unique. This is a beautifully put together package and if you can spare the time and the outlay well worth the investment. Two more albums to go and we await their arrival with bated breath.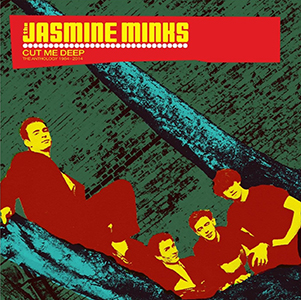 Jasmine Minks - Cut Me Deep
Cherry Red
Released: 10th March 2014
As Cherry Red continue to plunder the archives of their long dead rivals, the latest 2CD anthology to see the light of day is this new collection from Aberdeen's The Jasmine Minks, somewhat misleadingly sub-titled 'The Anthology 1984-2014'. With forty-five of the fifty-one tracks taken from the band's Creation years of 1984-1989, there are three tracks from 1989, and one each from 2001, 2003, 2010 and 2014, meaning that 'Thirtieth Anniversary Collection' may have been more fittingly used. The 2001 Poptones' single a-side 'Daddy Dog' is included along with 'Popartglory' and 'Midnight & I' from the same year's
Popartglory
album. 'Blown Away' from 2002's Bus Stop single is also there as well as the lead track from 2010's
Poppy White
EP, but that leaves about thirty-four post Creation tracks still absent. On the other hand the Creation era records are present in their entirely, including mini albums
1234567, All Good Preachers Go To Heaven
, and
The Jasmine Minks
, and full albums
Another Age
and
Scratch The Surface
.
The good news is that the last two of these are truly excellent records which are well worth getting hold of, while the early Creation singles and album tracks suffer from cheapness of production and fail to make the best of the material on offer. Yet, listening through these songs once again, you can clearly see how the band develops from their angry, early years of wanting to be the mod-era Who, through to a more mature era when they are writing songs in their own style of inate quality and warmth which should have received far more recognition than they ever did. The relatively early 'Cold Heart' first gave warning that this band could produce really special moments, but they reached the pinnacle with 'Cut Me Deep', after which this collection is named, and which in truth should have topped the charts for at least six months. Unfortunately, the band, knowing they had something special on their hands, worked the song to death until they weren't sure which way was right and which way was left and it remained an unreleased gem of single, only apologetically emerging as an album track hidden away on the fine Another Age album. All of the band's Creation releases are reviewed in our in-depth study of the label's albums here. Interestingly, our own Andrew Darling, writing in the NME, declared Another Age to be "a masterpiece of closure, the final word and the best" and urged Creation to "end it now. Exit with dignity."
After Creation collapsed at the turn of the millennium, Alan McGee was quick to sign the Minks up to his new label Poptones where they produced one album and one single. The political 'Daddy Dog' earned the band some notoriety, especially north of the border where it was even debated whether it could become a Christmas No.1, while Popartglory itself showed a distinct electronica influence which isn't particularly affecting. 'Poppy White' is a song originally recorded for Creation in 1991 but rejected by the label. It is clear the song didn't fit in with the prevalent 'Shoegaze' sound, but it's a neat and clean pop song with some nice guitars. 'Blown Away' is a wistful slow number, while 'Christine', a song by the Minks' original singer Adam Sanderson who left the band in 1986, appears to have been recorded this year and is nicely guitar heavy.
If you don't own the Creation albums then this is a great buy with over two and a half hours of music for just a tenner. It won't all tick every box, but there's plenty here you will learn to love.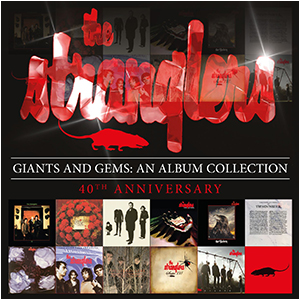 The Stranglers - Greats And Gems: An Album Collection
Parlophone
Released: 24th March 2014
Parlophone have marked The Stranglers' fortieth anniversary by producing a box set of eleven albums on CD, all in cardboard sleeves and housed in a matt laminated container. There is no accompanying booklet and no bonus tracks, simply the albums as they were first released, and consisting of the band's first six studio outings along with their sixteenth and seventeenth; in other words all the albums with a connection to EMI (who bought out the rights to the UA material some time ago). The only absentee is 2004's
Norfolk Coast
which was released on EMI so we have no idea why it was omitted. Additionally included are two live albums –  1979's top ten hit,
Live (X Cert)
, and 1992's
Live At The Hope And Anchor
– and the 1986 compilation
Off The Beaten Track
which includes the b-sides to most of the band's classic singles, many of which had not previously appeared on CD.
Of course this leaves a massive hole in the band's discography, omitting all nine albums from 1983's Feline until 2004's Norfolk Coast, but nonetheless it represents a significant and important body of work from one of the country's most enduring bands and one which managed to survive the loss of singer/guitarist Hugh Cornwell in 1990 much to the surprise of many. That they not only survived but prospered can be clearly seen here on 2006's Suite XVI which is a terrific collection of songs, many of which hark back to the band's rawer early sound, though the album is also infused with some gentler, melodic gems such as the imperious 'Bless You'. It took six years for The Stranglers to record their next album (and their most current), 2012's Giants, which again showed a change of tack, being a gentle slow-burner despite its fantastically grotesque cover. Whether there will be further releases must be a doubt given that drummer Jet Black is now 75 and in poor health, but The Stranglers are a band who thrive on adversity and are more than capable of pulling a few more surprises out of the hat.
The Stranglers' fusion of raw rock with the intricate keyboards of Sussex boy Dave Greenfield fitted in perfectly with the times and as punk expoded all around them, the Guildford-based band found theselves quickly accepted by the new wave generation. And despite many saying The Stranglers were never punk, members of the band readily admit they identified wholeheartedly with the movement and they certainly helped widen its vistas with their unique approach and instrumental virtuosity, coming across like a nastier version of The Doors, more interested in breaking apart than breaking through. Though Rattus Norvegicus opened their account in Spring 1977, the band really began to find their feet with Autumn's No More Heroes album, with its magnificent title track encapsulating everything that was good about the band, its ragged opening guitar break giving way to Greenfield's dancing organ and Jean Jacques Burnel's crushing bassline to help lift Hugh Cornwall's nicely timed lyric. With Black's drumming perfectly restrained throughout the album, Greenfield and Burnel are left to carry the songs along with the former's filigree touch and the latter's lead-heavy pulsing. This allows Cornwall to be selective with his guitar, dealing out razor-sharp lashes whenever the mood takes him. There is no doubt the band were in a fine vein of form, with May 1978's Black And White becoming their third album release in barely thirteen months. All three reached the top ten while a series of stunning singles saw the band cause similar damage to the singles chart.
Though it certainly has some decent moments, including the terrific single 'Nice And Sleazy', Black And White was widely regarded as a weaker offering than the band's first two albums and The Stranglers waited some sixteen months before returning with 1979's The Raven, a far more rounded album with the beautifully balanced title track and the sublime single 'Duchess' the high spots, though the whole collection demonstrates a neat grasp of melody and a far more intricate approach to songwriting. February 1981's The Gospel According To The Meninblack was completely different again, exploring the themes of religion and space, and in truth is remarkably charmless, with far too much whirring and beeping and thumping going on, the record lacking the melodic enticements of its predecessor. La Folie, released only nine months afterwards, turned its attention to the topic of love, and though it became the first Stranglers' album not to hit the top ten (only number eleven), it did yield their biggest ever hit, 'Golden Brown' storming to number two in January 1982. It is immediately a more accessible album than Meninblack, though it still contains too many spoken word lyrics for our taste. It was the last album the band recorded for EMI, and thus the last of the early period studio albums in this collection.
As we have said many times, live albums rarely have much lasting appeal and we can take or leave the two here, though the Off The Beaten Track collection thankfully includes the brilliant cover of 'Walk On By' and the non-album single 'Five Minutes' which would have been major omissions in the overall collection. That role instead is filled by 'Straighten Out' (a double a-side single track), the absence of which is a little mystifying, though with eleven albums to delve into, working out at about £2.90 each, this is still a collection well worth the investment if you can spare the outlay. But don't forget to give the missing albums a listen as well; you will find The Stranglers have many strings to their bows and they remain an intriguing and important band.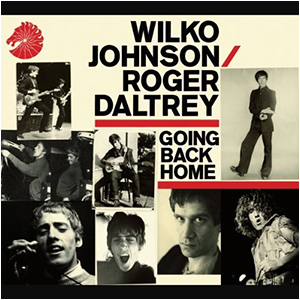 Wilko Johnson & Roger Daltrey - Going Back Home
Chess
Released: 24th March 2014
A year on from his farewell concerts, the legend that is Wilko Johnson is not only playing to packed houses in support of the proper Status Quo, but his latest recordings with The Who vocalist Roger Daltrey have been receiving plenty of attention on national radio, with their album crashing straight into the charts at number three, a brilliant achievement. What we have here are eleven tracks, ten of them Wilko's and one a Bob Dylan cover – 'Can You Please Crawl Out Of Of You Window' – and two things are immediately apparent: Wilko has never released a record which has been so well recorded, and it is bloody weird not to hear Lee Brilleaux's vocals coming in on some very familiar tunes. Knocked up in a matter of days with his fabulous rhythm section of Norman Watt-Roy (bass) and Dylan Howe (drums), along with Steve Weston on harmonica and former Style Council organist Mick Talbot tinkling the ivories, it is terrific to hear Wilko in top form, stabbing out lead and rhythm in his own inimitable way, and the sound qualty is a revelation with each instrument perfectly framed. And when added to the greatest rock voice this country has probably ever produced, the result is something quite stunning. Daltrey's vocals are fathoms deep, adding a whole new facet to the music. Where Brilleaux gave Wilko's songs an edgy, rough authenticity, Daltrey's make them appear like they are crawling straight out of the swamps, alligator firmly attached to one leg. His growl on 'Going Back Home' is pure crawfish in bourbon molasses, yet he still shows he can also rock out with the best of them on the pulsating 'Ice On The Motorway'. Indeed, the only song Daltrey perhaps doesn't quite handle with the same remarkable panache is the pure Essex blues of 'All Through The City' where Brilleaux wins hands down. It's a minor thing; this is a quite excellent record with the man who gave the kick to some of the greatest and most original records of the 1960s combining beautifully with the man who saved us from the hell of pixie music in the 1970s to create a homage to the music that first lit the spark. It's simple, lovingly done, and devoid of fancy frills just like the Feelgoods used to be. This isn't a record you think could have been made in 2014, and it's bloody heartwarming that it was. It brought a tear to my eye, quite literally. Lovely.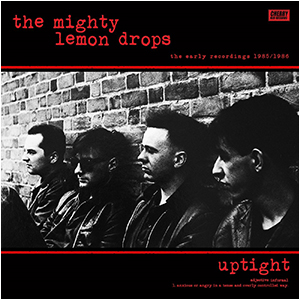 The Mighty Lemon Drops - Uptight
Cherry Red
Released: 31st March 2014
Another Cherry Red compilation, but this time one with a diifference, for this collection of early songs from C86 heroes The Mighty Lemon Drops contains a nice mixture of tracks including the Like An Angel EP of July 1985, four tracks recorded in session for Andy Kershaw and Janice Long on Radio 1, three tracks recorded for C86, five demos from 1986, and eight tracks originally released on the cassette Some Of My Best Friends Are Songs in June 1985. This represents, then, all of the band's recorded output before they signed to Geoff Travis's Blue Guitar label, backed by the major Chrysalis label, and it clearly demonstrates why record labels were falling over themselves to sign the promising midlanders. Unlike many of the bands grouped under the C86 banner, the Lemon Drops had some power behind their songs, with chopping guitars cutting through punchy basslines and driving drums. Their music also had the bonus of being catchy as hell, leading to a whole series of singalong anthems which made it all the more surprising they never made it higher than number sixty-six in the UK singles chart. 'Like An Angel' was released on TV Personality Dan Treacy's Dreamworld label in both seven-inch and twelve-inch formats and immediately topped the independent charts, selling some 14,000 copies. It's a terrific song, full of wiry guitars, with the pause in Paul Marsh's vocal before the catchline an irresistable hook, and the three other tracks from the EP (the twelve-inch contained three songs, the seven-inch had a unique b-side) are not far behind, with some particularly nice feedback on 'Something Happens'. The BBC session tracks are all well recorded and sound fabulous, including a cover version of The Teardrop Explodes' 'When I Dream', while the tracks recorded for C86 in a cheap studio sound none the worse for their limited budget. The band eventually chose to go with 'Happy Head' (track two, side one on the influential compilation), though 'Pass You By' and 'Turn Me Round' were also considered, all three eventually finding their way on to the band's 1986 debut album, also titled Happy Head. Probably the most fascinating addition to this collection are the tracks from the Some Of My Best Friends Are Songs cassette which was sold at the band's early gigs. Understandably more primitive recordings than the rest of the material here, they have been neatly mastered and sound crystal clear, with 'Pass You By' and 'Like an Angel' the most familiar. An interesting version of the Velvet Underground's 'There She Goes' puts the lid on a successful project lovingly compiled by guitarist and songwriter David Newton. Great memories, great tunes.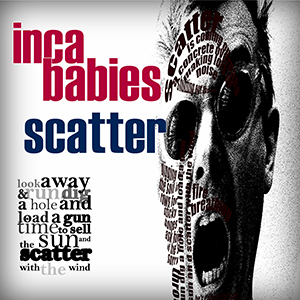 Inca Babies - Scatter EP
Black Lagoon
Released: 19th April 2014
With Record Store Day soon upon us, one of the most vital releases lined up for the big day is the first recorded work from the Inca Babies since their excellent album Deep Dark Blue was released into the community back in November 2013. A four-track twelve-inch EP in crystal clear vinyl, the lead song 'Scatter' is the blistering number with which the band ended their live set on last year's thirtieth anniversary tour and it's great to hear the band at full throttle once again. For all of the lyrical brilliance and musical pyrotechnics of the Inca's last two albums, the only thing really lacking was an out and out punk stormer, and 'Scatter' makes up for this in spades. Built in layers on the foundations of Rob Haynes' primitive drums, Harry Stafford first adds a biting guitar riff and Vince Hunt a throbbing bassline before the desperate vocal kicks in, warning of approaching doom as the song explodes into panic and flees. Thinking it has found safety, it manages to hide itself away for a brief moment before being found out and pushed back into the light only to stumble off the edge of oblivion as it resumes its tortured flight. Nice. The second track is 'A Superior Spectre', a new recording of a song originally laid down for an 1984 John Peel session, and a marvellously grubby swamp blues number which quivers and pounds and rambles on about 'assassins' like every good song should. Nobody makes music like this any more and we're not sure how we managed without them for all those years, but it all augurs well for the band's new album which is likely to be released in the autumn. Tracks three and four are taken from the band's two comeback albums, Death Message Blues and Deep Dark Blue. 'Walk Like Jesus' and 'Deep Dark Blue' are both measured songs, not a million miles removed from each other, and which are perhaps not entirely representative of the albums built around them. Hopefully, though, they will encourage you to invest in those collections if, for some peculiar reason, you do not own them already. Great stuff.