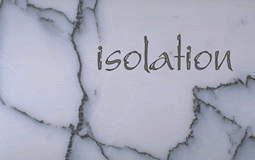 Anarchy Repackaged
I was wrong, there are three bands that have changed my life: The Smiths, the Ramones (more about them soon) and Crass. When I bought their first record in 1978 (
The Feeding Of The 5,000
, a 12" 45rpm EP with 18 songs in 32 minutes) it was a revelation in the same way that the Ramones' 1976 debut was. Released on the fledgling Small Wonder label, you couldn't buy this anywhere except in London or by mail order. This was before the internet and when a recommendation from the music press still had some validity. Never mind sneaking upstairs with
Never Mind The Bollocks
in a plain paper bag, you most definitely did not want your parents seeing you with a Crass record. Or maybe you did. This was genuinely revolutionary stuff; Crass took punk's call to anarchy literally and took the DIY ethic as far as they could go without selling out. They used stencils, banners, graffiti, print, photo montage and film to deliver their message. Live, they were a celebration of what could be achieved outside of society and a clarion call for direct action. They shunned individual celebrity (stage names!), lived together in an open house and challenged all of society's ills: politics, patriarchy, war, globalisation and religion, and promoted vegetarianism, anti-racism, organising gigs yourself, pacifism and being true to yourself. They put their money where their mouth was: any profits they made got ploughed back into their own record label which released records by like-minded acts. They believed in punk as a movement for social change, not a stepping stone to a career playing in giant arenas. They acted with honour and integrity and sold their records at a minimum price so as many people as possible could afford to buy them. In short, they meant something. They mattered. And as Thatcher's Britain in the early eighties got grimmer, Crass became the unwilling leaders against the patriotic paradigm of the Falklands Conflict and the battle with the miners. All of this would be for nothing if it wasn't for some great music which always seems to get short shrift when people discuss the band. Their first four albums stand as inviolable classics of their time and the message, sadly, remains as relevant today as it did then.
Two things should be noted:
• My part of this article covers Crass's first four albums from 1978 to 1982, each of which have been re-released with extra tracks as the Crassical Collection. From 1983's Yes Sir, I Will onwards, Crass's music became increasingly avant-garde (which is French for "unlistenable bullshit" as one of their own, paraphrasing Lennon, now admits) and I can't recommend it or any of their subsequent albums. Their Acts Of Love from 1984 says in chapter 22, "In my attachment to infinity I have no definition. All things are solid. There is no space in which to relate." Now, while a band's commitment to pushing their musical boundaries is laudable, this was a long way from the visceral anger of their debut's "You're paying for prisons, you're paying for war, you're paying for lobotomies, you're paying for law. You're paying for their order, you're paying for their murders, you're paying for your ticket to watch the farce." From 1983 until they called it a day (musically at least) in 1984, Crass were a bit like John Peel – you were glad they were still going but you didn't want to listen to the music so much.
• I have a song on Crass Records' various artists compilation Bullshit Detector 3. It's called 'Hard Nut' and it's a trenchant 50-second dissection of youth culture. Or some kid with a loud guitar swearing a lot. I mention this in the interests of full disclosure! Like most of the acts on the Bullshit Detector compilations I sent a cassette to Crass as a gesture of solidarity. A couple of years later they wrote to me asking for permission to include a song on BS3 (as we recording artistes called it). In due course they sent me a royalty cheque for £40 – that's the honour and integrity I mentioned above. I returned the cheque as Crass had been involved with setting up a communal space for like-minded youngsters and I thought they could better utilise the money for another project in the future. Apparently the so-called Wapping Autonomy Centre folded within a year (its open door policy being abused by petty criminals) but nevertheless that's the "putting their money where their mouth is" bit. That they bothered to personally write back to me was good enough.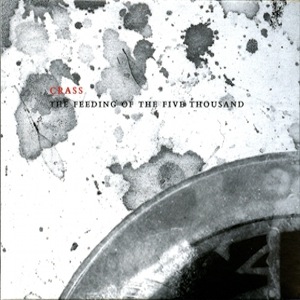 The Feeding Of The 5,000
The Crassical Collection CC01
Originally released in 1978
Re-released in 1979 with a previously banned track restored.
After starting as a drums (Penny Rimbaud) and vocal (Steve Ignorant) duo called Stormtrooper in 1977, Crass quickly acquired new band members from people passing through their shared house: rhythm and lead guitars (N A Palmer and Phil Free respectively), a bass player (Pete Wright) and two more vocalists (Eve Libertine and Joy De Vivre) who gave the band the feminist balance missing in so many post-punk bands. What made the band a self-contained unit was the addition of an illustrator (Gee Vaucher) and a film maker (Mick Duffield) who both added so much to the visual presentation. Crass were also lucky enough to have independent studio owner John Loder on board to guide them through the business side of things. However, their first release ran into trouble – no pressing plant would deal with the first track 'Asylum' due to its blasphemous content. Thus the record started with two minutes of silence entitled 'The Sound of Free Speech'. The Sex Pistols' issues with the law are well known but were trivial compared to those Crass had to endure during their seven year existence, and this is perhaps why they became regarded as a 'real' punk band. All this made them an attractive prospect after the fake rebellion of mainstream punk bands. Here was a band who thought like I did – crucially, not the other way around ...
The Feeding Of The 5,000 was an extraordinary debut: the lyrics had so many swearwords you knew the band didn't care about compromising in order to get mainstream airplay. This was a radical approach then – and absolutely baffling to most of today's mock rockers whose managers work so hard to get them the TV advert that can kick-start a career. Side one launched (eventually) with the words, "Fuck the politically minded, here's something I want to say," backed up by some fast military drumming and the other instruments all threatening to spiral out of control at any moment. The rhythm guitar was just the fast chopping sound of deadened strings on nearly every song. There was barely a break between songs (it was recorded live in the studio with the minimum of overdubs afterwards) and most of the tracks were under two minutes long. Side One closed with 'Banned From The Roxy' and 'G's Song', the former's introduction since becoming as iconic an opening as the Pistols' 'God Save The Queen', while the latter's lyrics (34 years on) could just as easily apply to the recent banking scandals. Side two opens with 40 seconds of "fight war, not wars" being chanted then 'Women', which was just over a minute of feminist ranting which segues into three of their best songs sung by Pete Wright. The album finished with four more songs with Steve Ignorant on vocals. Crass's manifesto was accordingly laid out in half an hour. Music press reviews of pre-release cassettes were uniformly negative. These were subsequently printed on the inside sleeve as if to define the battle lines. Sonically, it was like nothing ever heard before and the lyric sheet had all/the/words/like/this and when they got really angry A/LOT/LIKE/THIS! The suppressed 'Asylum' was sent out to on cassette to anyone sending Crass an SAE and was eventually re-recorded and issued as a seven-inch single at under cost price. This version is available on the Best Before compilation.
The original version has been restored on the Crassical Collection reissue. These reissues have been remastered to generally improved quality. They are louder than the original CD releases so they compete well in the sound wars that iTunes consistently fails to 'sound check' correctly. Each one has copies of the original posters and a thick booklet with new essays from Rimbaud and Ignorant plus lots of previously unseen photos. The lyrics are also included but written out in a more readable format rather than/like/this and the songs have been credited to the individual composers. The extra tracks on Feeding… are demos which are interesting only to the most nerdy. It's the original album which is the vital element here: The Feeding Of The 5,000 is essential to any punk rock collection, the music is much under-rated and it remains a favourite to this day.
Stations Of The Crass
The Crassical Collection CC02
Originally released in 1979
Crass's second album was a double vinyl disc affair – three sides of studio recordings and a live side. The Crassical Collection re-issue doesn't include the live side although the original CD did and is still available for mp3 download from Amazon as of 2012 if you're a completest. You'll probably only listen to the live stuff once but the main body of
Stations
is widely regarded as Crass's most consistent album. It had a slightly better production (from here on in they released everything on the Crass Records label to save Small Wonder any more hassle from the law) and although the full-throttle aural assault was still present and correct the band varied the music more with poetry, audio collages and even a tongue in cheek excursion to disco for one song! Crass were the masters of call-and-response chants ("War in the bedroom, bodies in the fridge, domestic violence is the tomb you dig – HEARD TOO MUCH ABOUT", "I know it's not a thing that man would do BUT YOU GET THE SAME RUSH BY JUMPING A BUS QUEUE" and "Upright citizen – PENTHOUSE SUBSCRIBER".
The subject matter is much the same as on Feeding Of The 5,000 but their humour is often overlooked ('White Punks On Hope', 'Chairman Of The Bored'). The re-issue's extra tracks are the John Peel Session from 28th March 1979 and are really good quality.
In 1980 Crass released three singles but these haven't been included on the Crassical Collection re-issues, which is a shame. However, these will be found on the aforementioned Best Before compilation which is apparently going to be the final re-issue in the Crassical Collection series to be released late 2012. Watch this space. Crass's singles were some of their best songs and Best Before should be as essential as any of Crass's first four albums.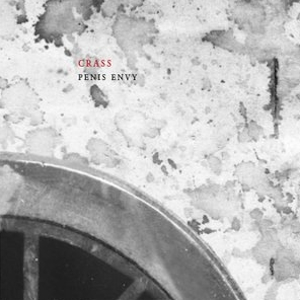 Penis Envy
The Crassical Collection CC03
Originally released in 1981
By way of introduction to their third LP, a collection of songs expounding feminine ideology and sung by Libertine and De Vivre, Crass (as Creative Recording And Sound Services) duped
Loving
magazine into including a 7" flexi-disk in their 'Brides Special Issue' in 1981. The song was a treacly synth-laden rewrite of 'Lipstick On Your Collar' called 'Our Wedding' with tongue firmly in cheek (produced by Penny Zenvy). When the prank was exposed in the
News Of The World
, the resulting publicity helped
Penis Envy
join Crass's previous albums at the top of the independent charts. The album was another leap forward in terms of technical ability and ideas but it alienated some of Crass's followers; they wanted to know why "only the birds were singing on it?" Duh. Even Crass's mix of wit and intellectualism couldn't get through to the hard of thinking. The 'birds' had previously only appeared as a break between the more 'traditional' songs but
Penis Envy
(not a title you would hear being introduced by Tony Blackburn) gave the women more space to expand on their womanifesto: there was only one sub-two-minute song. The album is a textbook for any young woman asking questions of a feminist bent but it's not po-faced; the Crass humour is still evident amid the shouting and (slightly less) swearing. The Crassical Collection re-issue only has three extra tracks which is a bit disappointing given the 35-minute running time of the original issue, and one of these is a re-write of a song from their next album.
However, the band were building up to their magnum opus while at the same time Margaret Thatcher was looking to boost her political career …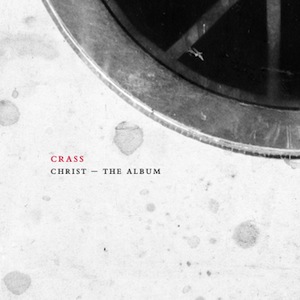 Christ - The Album
The Crassical Collection CC04
Originally released in 1982
As the shadow of armed conflict in the Falklands grew darker, Crass assembled their Big Statement,
Christ – The Album
. This was a double LP with a 12" booklet ('A Series Of Shock Slogans And Mindless Token Tantrums') all housed in a black cardboard box with embossed lettering. It didn't look out of place on the coffee table. The first and second sides were new material and sides three and four (aka 'Well Forked') were live cuts and old demos etc which gave the impression that the cupboard was being cleared out and this chapter of the story was coming to a close. The Crassical Collection re-issue is a two CD release with all of the original songs and seven extra re-recordings that are OK but nothing more. The 'Shock Slogans…' booklet is not included but is downloadable online from Crass Arkive. On the 'Well Forked' disc a couple of songs are duplicated from the extra tracks on
Feeding Of The 5,000
.
Christ - The Album is generally regarded as the culmination of all Crass's previous studio work: it still had the anger and energy but this was tempered by the occasional proper song (gasp!) and creative production touches. Each song was interspersed with short excerpts taken from television documentaries of people being interviewed. These were by turns funny, poignant, infuriating and informative. However, it was at this point that you felt they were perhaps only preaching to the converted as the first song (about the music press) said, "Same old Crass you've heard it all before, Crass being crass about the system, or is it war?" The lead guitar increasingly fell back on sliding up and down the neck which was the default (and seemingly blanket) approach from here on. The most enjoyable songs were 'The Greatest Working Class Rip-Off' and a re-recorded version of their 1980 single 'Rival Tribal Rebel Revel', both of which skewered the Oi! movement brilliantly. The best laugh out loud moment is on the latter's introduction as Ignorant goes with a sigh, "Come on then!" Perhaps you need to hear it? Christ - The Album took over a year to record and by the time the album came out, the Falklands War had been and gone, leaving the band looking redundant and slow to react.
The band then released a series of searing singles as a quick tactical response – see the Best Before compilation.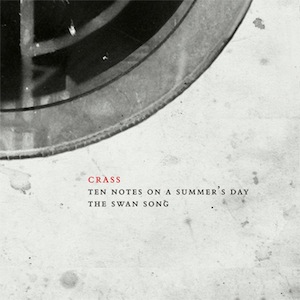 Ten Notes On A Summer's Day - The Swan Song
The Crassical Collection CC06
Originally released in 1985
Crass formally called it a day in 1984. Although the albums
Acts Of Love
(1984) and
Ten Notes On A Summer's Day
(1985) followed, these were Penny Rimbaud's records, most of the band having given up contributing. In America, the Dead Kennedys (Crass's closest counterparts) were about to split, partly as a result of having to defend their obscenity trial, but their label carried on. A vibrant underground scene has continued to this day; they don't need mainstream success or a large band to rally around. The recent
Punk Britannia
documentaries on BBC television had a rare acknowledgement of Crass's importance, although the few minutes given to their story were disproportionate and disappointing. For all their contradictions – singing 'Punk Is Dead' while keeping the 'real punk' genre alive, their almost militaristic image with a pacifist message, and their intricate ideology reduced to banners and slogans – Crass's influence was huge and remains timeless.
Put on Feeding Of The 5,000 or Stations Of The Crass and watch jaws drop.
Words by Neale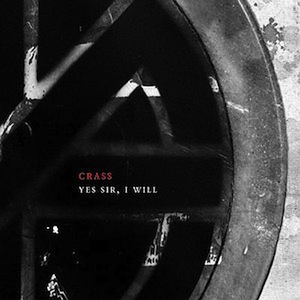 Yes Sir, I Will
The Crassical Collection CC05
Originally released in 1983
OK, Crass didn't change my life. Despite obvious areas of mutual distaste and concern, their unremittingly nihilistic agenda resonated neither in my aspirations nor the reality of my everyday life. At their heart lay the impossible contradiction of how to blunt global corporate greed and topple the bastions of social heirarchy through a pacifist agenda. For all the confrontational aggression of their music, they had ultimately disarmed themselves before the war had begun, and throwing anger and intellect at towering walls may win a few hearts and minds but is ultimately doomed to failure. Did this make Crass romantics? Quite possibly ... and therein lies some of their appeal. As Joe Strummer before me, I couldn't identify with all they stood for, but recognised there was much to admire about them.
First, they were smart. Not just in an arty, intellectual way, but they were clever people. The little tricks they pulled off undoubtedly stuck up two fingers at the establishment (read about them on their decent Wiki page), and when your name is raised in parliament, it might be a weight upon your shoulders but it is certainly a sign you have made your enemies take a step back and think. But, not just schemers, Crass were musicians, poets, film makers and graphic artists of considerable merit. The influence of Gee Vaucher's artwork is immense; power through simplicity ran through its heart and it lent the band an air of considerable authority; they could not be taken lightly, they were masters of the game. Quite quickly, Crass became iconic.
Secondly, they walked the walk. Crass Records was a beacon of decency rather than a money-making conglomerate. They released records by themselves and others at low prices, helping to spread their message and, as importantly, music of considerable power and worth. As far as I could see, they never wavered in the way they lived their lives, created their art and looked to inspire others to do the same.
Finally, they made some terrific music: dangerous, harnessed chaos, thrown out as hammer blows, gloriously encapsulating all of their anger, frustration, hopes and dreams in often short, but always effective, explosions of noise. There really wasn't anything else quite like it and, of course, Crass will be always remembered for their early recordings. You cannot discover the heart of the band without exploring the first four albums, but of all their work 1983's Yes Sir, I Will remains the most fascinating. For this album is the sound of the world falling apart.
Having fallen on their arses celebrating their own brilliance with the over-confident Christ - The Album, Crass were left reeling by the Falklands War, which wiped out the growing peace movement almost overnight. From a feeling that all was well in the camp, the band now felt woefully inadequate and reacted with a burst of new recordings, including the legendary singles 'Sheep Farming In The Falklands', an uncredited flexi disc of which was initially slipped surreptitiously into other band's records by their distributors, 'How Does It Feel To Be The Mother Of 1,000 Dead?', questions about which were raised in parliament, and the parody 'Gotcha', the title taken from a headline in The Sun (strangely also used to great effect by Cock Sparrer in the lyrics of their brilliant put-down 'The Sun Says', showing that in some respects Crass and some of the street punk bands they so despised had more than a little in common.) Yet Crass's outbursts of righteous fury appeared to be lone voices in the wilderness. Morale was flagging and when Yes Sir, I Will followed on, it spelled out in the starkest terms, both lyrically and sonically, the distress, confusion and doubt the band members were feeling.
Originaly written as a stream of consciousness poem by Penny Rimbaud who was growing increasingly concerned with the way things were going, the album, the last the band were to record as a unit, consisted of one track, some forty-three minutes in length stretched out over two sides of vinyl. The CD version split the work into seven pieces and Yes Sir opens sedately enough with Gee Vaucher's brief poem before we are treated to an explosion of noise, feedback, shouting and free-form musical chaos. Largely recorded in one take with no rehearsals, and throwing aside all convention, this is a howl of pain described by Rimbaud as "raw, naked and completely unashamed." The lyrics capture the helplessness Crass were feeling, "We didn't expect to find ourselves playing this part, we were concerned with ideas, not rock and roll, but we can't avoid that arena, it's become a part of us even if we don't understand it. In attempts to moderate, they ask us why we don't write love songs. What is it that we sing then? Our love of life is total, everything we do is an expression of that. Everything that we write is a love song." Crass, the misunderstood. The onslaught of noise is split by two other musical interludes: Rimbaud's tuneful piano and vocal piece based around the refrain, "What did you know? What did you care?" is brilliantly cut up by the return of the mayhem, before Steve Ignorant's marvellous, punky stab at those questioning the nature of anarchy shows that even in their death throes Crass maintained a sense of humour. A third of the way in, then, and you are left with over thirty minutes of carnage as Ignorant, Eve Libertine and Joy de Vivre pour out Crass's views on poverty, hunger, nuclear weapons, war, the State, religion, conspiracy and the meaning of freedom. And as the chaos subsides, a lone voice echoes the cry, "You must learn to live with your own conscience, your own morality, your own decision, your own self. You alone can do it. There is no authority but yourself." Stunning stuff.
In many quarters Yes Sir, I Will is considered unlistenable. I would say it is essential listening. How rare is it to witness such inner turmoil, confusion and pain as a dream shatters and falls apart at your feet? This is Crass's last will and testament: this is what we believe, this is what we meant, this was how it was meant to be. "But how long do we shout for?" Crass had tired at throwing themselves at walls and only seeing them built higher against them. They made only one more record, the single 'You're Already Dead' and their mood had changed. Direct action rather than pacificism may be the answer from now on. "If we can't go round them, we'll have to go through," they declared ... and the war was lost.
The Crassical Collection edition of Yes Sir, I Will includes a bonus album of Penny Rimbaud's 2002 remix of the album with the added contributions of jazz musicians Ingrid Laubrock and Julian Siegel in recognition of the free-form musical style of the album. This, too, is a splendid thing and is accompanied by a pefect bound booklet containing an essay by Rimbaud as well as the lyrics and a copy of the poster which originally accompanied the album. These releases come at a price, but in true Crass tradition, they represent great value for money for the end result. This stuff is hugely important musical history. Investigate.
Words by Adam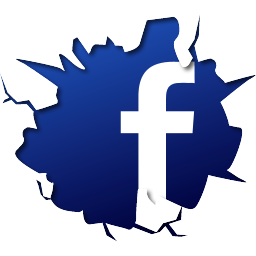 Isolation on Facebook.
Please 'like' this page.