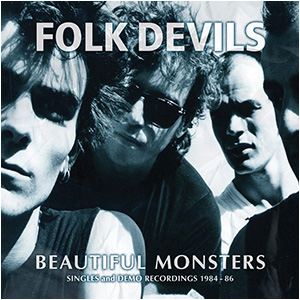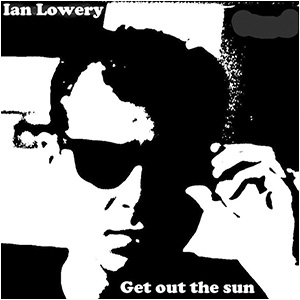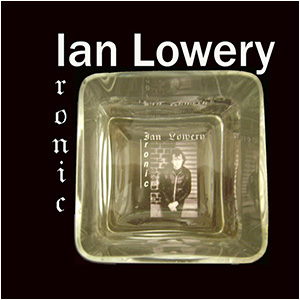 Folk Devils/Ian Lowery -
Beautiful Monsters
Get Out The Sun
Ironic
Spectacle
Released: 2014-2016
Not new releases, these, but records that have gained in importance recently due to the re-emergence of the Folk Devils on to the live circuit. Originally operating between 1984 and 1987, Folk Devils were dark and dangerous, their live performances charged and often tense, the subject of their ire being the state of the world into which they were thrown and a fear of the black despair that seemingly reached out to grab them on all sides. Eventually it was to succeed in dragging them down, but though they burned briefly, it was indeed brightly and their powerful reputation led to the Devils being eagerly recruited as a support act by big names such as The Fall, Nick Cave, The Gun Club and Spaceman 3. It was seldom they failed to blow their peers off stage, their main focal point being the explosive persona of singer Ian Lowery whose idiosyncratic approach to his craft, and cleverness with lyrics, made him a fascinating performer. The Folk Devils' sound was rooted in the blues, yet infused with post-punk nuances that made them appear both classical and contemporary. They recorded three excellent Peel Sessions as well as three critically acclaimed records that seriously dented the independent charts. This new collection contains all of the band's singles as well eight previously unreleased demo recordings, and it is difficult not to thrill to the cutting brilliance of the band's music. The driving Beautiful Monster EP is the highlight, with the magnificent 'Brian Jones' Bastard Son' standing head and shoulders above anything else the band (and many other bands for that matter) ever recorded. The demos are clean and just as vital and it is only sad that the band couldn't have held itself together long enough to record an album. Lowery continued to produce music with various outfits after the demise of Folk Devils and until his untimely death in 2001. His brother David discovered lost masters to many of these recordings in 2013 and consequently released two album's worth of material Ian recorded between 1989 and 1998. Determined not to be pigeonholed, the music here is approached from different angles, though the blues remain at its heart, whether the grim Nick Cave-like resignation of 'The Crutch That Cripples Me', the Feelgood grumpiness of 'Born To Swing', the Stonesy R&B of 'Bent And Rusted Crown', or the Hot Rods' proto-punk of 'Cheating Time'. Then there are tracks that appear to have come out of nowhere like the terrific 'Get Out The Sun', swamped with jagged guitars, the tour de force of 'Sucker Punch', and the submerged, see-sawing 'Swing So Low'. All top stuff and well worth investigation.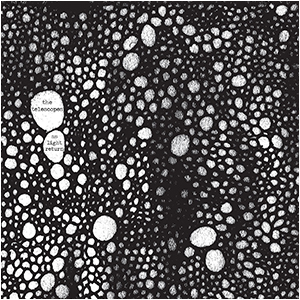 The Telescopes - As Light Return
Tapete
Released: 7th July 2017
It's just under two years since Stephen Lawrie released the Hidden Fields album, recorded with St Deluxe, and it marked a welcome return to a more classical structure of song after a prolonged period of exploring the shadowy hinterlands of drone. As Light Return, again recorded with the Glasgow three-piece, takes a bit of a step back as Lawrie's focus shifts once again, with its five tracks barely contained in form and leaking darkness through failing seams. There's feedbacking and distorted guitars swamping this record, fermenting in layers as their weight pushes against the repetitive rhythms, threatening to submerge and banish them. It's the art of decomposition and its pretty bloody riveting. Opener 'You Can't Reach What You Hunger' sounds like the Mary Chain's 'Taste Of Cindy' fed gargantuan doses of nitrazepam with Lawrie's buried vocal mumbling "everything is aware" which is both amusing and terrific. 'Down On Me' carries its oppressive weight well, while side one closer 'Hand Full Of Ashes' may be a three-line put down sung by a dead Andrew Eldritch but the song's sense of betrayal is amplified a million times by the crackling and hissing guitars that attack the inexorable bass march and funereal drums. Flip over to side two and 'Something In My Brain' is almost buoyant as the creative process drags Lawrie to the edge of madness. "Every thread has come undone," he laments as his mind falls apart. The record ends with the fourteen-minute 'Handful Of Ashes' which lyrically stretches the theme of the album's third track to extremes, ever more desperate and violent. It's a despairing lament with a barely discernable voice surrendering to a pulsing backdrop of noise. Not much light here, then, but a deeply impressive record that paints greys on blacks in recordings that began to decay at their moment of inception. This is true of all life, but it's a massive theme seldom captured in sound. Pretty much essential. And big respect to Hamburg's Tapete Records for including a CD with the vinyl. Take heed British labels.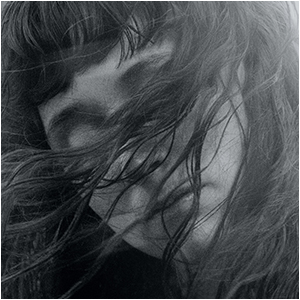 Waxahatchee - Out In The Storm
Merge
Released: 14th July 2017
Just over two years after Katie Crutchfield released her second album proper, Ivy Tripp, new offering Out In The Storm takes a step up in power, craft and reach. The ten tracks here, stretching to just over half an hour, offer a more complete sound, the album having been recorded with producer John Agnello, known for his work with Dinosaur Jr and Sonic Youth amongst others, who encouraged Crutchfield's band to record live to add power and to ensure there was a unity of purpose and approach. The resultant backdrop, guitar heavy, lays solid foundations that appear to give Crutchfield the courage to stretch herself, both vocally and emotionally. At times her vocals are simply beautiful and they reach inside you with alarming ease; these songs are personal and they resonate. "My pride clenched tight in my shaky hand / Til I let go and bury my head in the sand," she confesses, the lyrics full of self-examination and struggles with often unexpected alienation. It's emotional, bleak but not black, and Crutchfield is as resigned as she is confused or bitter. The changes in pace allow space for her vocals to breathe, yet at times there is a suffocating density through which she has to fight and it's all a little bit captivating. There's a breathless beauty to '8 Ball', stubborn belligerence in 'Sparks Fly', a gorgeous ebb and flow to 'Hear You', and an emotional intensity to 'A Little More' which lift these songs above the others, but there's nothing here that disappoints. Even better, included with the limited vinyl release is an extra album of demos on cloud white vinyl. These are of interest if not essential additions, though with the gatefold sleeve they make a lovely package, well worth getting your hands on if they are still available.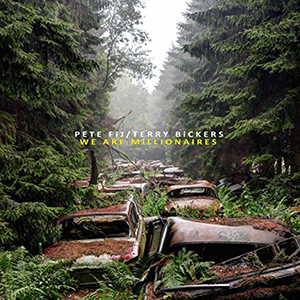 Pete Fij / Terry Bickers - We Are Millionaires
Broadcast
Released: 21st July 2017
Some three years after the dynamic duo of singer-guitarist Pete Fij (Adorable) and guitarist extraordinaire Terry Bickers (House Of Love) uncovered their debut album, Broken Heart Surgery, a gloriously addictive collection of maudlin ballads, another hugely successful Pledge campaign has paved the way for the release of follow-up We Are Millionaires, which treads similar ground if a little more lightly and confidently. There's more meat on the bones of the nine songs here, both musicians adding some welcome basslines, while the songs flow into more divergent channels with plenty of melodic twists and a greater depth of vocal harmony. This is an exceptionally smooth sounding record, almost refined, with Fij singing beautifully, particularly on the fabulous 'Love's Going To Get You', and Bickers adding some astonishing guitar parts, all the more telling for their brevity. At times the album touches base with its predecessor, as with the opening 'Let's Get Lost Together', an amusing tale of brotherly love, but there is a wider scope to some of the songs. 'If The World Is All We Have' sounds like a downbeat Bond theme and was apparently written as a stab at a Eurovision entry (Pete has some worrying predelictions), while 'Marie Celeste' is a love song, still pensive, but nonetheless a fascinating departure from the duo's wry laments. Don't worry, there are still plenty of those to wallow in, and though the singer has described them as "pop songs hiding under a veneer of melancholy," they must be very well hidden. In truth, there may be traces of pop in their DNA, but these songs are distant cousins at best, carrying too much weight both intellectually and emotionally to be either throwaway or bouncy. "It's been a long, long winter," Fij repeats for nearly a minute on 'Waking Up' and though some of the songs hint at finding the light, it doesn't sound as if the paddling pool is out yet. Only Fij can make positivity sound like regret and only Bickers can frame his words with the saddest guitars you have ever heard. No, don't come here for salvation, these two men are chained like Prometheus to the rock, having their hopes eaten away at every dawn. And it's a bloody good thing for the listener as it infuses their records with a delightful air of resignation, and when that is coupled with nicely balanced wit and helpless charm it makes them quite essential. This one is no exception, so indulge.
SPC ECO - Calm
ELaB
Released: 22nd August 2017
Twenty-five years ago Dean Garcia started making gamechanging records with Curve, and to mark the occasion, the duo's first two albums,
Doppelganger
and
Cuckoo,
are currently being reissued in deluxe double disc editions by 3 Loop Music. Essential though they are (and invest if you don't already own them), Garcia's musical odyssey is a continuing journey, the latest step of which is new album
Calm
which coincidentally marks the tenth anniversary of the formation of SPC ECO (Space Echo), another male-female duo, with his daughter, Rose Berlin, featuring on vocals. Recorded from January to August this year, you will hear traces of Curve in SPC ECO's music, yet this duo produce a more disembodied sound at which a thousand labels can be thrown, including dream pop and trip hop. Suffice it to say that
Calm
is both dreamy and trippy, possessing a languorous beauty that is both addictive and deadly. 'Calm' may well be a misnomer as a play of the album is like wading waist deep against the flow of a river of ketamine. There's little high end here; Garcia is content to swamp the middle ground with washes of sound and inexorable buried beats that allow Berlin to provide all of the decoration with vocals that sway from pretty whispers to stunning arias, just enough contained to stop emotions from spilling over. It's all very weighty and aurally viscous, though ruthlessly appealing. There are a million hints at bands of yesteryear, whether Curve themselves, Cocteau Twins, Dead Can Dance, My Bloody Valentine or Portishead: all come slowly to mind before even memories are drowned. Sadly the album appears to be available only on download from the duo's
Bandcamp page
, but in reality this is digital music
in excelsis
so perhaps that is no bad thing, though a CD would be nice. Well worth diving in, just don't plan on surfacing with any degree of alacrity. Or ever.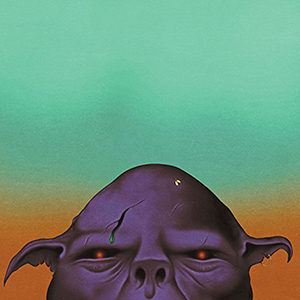 Oh Sees - Orc
Castle Face
Released: 25th August 2017
We love prolific bands and Oh Sees certainly come into this category, Orc being their nineteenth studio album in their fourteen-year career. The San Francisco collective decided to drop the 'Thee' from the band's name for this release; it had featured on the last twelve albums after it was decided to add an 'e' to the word 'The' back in 2008. There was a slight change to the musical contributors for this release, also, with regular studio instrumentalist and engineer Chris Woodhouse not featuring for the first time since that date. It may be, then, an end of an era in more than one way, but musically there is not a huge change of direction, the band being steered by vocalist-guitarist John Dwyer along recognisable psych-garage paths. A double album over ten tracks, if anything Orc sees the band firming up their credentials to be regarded as one of the leading lights in the psych field; it's as much a grown-up record as it is a mind-expanding one, moments of gentle, woozy beauty interspersed with blistering guitar rampages and reverb filled noisescapes. Sometimes the touch is so light you expect the music to float out of your ears and into the ether; the early guitars on 'Jettison' are almost made out of shadows whilst the later ones rudely parade their weight. As the album progresses, toes are dipped into many pools. 'Cadaver Dog' is prog with an ailment, 'Paranoise' almost psych drum & bass and two of the last three tracks are instrumental, 'Cooling Tower' scattering its own ashes and 'Raw Optics' all jazz and bluster. Throughout dual drummers Paul Quattrone and Dan Rinconhold impress, holding together a landscape that is falling apart at its seams, yet this collapsing environment always feels welcoming and never repels. That's quite an achievement when you are immersed in a world of weird. We like this a lot.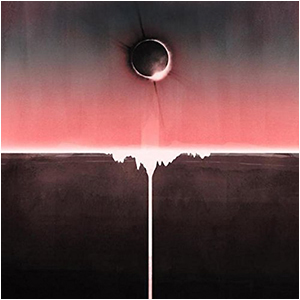 Mogwai - Every Country's Sun
Rock Action
Released: 1st September 2017
For twenty-two years now Mogwai have not been saying very much, but managing to say it better than most anybody else. It is so unusual for a largely instrumental band to seep into the consciousness of the alternative music crowd, but they have achieved this feat almost imperceptibly over the years so that now affections run extremely deep; it is virtually impossible to find anybody with a bad word to say about them or who will not admit at the least to grudging respect. And with the recent explosion of support for the underground, bands who have endured and prospered in that field have been lifted to almost iconic status. Festival headliners, top ten albums: this is Mogwai in 2017 and though the band may be self-deprecating in the extreme, no amount of head shaking will remove the fact that this is well deserved recognition. For Mogwai are ace. Given their growing status, it is fitting that the band have responded with a record of impressive quality that you will find difficult to ignore. Nearly four years since their last offering, ninth studio album Every Country's Sun is a welcome return to traditional paths following years of soundtrack work and for its recording Mogwai chose once again to work with Dave Fridmann (best known for producing Mercury Rev and The Flaming Lips) for the first time since the iconic Rock Action some sixteen years earlier. The trip to the studios in remote Cassadaga, with its lack of diversion, allowed the band to focus fully on the task in hand and Every Country's Sun, eleven tracks stretching almost to an hour of music, is a remarkably sharp collection, each tune contributing to a consummate whole that leads to a rewarding and often inspiring listen. There are hints at the band's soundtrack work here: ambient flickers, light and shade, peace and blown to pieces, but this album needs no pictures to frame it, it works as a statement in its own right. Stuart Braithwaite even adds some purposeful words to 'Party In The Dark' which borders on classic indie pop with a healthy dash of New Order thrown in. This is a rarity for the band but it's carried off with effortless style, while in more familiar territory trademark guitars and shredded basslines reinforce sprinkling keyboards, or go to war with them as in 'Battered At A Scramble' which knocks itself over every time it tries to stand up. There's big attitude and big confidence here that show Mogwai are confident of both rocking you to sleep, or knocking your brains out. 'Old Poisons' is a stormer that even manages to throw out hints of Sabbath, while at the other end of the scale 'Brain Sweeties' and '20 Size' border on dream pop, though always infused with an energy that rises above that genre's archetypical somnolence. To make things even better, the album is beautifully packaged and if you can get hold of a copy of the double white vinyl box set, grab it quickly. This comes complete with a twelve-inch containing six extra tracks, songs that didn't make the final cut, which are an added treat. Pretty bloody splendid, all this.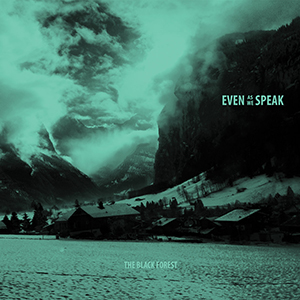 Even As We Speak - The Black Forest
Emotional Response
Released: 1st September 2017
More than half of our lives ago we witnessed Even As We Speak playing at the Richmond in Brighton, a venue that hosted many indie pop bands at the time despite having the worst sound system in the entire universe. It was a great night; the band were way too polite to mention that we had taken their seats as we chatted to them briefly, though we guessed that we had. Pop music seemed more transient in those days and it wouldn't have entered our heads that some thirty years later the Sydney quintet would still be making music, but days change. The Black Forest EP is the first release of new material since 1993, the band having reformed in the wake of the recent resurgence of interest in Sarah Records, EAWS's erstwhile label, which led to many offers of gigs and studio time. NYC Popfest in 2016 saw them play a sell-out show and finding the chemistry still there, their enthusiasm for making music was rekindled. The Black Forest is released on CD and ten-inch single and contains five tracks of gently woven pop music that is effortlessly appealing. On opener 'Clouds' Mary Wyer's vocals are just on the plus side of world-weary and lean perfectly on the lovely Hammond-organ sound of Julian Knowles's keyboards. It's the clear winner here, though 'Such A Good Feeling' lifts off in archetypal late 1980s' indie guitar pop fashion and the years just peel away. With so much inventive and exciting post-punk music being made in this modern era, it is easy to forget there is some dreamy guitar pop being produced by bands old and new, and if you take the trouble to listen to the re-born Even As We Speak, you will find it can be as uplifting as ever. It's good to have them back, and sorry about the seats. Buy this.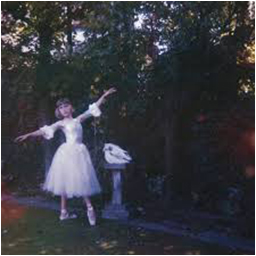 Wolf Alice - Visions Of A Life
Dirty Hit
Released: 29th September 2017
It's so easy to get distracted by the hype with this band. Almost from their inception Wolf Alice have been heralded as the greatest thing since the proverbial cut white and the automatic reaction is to run a mile in the other direction. Either something underhand is going on in which case they are dodgy to the core, or they are just another media-fêted flavour of the month with the enduring appeal of a handful of dust (remember one-time saviours of the world, Palma Violets?). Of course, another option exists – that Wolf Alice really are something special and the reams of fawning reviews have been deserved. We um and er. And maybe err. But we are swaying to the belief that this band really does have something special to offer. Their first singles were enjoyable, if not groundbreaking, and Visions Of A Life is hardly threatening the mould, but it is certainly inventive, interesting and on occasion, startling. It could be a little more damaging and focused, but there is plenty here that will engrain itself into your psyche and have you returning to the record a little bit more than you ever envisaged. It is easy see songs such as 'Formidable Cool' catching up live audiences, ebbing and flowing as it does with bracing energy and power, but this is a record of contrasts and a lightness of touch occasionally offsets the tangible density to bring moments to treasure. The choral touches to 'St. Purple & Green' are enticing and embracing, while 'Don't Delete the Kisses' is a delight. Both are moments of welcome grace in a record that carries itself weightily. Visions Of A Life is a more earthy record than the band's debut, My Love Is Cool, released two years previously, and it benefits from detaching itself more wholly from 1990s influences. Lyrically, there are plenty of nice touches – "I dream of death, its violent breath, I'm caught with my maker in step" – but there may be better ways to deal with anger and repulsion than the most obvious options. Did anything say more about frustration than the two-note guitar solo in The Buzzcocks' 'Boredom'? It makes the sweary charge of 'Yuk Foo' probably the least convincing number here, while the poppy 'Beautifully Unconventional' doesn't set the pulse racing. Yet the band carry off the eight-minute title track with considerable accomplishment which shows that with a little more focus they could become something genuinely momentous. There is far more to admire here than not, so please investigate.
Tigercub - Evolve Or Die
Alcopop!
Released: 29th September 2017
There's a lot of love around for Tigercub's twisted take on rock as witnessed by the way their latest release, The Evolve Or Die EP, has flown out of the shops. The Brighton trio's sound has evolved considerably since their early days and this pulsing offering sees them again moving into new territory, the songs' heavy rhythms laying big foundations on which broken melodies are stretched out and kicked around a bit. The whole collection is a pretty dense affair with little room to breathe or take in the view. An impact record, then, with 'The Divided States Of Us' feeling like strangulation three ways and 'Into The Ashes' poking its head through a shattered introduction to ask unsettling questions, "Does it take death, to give this life a purpose?" Even the slower number 'It's Only Love' is reticent and unsettling rather than as soothing as the smoothness of the vocal would have you first believe. Its narration is stark, "In the sun my skin will burn / It's only cells inside a surface trying to turn into cancer to help me die." It's gloriously downbeat and though it may be no new thing to dress love in dark colours, very few bands manage it so intelligently and purposefully. And the closing bars of the song are truly inspired. Closer 'Faking Water' is most redolent of Tigercub's early sound, bouncing off a heavy bass with the vocal carrying the melody, and it's probably the least effective track here, though it is by no means a dud. All four tracks form one side of the vinyl EP, with 'ee2d4a' (a colour reference and the colour of the initial batch of twelve-inch vinyl pressings) taking up the whole of the b-side, six minutes of insubstantial noise to which you will probably listen only once. Intelligent, interesting and exploratory: it's how new bands should be. Give it a listen and don't be put off by the dreadful artwork.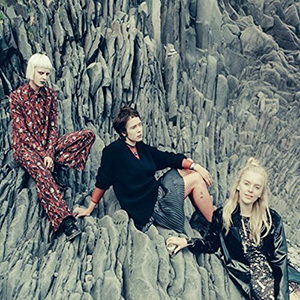 Dream Wife - Fire EP
Republic Of Music
Released: 29th September 2017
It's nearly three years now since we first saw Dream Wife live and over the ensuing period the band have worked incredibly hard, playing endless gigs and sensibly not offering much in the way of recorded output. This has allowed the trio to learn, develop their skills as both musicians and performers, create their own niche, and put together a collection of tried and trusted songs that will no doubt mesh nicely into the debut album when it finally arrives this winter. This Fire EP is a taster, containing two tracks and three remixes which, as is the nature of the beast, are merely b-side filler and can be hurled with disdain into the deepest and sickest pit of hell where all remixes lie. This leaves the listener with 'Fire' and 'Somebody' to enjoy and thankfully the two lead tracks are bristling with attitude, aggression, annoyance and addictive bounce. The title track opens with Alice Go's spitting guitar and we love the guitarist's style, stabbing at the songs rather than building them up, leaving them bloody and battered on the foundations of Bella Popadec's solid basslines. Vocalist Rakel Mjöll is more of a narrator than a singer, a lyrical preacher backed by a heavenly pop choir who serenade her with majestic "whoooohs". The chorus holds pop appeal but the song is jagged enough to satisfy an alternative ear and it's terrific. It is ridiculous in this day and age that we still need songs such as 'Somebody', first revealed on International Women's Day, and featuring the empowering mantra of "I am not my body, I am somebody!" Times have moved backwards since the punk era's blurring of the boundaries of sex, sexuality and race and it's a failure even to call this feminism and not humanism. That aside (and it's a big aside), the song splutters along gently with a Bonanza guitar riff and splendid ending where it just dies...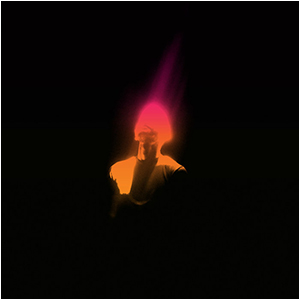 El Ten Eleven - Unusable Love
Fake
Released: 29th September 2017
It's fifteen years ago now since Los Angeles post rock duo Kristian Dunn (bass) and Tim Fogarty (drums) first got together and two years since their eighth album Fast Forward was released. Renowned for their complex musical arrangements built from minimal instrumentation (mainly doubleneck or fretless bass with electric and acoustic drums reinforced by effects-laden looping and vamping), the duo have moved away from their instrumental roots for this EP by recruiting vocalist Emile Mosseri to sing on all four tracks, his elegant falsetto floating nicely on the gentle layers of sound that Dunn and Fogarty create. It's all a touch more sensitive, measured and aware than we have grown to expect from El Ten Eleven and exceedingly pretty. Lead track 'Unusable Love' is a gorgeously dreamy affair, but it's the second song, 'She's A Live One', that really steals the show, Mosseri singing like a highly mellow Marc Bolan and adding some graceful, vaporous guitars to the mix. 'Delicate Friend' is also addictively insubstantial, accompanied by imaginary windchimes, and the mood is maintained with closer 'I'm Right Here', perhaps the most solid number here, but still quicksilver in your ears. "There are no keyboards on this recording," the cover declares proudly and it is a measure of the craft of these musicians that you will struggle to believe it. Pretty splendid, this. Drift away.
Oh Boland - Spilt Milk
Volar
Released: 7th October 2017
Not a new release this one, but a new pressing for you to snap up if you missed out on the original which came out exactly one year earlier. Redone by Stateside Volar Records in a run of three hundred yellow vinyl copies available from
Bandcamp
, now's your chance to get hold of one of the best garage releases of the past few years.
Spilt Milk
is the debut LP from Galway-based Oh Boland, following on from a couple of early EPs and a split album with Me And My Dog released by Dublin's Popical Island collective. There's not much innovative and new on offer here, but the whole is such a gloriously messy welter of guitars that it is positively life-affirming. The songs are inspired by singer-guitarist Niall Murphy's stint as a barman in Tuam where his customers were "agrarian tragedies, gambling addicts and mislaid bachelors" and they blend a host of influences with a punk rock disgust at the boredom of existence. There's a hint of The Pastels in the apparently ramshackle approach to the songs, but Oh Boland are plugged into the mains while standing in a bucket of water. They make a mess of noise, their record one of blurred definitions occasionally sliced apart by glorious guitar bursts that take you by surprise and bring a huge smile to your face. That, and the girl group backing harmonies that are dragged out of the mud and flung in your face with casual indifference. Hell, this must be one of the best albums of guitar solos for a very long time, from the jagged wail that graces opener 'Jane Russell', through the spiralling call that wraps around 'Caller So Cold' and the brilliantly unhinged wreckage in two parts of the shattered 'Brainkill', to the chatty squeal in 'Oh The Flatlands'. It's all fine stuff and there's plenty more on offer: there's even an organ solo on the rather good 'Doctoring'. Treat yourself to this one. It will make a fine present for a raucous Christmas.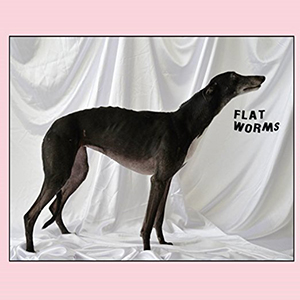 Flat Worms - Flat Worms
Castle Face
Released: 13th October 2017
Having put out a bloody good single last year in the scorching 'Red Hot Sand', this was a highly anticipated release, and to be fair any lovers of that track are not going to be overly disappointed with this collection. For Flat Worms, is more of the same in ten tracks over thirty-two minutes, pretty much half an hour of relentless pounding drums, scorching guitars and some vocal chanting vaguely in the manner of Preoccupations. It's a noisy bugger and no mistake and if you are looking for something gentle to ease your head into a new day then stay well clear. With all three members of the LA-based band having featured in well known psych acts, the refreshing aspect of Flat Worms is that it has no time to waste on sonic doodling: this record is out and out rock and roll with punk manners and a refreshing conciseness. Often relentless, there is little room for drummer Justin Sullivan to do much more than push the songs along, though in the better moments bassist Tim Hellman adds welcome decoration, particularly on the terrific '11816' where guitarist-vocalist Will Ivy even lapses into singing. Of course, it's the guitars that really make this record special as they are tortured to within an inch of their lives and howl appropriate protestations. And this is all the more effective on the second side of the album where the pace is abated a little and the songs have more room to breath. The excellent 'Followers' takes classic punk riffs on a journey into space, 'Faultline' both dances and collapses in feedback fits, and 'Question' stabs you in the eye and spits in your wound before the album waves goodnight with the aforementioned 'Red Hot Sand', the only track here longer than four minutes (six are less than three). It's a mess of guitars for nearly two minutes before the vocal comes in and if it had gone on like that for a month there would be few complaints. As it stands, it ends this collection in style and as the album is only half an hour long, it goes on again. And again. Rollicking. And we love greyhounds.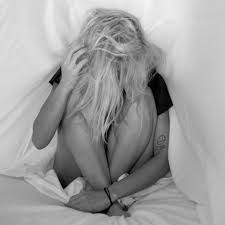 Bully - Losing
Sub Pop
Released: 20th October 2017
Three years ago, there was enough about Bully to attract major label attention in the USA, their melodic grunge rock tempting Columbia to invest in their debut album, Feels Like. Twenty-nine months down the line and the Nashville-based four-piece have released their second offering on Sub Pop, a label many will consider to be far more fitting to the band's outlook and less likely to burden their charges with over-expectation. Losing is certainly a closer fit to the new label's traditional sound than its predecessor which was slicker and at times poppily dynamic. It had a light edge that could have carried the band far commercially, but it is trashed here as Losing is dirtier and its sound less defined. Guitars grate and thrash, slow and accelerate, and backgrounds blur in remarkably familiar ways, but the songs are never dull or so rooted in the past that they lose all contemporary appeal. This may have something to do with singer and guitarist Alicia Bognanno's vocals which are emotionally charged and rise and fall as moods break. There's a battle between the vocals and the guitars as to which will carry the weight of the song, and this creates some nice tension, though the vocals usually win through. Again, the record diiffers from Feels Like in the lyrics, the first album showing Bognanno with her head all over the place and confusion reigning, whilst Losing is far more focused on others. There is plenty of first person narrative still, but thoughts are directed at secondary people and the emotions that evokes. There is more concern with others than identity; surely a sign of emotional growth. "You explained it to me then but/A few years later I felt what you mean." It's an improvement and there is the occasional solution: "I feel the same/Masturbate/I feel the same." The change in direction is obviously an intentional one as the production and engineering are both carried out by Bognanno, who fittingly learned her trade at one of Steve Albini's studios, so this is new Bully, and a record that is well worth investigating. There's a limited indies-only green vinyl if you are quick.
Trampolene - Swansea To Hornsey
Mi7
Released: 24th October 2017
"It's taken me a whole lifetime to write this album, so maybe you can spare me fifty-one minutes of yours to give it a listen. That's not even an hour. It's quicker than an enema, and more fun." So states Jack Jones, singer and guitarist with Swansea three-piece Trampolene who have finally got round to releasing their debut album after first hitting our radar over four years ago. We have followed their progress with interest since first catching them live in 2014 where their attitude, style and a handful of mean tunes considerably impressed. Swansea To Hornsey was recorded at Ray Davies's Konk Studios (in Muswell Hill, Hornsey) and contains songs we have grown to know well over the past few years from the band's occasional seven-inch, and more common download, releases, as well as three spoken word poems. Musically, they herald from same streets as the early Manics, showing a understanding of rock and roll mythology, a dislike of conformity and playing by the rules. Trampolene are more refined, though. Their lyrics drip intelligence and their guitars cut, but their songs are never abandoned free-for-alls; they play with restraint and never put a note out of place. And this fifty-one minutes of music is nicely recorded, thanks to a huge production by Jones and engineer Josh Green. The words are important, so the listener can hear every word; the guitars are like razors and cut deep, while the rhythm section of Wayne Thomas (bass) and Rob Steele (drums) throb and crash without blocking any arteries. Lyrically every song resonates from the album's first sung words, "There's nothing I want to listen to/On every playlist that I'm flicking through" to dangerous despair, "A future like a bricked up window/Is hard to break through/Forget what I closed my eyes for/Dreams so rich, life so poor". The spoken word poems are class. Live set opener 'Artwork Of Youth' mirrors everybody's life experience, 'Poundland' is painfully cutting, while 'Ketamine' is both hilarious and bloody scary. They are spread evenly through an album that swings backwards and forwards in pace, and is remarkably finely balanced. 'You Do Nothing For Me' is gloriously brash and the real star of this set, so dangerous and catchy it should carry a health warning. Don't let this one pass you by and spare the man your time. It will be one of the best hours you spend this year.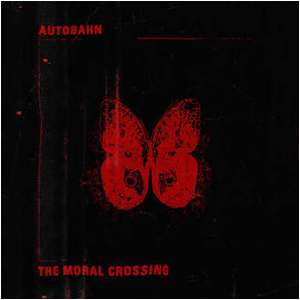 Autobahn - The Moral Crossing
Tough Love
Released: 3rd November 2017
Two years on from the release of their highly-rated debut album, Dissemble, Autobahn return with follow-up, The Moral Crossing, surprisingly a self-produced affair recorded in the studio the inexperienced band managed to piece together with their own hands. It gave the Leeds five-piece the space to mould exactly the album they wanted, free from the pressures of time and the influence of peers and what has emerged is a delightfully dark collection that could have been scooped from the bowels of the decaying corpse of the 1980s' post industrial north. Despite the band's name, and the rigid synth stomp of promoted-track 'Future', there is little here reminscent of any krautrock influence, but plenty borrowed from their town's heritage as the essential heartland of goth, as embodied by the once-magnificent Sisters Of Mercy. Throw in some post-punk metallic touches from across the Pennines and you reveal the heart of Autobahn. This band drinks in everything that is good and spits out a spectacular amalgam of lost voices, crunching guitars, scattered rhythms and unremitting gloom. There's not a thing here to frown at, no pretence or bowing to commerciality. Tracks are titled 'Obituary', 'Torment', 'Execution', 'Fallen' which gives a good hint at how this record sounds; there is no relief here, just darkness laid upon darkness and it is utterly compelling, occasionally brilliant, and at times even uplifting. At its heart lies the pain of romanticism. "Try cutting free to choose. It's cutting my heart into pieces that you wanted," Craig Johnson sings on the terrific 'Fallen' and though no light breaks through the dense atmosphere of this record, it always hints that there may be light. Somewhere. For post-punk excellence, there will be little this year to touch the magnificent 'Low/High' which is epic in its scope and such quality only underlines how much this band have to offer in the future. The Moral Crossing (great title, great cover) is available on some ludicrously limited vinyl copies (including a release of only one hundred grey copies for Leeds) so dive in while you can, though you can also snap it up on CD.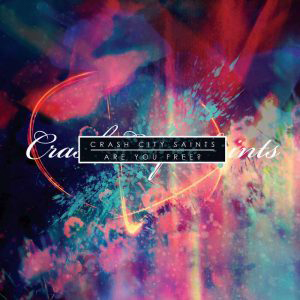 Crash City Saints - Are You Free?
Saint Marie
Released: 3rd November 2017
An interesting one, this, brought to us by Saint Marie Records, the home of all things warm and fuzzy. Crash City Saints hail from Kalamazoo, not much heard of in musical circles since Glenn Miller rattled on about his real pipperoo, and though the Michigan band may not be a big band in the biblical sense, they have certainly produced a big record which is more than worth an investment of your time and energy. At heart this is a gentle pop record, bordering on the cute, with mildly whispered vocals, but the songs are overlayed with such a vibrant wash of musical pyrotechnics that the collection is transformed into something bordering on the magical. Or at least poetical. Crash City Saints describe their sound as a "sandblaster spraying sugar", though their technique shows a finer touch; at times their playing is so delicate and measured it can't fail to move. Closer 'Harbor Lights' is exquisite. At other times they really do attack your ears with washes of noise, fuzz and haze, and it's bloody great. 'Spirit Photography' is a gently psychedelic dream as effects pedals wait in line, 'Act 2' warps delightfully with more than a hint of MBV in its DNA, 'Annabella' thrums blissfully, and the list of treasures is pretty much endless. Every play opens a new door; the only downsides appear to be a song about school and the strange moment when mainman Joshua Garman actually becomes Syd Barrett. Shake your head and it's gone, but the memory lingers. This is the first offering from the band, now a sextet with four guitarists (you can never have too many), since their 2010 debut, Glow In The Dark Music, which was largely produced by Garman. Whilst this new effort is well worth the wait, a more prolific output must surely be on the cards given the strength of this release. There's a limited double album in green vinyl if you can get hold of a copy, though it may cost you thousands in postage from the States – only black ones appear to hand over here so no doubt some people will give it a miss, which is a shame. And it's so beautifully dressed...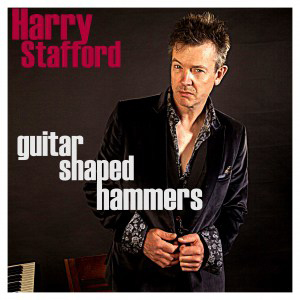 Harry Stafford - Guitar Shaped Hammers
Black Lagoon
Released: 1st December 2017
Just over two years on from the last Inca Babies' album, The Stereo Plan, the band's main man Harry Stafford has taken some time out from band duties to put together his first solo album, Guitar Shaped Hammers, a title inspired by the piano keys he found himself confronted with – "In a world of guitars, I decided to leave six strings behind and to attempt to play my punk blues on a piano. It wasn't that easy. I am a bar room piano surrounded by guitar shaped hammers." Of course being Harry Stafford, this is not a simple collection of piano-based blues numbers: there is the usual lyrical dexterity that makes the Inca Babies so intriguing, plenty of swampy basslines and wavering guitars, and some brilliantly tangental trumpet playing by Kevin Davy that has all the hallmarks of Miles Davis about it. As such the piano takes more of a back seat; Stafford is no ragtime tinkler, his sound more rooted in Creole blues, slow-paced, moody and viscous, an approach not dissimilar to that of Nick Cave's more measured moments. In the more naked songs, such as 'Walking Down In The Shadow', Stafford never strays from the subjects that have marked his music since the early 1980s – grubby tales of melodrama, murder and hopelessness rooted "amongst the dogs and the dust and the bones". This wouldn't be Stafford if the storytelling was anything less than bleak, but it is poetically bleak, sharp and impressive; this man is surely one of the great lyrical jugglers of the age. Where the songs are more decorated, they could have fallen off any recent Inca Babies album, yet they are dressed so prettily and subtly you need a few plays to pick up all the nuances. What is ultimately revealed is a mixture of telling contributions from talented musicians who embrace Stafford's sense of drama, musical schizophrenia and lightness of touch, as well as tweaks added in the studio, including tape loops, space echo, dub and the occasional reverb storm. It's a very fine thing, well worth investigation, with a different track listing on the vinyl and CD versions, so take your pick. Or, better, buy them both.