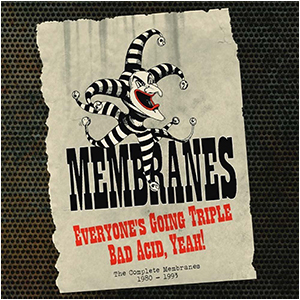 The Membranes - Everyone's Going Triple Bad Acid, Yeah!
Cherry Red
Released: 28th April 2017
It's great to see The Membranes' early works finally find their way on to CD and heads up to Cherry Red for investing the time and money into such a worthwhile project. The five CDs here contain the band's five albums recorded for various labels across the 1980s (on Criminal Damage, Creation, In Tape, Glass and Vinyl Drip) as well as all their singles, b-sides, EPs and extra tracks. Most of these have been unavailable for donkey's, let alone making a digital appearance, and they range from the first contribution to the
Blackpool Rox
EP in 1980 right through to the final recordings by the band's original incarnation in the early 1990s. There's ninety-nine in all, though if you were hoping for a nice trawl chronologically through The Membranes' catalogue, you should have known it wouldn't be that easy. To do that, you need to start on the last track on disc 4 and then go on to disc 5, disc 1, disc 5, disc 1, disc 5, disc 2, disc 3, disc 4, disc 2, disc 3, disc 4 and disc 5. It's a bit annoying, as are the transposed band credits on discs one and five, but probably fitting for a group who never did anything conventionally and whose deconstructed rackets were not only glorious, but highly influential. Of course the quality varies. There's a band finding their feet and a band filled with confidence; a band full of ideas and a band seemingly struggling for relevance. All shades of life are here: everything bar the proverbial kitchen sink is lobbed in and it's great, even the bits that aren't really very good. It's history, it's memories, it's our world as it was. Opening the box may not be as eventful as Pandora's, but it's one hell of a time capsule.
Of course there are personal favourites. How can you fail to thrill to the punk storm of 'Spike Milligan's Tape Recorder', the single that was supposed to be the first release on Creation Records (and would have made a far better one than the eventual culprit)? Or the spiky Death To Trad Rock EP, or the riotous The Gift Of Life album, despite the poor quality of its recording? More subtlety crept into the band's later recordings, though the punk groove remained, and it's a blast to work your way through this collection to see the progression from the early days with Mark Tilton on guitar and vocals to what was very much John Robb's baby in the late 1980s.
It's great to see The Membranes prospering again today following their reformation (with Robb joined by Nick Brown who features more as this box set progresses) and the release of their excellent Dark Matter/Dark Energy album, their first for some twenty-six years. Unfortunately, you won't hear many of these songs live as the band concentrates on new, vital material, but with any luck the odd one or two may just slip into a set. Time to revive a couple, John?
Thousand Yard Stare - Deep Dreaming/Star Grazing EPs
Stifled Aardvark
Released: 1st May 2017
It has probably been twenty-five years since we last thought seriously about Thousand Yard Stare, at least that long since we saw them play, but now the recently reformed band have re-emerged with new music in the form of a CD containing two four-track EPs, the band having found it impossible to produce the single one they had initially planned. Like Adorable, Thousand Yard Stare found themselves caught between Shoegaze and Britpop, uncomfortable when placed in either camp, and despite picking up some good press for their two albums and handful of EPs, lack of success led to the band's ultimate demise in 1993. Listening to these nicely packaged songs, available in a limited edition CD digipak
here
, really is like being transported back in time. Once almost an indie mainstay sound, this style of music is seldom heard these days, punchy guitar pop rich in melody and word. The
DeepDreaming
EP is the harder of the two here, opener 'Action Stations' and third track 'Heimlich Mnrvr' bold and stabbing, while 'Marginal Gains' is slower but no less solid. Stephen Barnes's vocals remain inquisitive and earnest and when the songs occasionally touch upon the anthemic (in a punk sense), you can imagine the live audience singing along with him. The
StarGrazing
EP is a gentler beast and its opener, 'Epecuen' (the drowned Argentinian town), takes the prize, being the most expansive of all eight songs, effortlessly soaring, whilst its companion numbers, 'Dystopia', 'Ciphers' and 'This Is A Weight' run it close with singing guitars, gentle melodies and the slightest hints of distortion. Like Epecuen, Thousand Yard Stare have once more emerged into the light after disappearing for decades, and like Epecuen they are well worth investigation.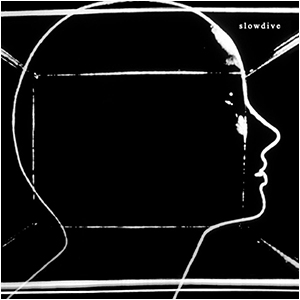 Slowdive - Slowdive
Dead Oceans
Released: 5th May 2017
The seemingly inescapable need of critics to quantify, categorise and label musical works has always frustrated us. No, it has bloody annoyed us. To attempt to constrain something so deep, moving and visceral is fundamentally absurd like catching a river or throwing the air. Anyone who can mark a recording out of ten, or who feels comfortable in classifying every sound, must have a perverse or damaged soul, for great music transcends all attempts to inhibit the power that lies at its core; it won't be stifled or bound. It has a life of its own that touches the heart of the listener and makes a mockery of those who would attempt to force it to fit their own limited understanding. There are no dams of imagination; music is an inexorable, flowing force.
Few bands have been labelled as often as Slowdive, their music pigeonholed and often dismissed for being of a certain genre that had fallen from favour and therefore, easily ignored and discarded without proper (or any) consideration. The reality is that Slowdive made beautiful records in the 1990s. Their early works were imaginative and delectable soundscapes that teased and entranced; their latter works less coherent songs that were softened at the edges, blurring the border between substance and silence. Indeterminate. In the commercial world, the band's timing was awful, the embracing of ambience clashing with the cyclical resurrection of rock and roll; Britpop having little time for elegance or restraint. Twenty-two years down the road and Slowdive mark their return with a self-titled album, making a statement in the same way as Wire that these are new days and everything will flow from here. The eight tracks have echoes of earlier days, some of the mannerisms of Mojave 3, yet the whole is marvellously contemporary, inventive and captivating, underscored by a new maturity and an overriding confidence in the ability to layer and manipulate sound.
We never listen to any spoilers, or singles as they call them these days (though they have no physical form), for we like to listen to an album as it was meant to be heard, and Slowdive immediately embraces us with the gorgeous, chiming 'Slomo', resonant and pastoral, that nudges at the senses in the most delightful way. It's a bit of stunner, fading as Rachel Goswell's soprano takes off, beautifully calculated and deeply impressive. Having already triumphed, Slowdive don't throw things away and though they rarely hit such heights again, there is very little that disappoints (though we hate the cover). 'Star Roving' ebbs and flows with refined determination, 'Don't Know Why' stutters in a Cocteau-esque way, and 'Sugar For The Pill' floats lazily. Flip the record over and 'Everyone Knows' spills dreamy excitement, 'No Longer Making Time' shimmers and 'Falling Ashes' flickers with insubstantial grace. 'Go Get It' is the main rival here for greatness, Neil Halstead's layered vocals wandering divergent pathways as guitars flood and rake; it's a beautiful thing and reinforces what a fine record this is. It is important that reformed bands offer more than shadows of former glories and Slowdive succeeds in this, and stands as a substantial and fulfilling collection, making this a welcome return.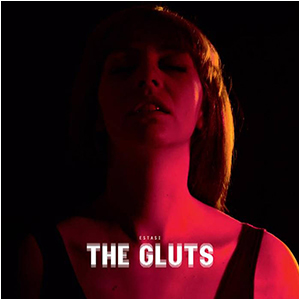 The Gluts - Estasi
Fuzz Club
Released: 5th May 2017
Proud to be "the loudest band in Milan", The Gluts now offer up their second album, following on from 2014's Warsaw, on Fuzz Club Records. The band's sound is deeply rooted in the post-punk field, though infused with a large dose of pysch, making Estasi a particularly heavy record full of steaming guitars, huge sounding basslines and half-lost hollow vocals. Heard it all before? Maybe, but very seldom with this degree of conviction, and very rarely with the cold power of this record. At times the sound is enormous, hemming you in with walls of guitars as raging cataracts of sound knock you off your feet. Opener 'Colline Bianche' is the first hint at the storm to come, while 'Thats Me' (sic) is cut to shreds and 'Squirrel' (eh?) is obliterated. It's not all carnage. At times there are hints of Fade Out era Loop, though pleasingly The Gluts are not often prey to the annoying repetition that dogs a lot of psych records, being content to batter you rather than bore you into submission. The band (Nicolò Campana, vocals; Marco Campana, guitar and Claudia Cesana, bass) declare that "excess, surplus, saturation, overkill and overload are all synonymous of glut", but clearly it is glut we are looking for as there can never be an 'excess' of guitars, however noisy, and though 'overload' is a possibility here, 'overkill' is missing the mark. When The Gluts adopt the monochrome post-punk of 'Controller' and 'Come To Fire', with its overlapping male-female vocals, the tension often spills over into violence which is grand in the extreme and it is only reined in with difficulty. But reined in it is. Hopefully the follow-up will lose all grip. You can pick out hints of a hundred bands here and that's how it should be: everything chucked into the pot to create one mean contemporary brew. That's renaissance. Hard, noisy and more than once, quite bloody lovely.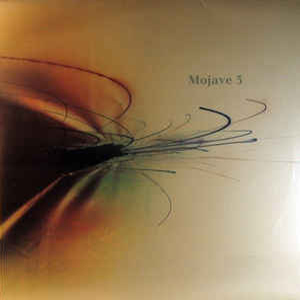 Mojave 3 - Ask Me Tomorrow
Sonic Cathedral
Released: 11th May 2017
Limited to just five hundred copies, pressed on seafoam green vinyl and with Vaughan Oliver and Chris Bigg's artwork beautifully repurposed in a shiny gold mirror board sleeve, you will probably struggle now to find a copy of this reissue of Mojave 3's debut album, originally released in October 1995 on 4AD and unavailable on vinyl since that small-run original pressing sold out. Just eight months after Slowdive's swansong Pygmalion was released, Ask Me Tomorrow was Neil Halstead's reaction to the insubstantial, ambient nature of that record, a return to simple songwriting devoid of ego. Halstead was joined in the recordings by Slowdive bandmates Rachel Goswell (vocals) and Ian McCutcheon (drums) and the songs fell together easily in Halstead's flat and tiny London studios, giving what is largely a collection of demos an intimate, coherent air. Goswell's vocals are beautiful in reverb-drenched surroundings as tales of heartbreak and regret are played out in an acoustic country style, with Christopher Andrews contributing some telling work on the piano. Lyrically, there are some great images: "Lonesome fools build lonesome walls to hide behind, cry behind. But I'm not one ..." sings Halstead unconvincingly on the lovely 'Sarah'. It's a world away from Pygmalion, being filled with humanity and its inherent uselessness in coping with love, acceptance and open emotion. This is a fitting reissue as Slowdive move into a new phase of their existence, and hats off to Sonic Cathedral for taking the project on. The record they have produced is a thing of beauty, though it is unlikely this short run of vinyl will do much to lessen the price of an original 4AD copy. Get hold of one if you can.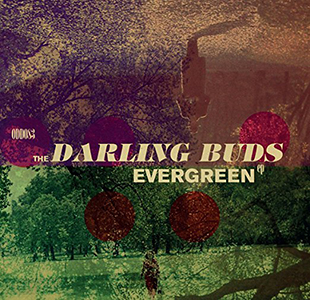 The Darling Buds - Evergreen
Odd Box
Released: 12th May 2017
Yet another band to be touched by the resurrection bug are Newport's The Darling Buds, who first exploded on to the indie scene in 1987-88 with some cracking singles for Native before going major league and major label with the Top Fifty hit 'Burst' on Epic, and the bubbly album Pop Said, which remains one of the finest indie pop albums of all time. Having licked the salty goodness of commercial success and sniffed the fragrant fringes of fame and fortune, the band became more serious, changed line-ups and looked towards carving out an enduring career, only to run into a brick wall as their initial audience drifted away and new ears became hard to find. 1992's really rather good Erotica album failed to make much headway and the band dissolved, only to reform for a handful of gigs in 2013, the success of which has encouraged them to record their first new songs in twenty-five years. Now consisting of original Buds, vocalist Andrea Lewis Jarvis and bassist Chris McDonagh, the duo are joined by Crawdaddy guitar recruit Matt Gray and Erotica-era guitarist Chaz Watkins, with Erik Stams taking over on the drums. Released as a limited-to-five hundred ten-inch EP, there are four tracks here, opener 'Evergreen' bouncing along briskly in classical style with some nice guitars and sounding very much like early Epic era Darling Buds used to sound. 'Guess The Good Parts' is equally as urgent with some layered vocals and mildly excited guitars, and it's all very fine. Side two moves away from the band's established sound, opening with the stuttering 'Complicated' with its one-armed drumming and hints of The Popguns, and concluding with the pained and moody 'Twenty One Aches'. Overall, a nice mixture of sounds and it's great to hear Andrea's unmistakable vocals on some new recordings. One negative: there is no download code with the release, which in this day and age is poor.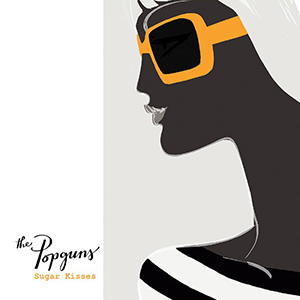 The Popguns - Sugar Kisses
Matinee
Released: 2nd June 2017
If a number of the recent band revivals have an air of desperation about them, the reformation of The Popguns has been achieved just about perfectly. The band are making no great statements of intent, seemingly content to roll along in their own time and space, and the new music has a contemporary feel, whilst still embracing the ghost of Popguns past. The songs shimmer in a delightful way, whilst importantly recognising it is no longer 1991. The vocals may lack the youthful, raw edge that really grated at your heart in the band's early EPs, but that pain is replaced with a more refined angst: resignation rather than wild stabs at comprehension through a red, aching haze. One cannot imagine a younger Wendy Pickles singing, "We are dispensable, we know, so let's take what we can from this world," or musing about teachers, and the music mirrors this reflective maturity, filled though it is with bustling guitar bursts and on occasion reminders that Simon Pickles and Greg Dixon are two of the jangliest of jangly guitarists and always finely attuned. There is just something so uplifting about hearing Wendy's unmistakable intonation as guitars flicker, and the years just drop away, especially in the songs that are more typical of the band's past output, such as 'A Beaten Up Guitar'. Other songs show a slicker edge, with plenty of harmonic backing vocals, Marresque intros, some funky chops and Pat Walkington's bass strolling along without a care in the world. There are surprises. Title track 'Sugar Kisses' sounds like the bastard child of Bananarama and The Smiths which may be a good thing if it doesn't set off a chain reaction that will destroy the world. If it does, you can bet your life The Popguns will put it into perspective in a reflective song, the lyrics of which will be printed in slightly blurred type as if to underline that these are personal thoughts and not scriptures, always oblivious of the fact that their words and music touch hearts most other bands cannot reach. It's life: it will let you down. But The Popguns never seem to.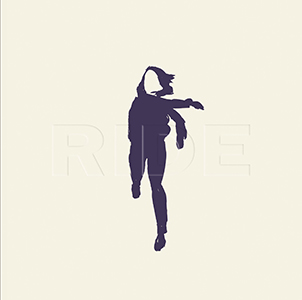 Ride - Weather Diaries
Wichita
Released: 16th June 2017
We first saw Ride playing a support set before they had ever released a record and were blown away by their shimmering songs and sparkling confidence. It was no surprise when they released a series of great EPs and a blinding first album on Creation, but it was saddening to see what happened to the band after this, their self-belief ruthlessly erased and their friendship eroded. Every album they produced was worse than the one that had gone before, and the band that fell apart while recording
Tarantula
was a hollow shell of the one that had first exploded on to the scene. The news of a Ride reunion left us a little concerned; the memories of the ruined band remained fresh in the mind, and it was impossible to approach
Weather Diaries
with less than considerable doubt. But doubt quickly turns to confusion and then disbelief as this eleven-track double album unfolds, for Ride have not only produced an impressive contemporary rock record, it is one of such magnitude and style that it rather leaves you breathless.
Weather Diaries is some way removed from the chiming shoegaze sound that first brought the band to prominence; in fact it is pretty much all an indie kid would hate (and Ride were always indie kids), a double album of prog music. Yet it's impossible not to be drawn into this collection; the thoughtfulness, measured pace and craft are handsome in the extreme and there is an endearing honesty at its core. Ride have learned lessons, improved as musicians and songwriters and have re-forged friendships whilst re-finding the joy of shaping sound. Here they press gently at the boundaries of experimentation, the slowly twinkling 'White Sands', beautifully built, shifting its axis as dreams spin to the accompaniment of some terrific drumming from Loz Colbert, while 'All I Want' pulses and glides attractively. 'Integration Tape' even touches on the peripheries of drone. Andy Bell's songs remain the more conventional, though the graceful 'Weather Diaries' is underscored by some nice stormy rumbles, and pretty opener 'Lannoy Point' is a sparkler held at arm's length by a nervous child. Ride are clearly not here to unleash their demons; that has all been said and done and obviously the band are once again at ease with each other and the world, so harmonious are these sounds. 'Charm Assault' comes the closest to rocking the ghost of early Ride, though other songs certainly touch base even if they sway away from over-familiarity.
Lyrically, there is regret, anger, warmth and joy, but as with the music this is all gently phrased and controlled, making this collection one that is not spilling over with passion, but one that exudes elegance, finesse, beauty and style. It's a gorgeous thing.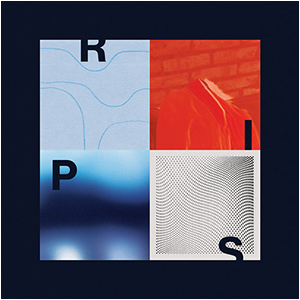 Rips - Rips
Faux Discx
Released: 16th June 2017
It's well worth keeping an eye open for releases from Brighton's splendid Faux Discx label, run by the Cold Pumas' Dan Reeves, as they have produced a whole series of fascinating largely post-punk offerings that it would be far too easy to overlook. This latest collection, the debut from Brooklyn-based four-piece Rips, succeeds in sounding both retro and contemporary at the same time, which is no mean feat. Contained within are eleven tracks of edgy guitar pop that run to thirty-seven minutes and make no attempt to hide the influences at play. There are hints of the Velvets here which are neatly tucked behind plenty of Television references, yet there is a verve and attitude that is nothing but twenty-first century. The double guitar attack lies at the heart of the record, at times ludicrously captivating and just wayward enough to tease. Producer Austin Brown of Parquet Courts has done a good job in letting the music flow without showing a heavy hand and it's probably the purity of the band's sound that appeals so much. There's no guile to this record, just honest attack, a love of chiming guitar breaks and buzzing riffs, while the rhythm section is absolutely rock solid. You can get lost in opener 'Losing II' as the guitars duck and dive, while other spectacular highs include the whistling 'Save Room' (which ends far too quickly), the searching 'Delay', the sawing and screeching 'Spell', and album closer 'Losing' that jangles itself to death. It's not all great, but there's an awful lot here that will touch you in all the right places. And we like the fact that the band never succeed in spelling the name of their label correctly. That's class. Give this a go.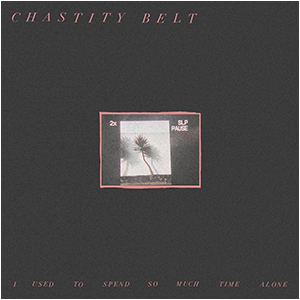 Chastity Belt - I Used To Spend So Much Time Alone
Hardly Art
Released: 2nd June 2017
Recorded live in July 2016 in Oregon, I Used To Spend So Much Time Alone is the third album from Washington four-piece Chastity Belt and it proves to be another step on the band's journey to refine their sound, leaving behind their more chaotic roots. Consequently, the record is less edgy than 2015's Time To Go Home, with fewer spiky shards and fewer laughs, and though the band ask for the record to be regarded as 'chilled', the atmosphere is undoubtedly more oppressive. Partly, this is due to the restraint of the music: it flows smoothly rather than embracing the dips and swerves of its predecessor, and when combined with the lyrics, it paints a picture of a digital existence where the highs and lows are cut away leaving everything stuck in the middle range. Chastity Belt appear unable to reach out beyond the grey prison in which they are trapped and an air of moody surrender pervades. "I just fall on my face when I'm trying to have fun. Do you ever dream about what it is like to give up?" sings Julia Shapiro, and it doesn't get much brighter. There is little positivity or pretence here, just shadows in shadows. And worse than desperation, there is acceptance. "I woke up when it was getting dark. That's not how life is supposed to work." I Used To Spend So Much Time Alone is a remarkably bleak record and certainly not one that is going to shake your universe. It doesn't cut through you to expose raw emotion or to capture your heart, and it doesn't offer any future other than surrender. The lack of fight is almost scary. Fuck, this is grim.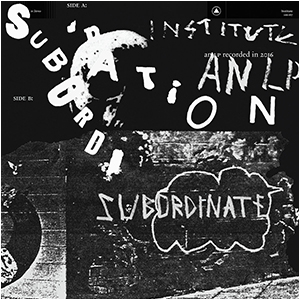 Institute - Subordination
Sacred Bones
Released: 2nd June 2017
It has been just over two years since Institute unleashed their mightily impressive debut album, Catharsis, on an unsuspecting world, and now the follow-up collection, Subordination, has been dragged into the light by Sacred Bones Records. The Austin band have surely been one of the most fascinating punk outfits to emerge in recent years, being sonically bold and experimental, far removed from some of their mind-numbingly generic counterparts. That being said, the almost classical (US) punk intro to opener 'Exhibitionism' is a little worrying until the track is ambushed by a brilliant guitar solo and Kennedys-esque outro; thankfully Institute haven't abandoned their tangental musical outlook. Neither has Moses Brown's view on life altered. Inhibited by his upbringing and self-perceived failings, he poses questions to which he already knows the answers, "It's hard to say these things do stunt you but most privileges do," he ponders before the incredulous, "Don't you know fame is just incomprehension?" There's a ton of highlights here. The spitting and warped 'Oil Money' is a glorious mess, Brown's broken narration dwarfed by the rattle and thrum, while closer 'Powerstation' with its Glitter Band intro and climbing riffs impresses as it chops and soars. Two years' work in twenty-six minutes may not seem like a good return, but Institute's songs are so intense and telling that their impact leaves you breathless and any more would be superfluous. Cutting, political, humane and daring, Institute are a band to treasure. Take the low road with them.
Chain Of Flowers - Let Your Light In
Alter
Released: 16th June 2017
It has been some twenty-one months since Cardiff's Chain of Flowers released their pretty fine eponymous debut album, and they follow it up with a seven-inch single on Alter showing a very marked change in direction. Missing here is the impressively weighty blend of post-punk and shoegaze of their first outing and it is replaced by a far more frantic sound that could well have emerged from the New Romantic movement in the early eighties. It's a bit of a shock to hear the band discarding the glorious density of their early sound to embrace something that is far lighter, though the two songs on offer remain jagged and just a little bit unhinged. 'Let Your Light In' sees urgent drumming pushing the song along with the multi-layered vocals submerged between retro synths and clean guitars. The other side of this double a-side offering, 'Flesh, Blood And Bone', is a little dirtier, with a deep-set vocal draped over singing guitars and a relentless rhythm. It's all fine, if a little hemmed in, and the guitar/keyboard break before the outro is terrific. Given that Chain Of Flowers had captured a truly exciting sound on their debut, this is not at all what we expected, borrowing more than it offers, but the record is still worth a listen and it will be fascinating to see what comes next.