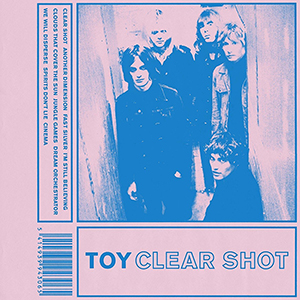 Toy - Clear Shot
Heavenly
Released: 28th October 2016
There was a time when it seemed that Toy were going to forge ahead and reach the heights of success most alternative bands could only dream of. Their powerful, hypnotic and intensely-focused Germanic rock appeared irresistable and unstoppable as their first two albums lit the fuses for lift-off. Everything then appeared to go awfully quiet and Clear Shot has appeared nearly three years after Join The Dots, an absolute eternity in the realm of breaking new bands. And it's pretty much a new band that has emerged after the hiatus. True, the only line-up change has seen the departure of keyboardist Alejandra Diez, but the effect of that change in the style and power of the music appears to have been exponential. For Clear Shot is an album more concerned with lightness of touch than drive and though it has somewhat deeper psychedelic roots than the band's previous excursions, it has an unapologetic commercial edge to the sound which leads to most of the songs washing over the listener pleasantly enough, but failing to carry them away in a headlong rush. The rotten, cheap cover of the CD, blue print over a pink background, is also a mile away from previous Toy releases and must raise the question of whether the record label is running out of patience with the band and are unwilling to risk further investment. It may just be an attempt at retro chic, in which case it fails badly as the disappointment in seeing the album for the first time is palpable. That disappointment is continued into the first track of the album, the title track, which fails to land a punch and rambles along slowly to a slightly grating, repetitive guitar riff before heading off into more familiar Toy territory but with the guitars sounding terribly naked and tinny. If you were hoping for the band to explode in the next track, 'Another Dimension' is a harmonic pop song with a gloopy chorus sitting on a light keyboard refrain and not even some nice scratchy guitars can prize it out of the sixties stodge which clings to every note. Throughout this record, the instruments appear to have been held down in the mix to left Tom Dougall's vocals dominate, but the singer does not have a voice to carry songs along, merely to decorate them, so to relegate the backing music is to shoot yourself in the foot. And Toy do this in spades. Highlights are rare and tend to be snatches of songs rather than songs themslves. The punchier 'Fast Silver' is one of the better moments, though it doesn't sound like a Toy song, whilst on the other hand 'Clouds That Cover The Sun' is so thin it sounds like a demo. Maybe it's the production that is making this record sound so anaemic. David Wrench is at the controls here instead of Dan Carey but the finished work lacks iron and punch and it's sad because this release should have seen Toy emerging from the shadows to seize the crown, but it seems like they are going down the beach instead.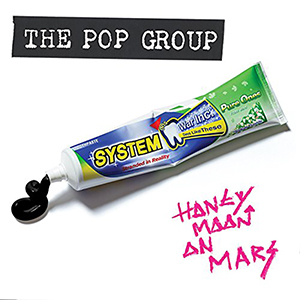 The Pop Group - Honeymoon On Mars
Freaks R Us
Released: 28th October 2016
We will never forget that it was hearing The Pop Group that first blew our minds open to the possibilities of obliterating musical boundaries. We welcomed their recent return, not only because it gave us the chance finally to capture them live, but because they were keen to carry on where they left off, stripping music to its bones and rebuilding it wrong. 2015's Citizen Zombie was a fine affair, full of the band's trademark broken funk, but with Honeymoon On Mars they finally achieved everything they set out to be. Back in the studio with the legendary Dennis Bovell, the producer has woven his magic to process a collection that is both dislocated, other-worldly and dubbed to buggery. On its release Honeymoon On Mars was criticised for being unfocused and lacking bite but this entirely misses the point. Described by Mark Stewart as "a hypersonic journey into a dystopian future full of alien encounters and sci-fi lullabies", this record soars through galaxies, spilling its message of peace and hope, while shape-shifting through all styles and structures. Focus is the last thing it needs; this is galactic spillage of the most infectious kind. Absolutely fucking marvellous.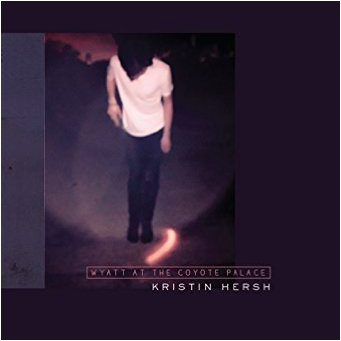 Kristin Hersh - Wyatt At The Coyote Palace
Omnibus
Released: 28th October 2016
The first solo album in six years from Kristin Hersh offers up a mammoth twenty-four tracks over two albums and comes complete with an accompanying book, adding context to the meaning of the songs as well as the lyrics. It is a period of time that has been traumatic in the singer's life, one she describes as 'the on fire underwater years', and few singers have ever come close to the power of Hersh when she bares her soul. It is interesting to see how far the singer has come since her first voice and acoustic solo recordings, as here we have fully formed songs, with all of the instruments played by Hersh herself, and these are given added depth by experimental layers of sound that add complexity to deceptively simply sung messages. Hersh's voice is deeper now, capable of dripping sadness, yet still able to rip open the heavens when she stretches herself. This collection is moving, inspiring and helplessly addictive, confirming Kristin Hersh as a writer and player of consummate power and importance.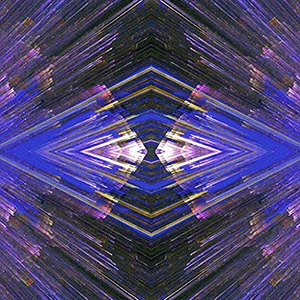 Thought Forms - Songs About Drowning
Invada
Released: 4th November 2016
One of our favourite live bands, this is the third (complete) album from the West Country's Thought Forms, released some seven years on from their eponymous debut and four years since the impressive Ghost Mountain. For a band who are blisteringly noisy live, it is a surprise to discover how immaculately measured Songs About Drowning is; these songs are crafted and considered with every note and beat in its correct place. At times this lends the music an orchestral air and the whole is imbued with a seriousness and deep intent shorn of the pace and wild excitement of much of the band's earlier work. To take on Songs about Drowning is akin to the process of listening to a recent album by Swans; it isn't something you consider lightly and you better brace yourself for an experience of some weight, but the end result is almost cleansing. This is trial by sound where the prosecution leaves no stone unturned in its examination of your worth. It can be unsettling and unnerving but is ultimately rewarding. The band and producer Jim Barr have captured an intriguing sound here. It is almost as if every element of the music exists on its own plane and barely deigns to touch. You can pick out every note of the bass (Barr again), every flick of the drums, every stab at a string and every sung word as if it lived in isolation, yet laid together they make an unsettling whole, framed in disturbing verse: "I dream inland there is a place / But see no place that it can be / So it's into the river for me." God, this a powerful record, and all the more so for the buried brittleness that is hidden in its depths. Break or be broken ... and if it doesn't move you, there might just be a vacuum inside of you. We did consider momentarily whether it might be prog, in which case we would have to have the band shot, but there are too many tangents and too much disguised vunerability for that to be the case. Instead you have a rarity, a record that confronts you head on and dares you to say a word. Scary.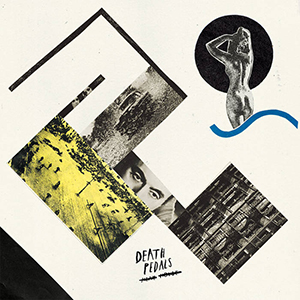 Death Pedals - Meat House
Rip This Joint
Released: 14th November 2016
Dalston four-piece Death Pedals have been around for six years now and are an active and important part of the London underground punk scene.
Meat House
is their second album, following on some three years after their 2013 debut
The Carvery
, and its is great to see that the band have been able to build upon that debut, adding nous and touch to their trademark ferocity, each song deceptively complex, wonderfully intense and unwaveringly steadfast. It's fortunate that only two tracks make it to three minutes, as left to their own devices these songs could well lay you out cold. As it is,
Meat House
is an envigorating tour de force, its ten songs rooted by pummelling drums and frantic basslines which are swathed in a glorious array of controlled noise, sending you swirling in a vortex of screaming, cutting and growling guitars, injected with feedback, and urged on by raging vocals. It's a powerful statement, well matching the band's furious live displays and it's also a cut above your regular run-of-the-mill punk offerings. Despite the punishing strength of these tracks, they are as catchy as hell and carry you along in a heart-warming emotional state, all clenched fists and let's-put-the-world-to-rights euphoria. This is a rare thing in this day and age, making Death Pedals a band to treasure. There's so many nice little touches to this record it would take a week to write them all down, yet at the same time the intensity never falters. Let's just tick off the whirling guitars in the spiralling 'Nil By Mouth', the buried vocals in 'The Sharps Cut Right' and the sustained feedback intro to the epic (4:56) 'Good Dog'. This is a great record. Buy it
here
.